Article At A Glance
The types of tabletop fireplaces include: propane tabletop, wood-burning firepits, gel tabletops, and ethanol
The best tabletop options are propane, gel, and ethanol- there aren't really wood-burning tabletop options. They're more like portable firepits.
So, you're living in a small apartment and can't enjoy those amazing benefits of a fireplace. There is a better alternative you can use to enjoy that beautiful feeling of coziness during the winter season.
Yes, we're talking about the tabletop fireplaces as they've proved to be a perfect alternative to the traditional fireplaces.
Who Are They Good For?
The tabletop fireplace reduces the headache of carrying a heavy amount of log and setting up the fire. And how can we forget the mess you have to deal with once you're done using the fireplace?
On the other hand, the portable fireplace eliminates these problems, allowing you to carry your personal fireplace with you wherever you want without even making any mess. Isn't that awesome?
You must be thinking about how someone can compare a portable fireplace with a traditional one. But believe me, once you started using it, you'd agree that the tabletop fireplaces are the perfect alternative to standard fireplaces.
And don't even worry about research because we've already picked the best tabletop fireplaces for you. Thus, you won't have to spend hours looking for a suitable option. Sounds good?
Types Of Tabletop Fireplaces
Now, before we start talking about firepits we've selected after running several tests, we'd like to highlight that there are multiple types of tabletop firepits available these days. Propane Gas Tabletop Firepits, Wood Burning tabletop firepits, Gel Fuel tabletop firepits, Ethanol tabletop firepits are the most common types of tabletop firepits used around the globe.
And we've selected one best option from each category so you may easily choose one that best suits your style and needs. Now, without wasting any time, let's dive into the details of the best tabletop firepits we've chosen for you.
Propane Gas Tabletop Firepits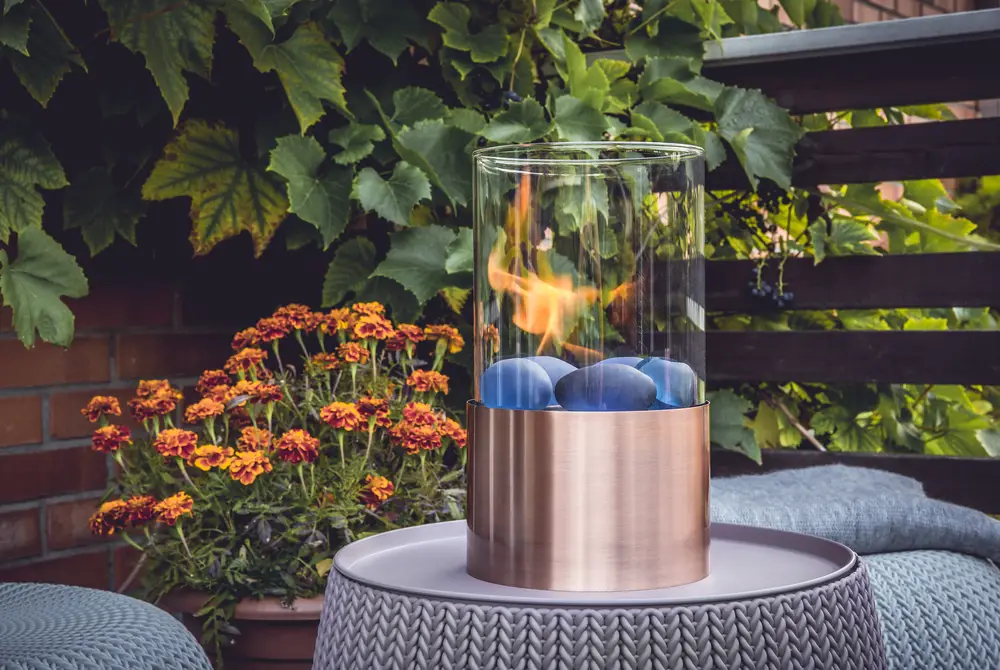 Warmth and ambiance are the two most important factors for choosing a fireplace, right? Well, you get both with the propane gas tabletop firepits. Not just that, but these firepits come with some additional benefits. For example, they don't emit smoke like their wood-burning counters. This is why they're our most favorite firepits.
You can light them up within a few seconds. And there is no ash left to clean no matter how long you use it.
Pros
No Messy Ashes to Clean Up
Easy to Move Around
Reasonable Price
Ensures Your Safety
Cons
Propane Tank Refills can be expensive
They Don't Hold Heat Longer
The Best Propane Gas Tabletop Firepit
The New Castle Propane Gas Tabletop Firepit
The Bond Manufacturing New Castle Propane Gas Tabletop Firepit is the best option we've found in this category. Although many other options are available, we liked it the most because it has a beautiful and sleek design. And it can easily fit on a patio table. Without any doubt, it's going to add a unique touch of beauty to your outdoor space.
Whether you're planning an outdoor date night or want to read your favorite book in the backyard, this tabletop firepit will add more spice to your memorable moments. A major reason for choosing this outdoor tabletop fireplace is that it produces 40,000 BTU heat. And we bet you'd hardly find any other propane gas tabletop firepit with such an amazing capacity.
The 20lb propane tank enables you to use the firepit for hours without any trouble. The best part is that you can control the flames with a convenient knob. You don't get this feature with a wood-burning firepit, do you?
Wood Burning Tabletop Firepits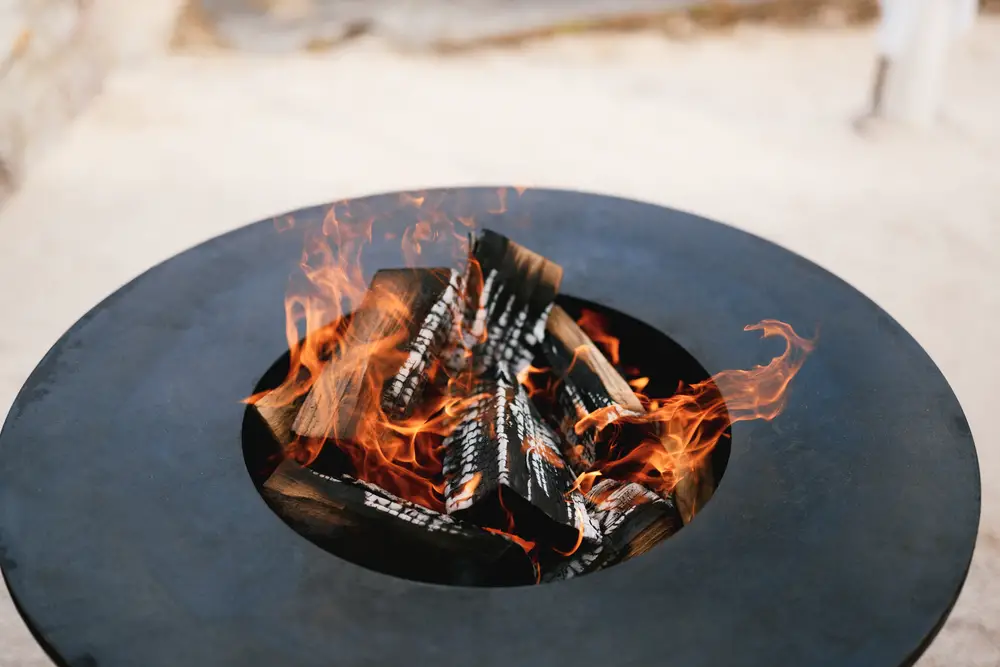 Unlike propane gas tabletop firepits, you can enjoy clean burning with these firepits, but they have some undeniable benefits that can add more fun to your outdoor gatherings. These firepits are usually made of concrete or steel, but they aren't heavy at all. You can easily carry them around without any trouble.
These firepits are quite affordable compared to their propane counterparts. You just need to continue adding logs to keep it running as long as you want. The best thing about wood-burning tabletop fireplaces is that they produce that amazing crackling sound you love hearing while sitting around the campfire.
These firepits provide more warmth and comfort by producing real flames. Thus, you'd also get to enjoy an amazing evening observing that incredible dancing flame.
Pros
More warm and comfortable
Inexpensive option
Offer a Realistic Experience
Sturdy and Durable Construction
Cons
Difficulties setting up fire
Creates a lot of mess
Video Overview
The Best Wood Burning Tabletop Firepit
The Landmann Bromley Fire Pit
The Landmann USA 21860 is the ideal option for those who need a portable and easily affordable outdoor fireplace to enjoy some warm and cozy evenings in their backyard during the winter season. This 25.8 inches tabletop firepit is designed to fit in your backyard or patio easily. The diamond cut-outs design provides a satisfactory experience while fire is burning.
There is nothing to worry about hygiene because it's free from toxic chemicals like lead. So, you can use it for BBQ if you want. Moreover, the strong and durable construction enables you to use the firepit for years without worrying about a replacement.
Gel Fuel Tabletop Firepits
Gel fuel tabletop firepits are ideally designed for those who are sensitive to smoke and smells because these firepits don't produce smoke or unpleasant scents. These firepits are powered by tin cans filled with alcohol gel.
These firepits are available in several unique styles, so they can make your patio or backyard look more attractive. A single gel fuel tin can burns for 4-5 hours approximately. So, it would be enough for enjoying a cozy evening in your backyard.
Pros
No smoke or Unpleasant Scents
Attractive Looking Designs
Offers a Natural Fire Look
Cons
Burns at around 3,000 BTU only
Video Overview
The Best Gel Fuel Tabletop Firepit
The Colsen Tabletop Gel Fuel Firepit
The Colsen Tabletop Gel Fuel Firepit isn't just a portable fireplace, but it's a perfect piece of art. We bet you'd easily fell in love with its overall structure. We used several gel fuel tabletop firepits during the testing process, but we really loved this one because it gets the job done while adding a perfect ambiance to your living room, desk, or side table.
This fireplace is designed to offer warmth and comfort to some extent, but it can't maintain your home's temperature like a traditional fireplace because it's too small in size. We would say it's the perfect indoor tabletop fireplace that fulfills your need without producing any smoke or unwanted scents.
Make sure you only use gel fuel to use this firepit because it doesn't work with liquid fuel. The most important reason for choosing this particular fireplace is that it offers amazing burn times compared to other firepits of this category.
Ethanol Tabletop Firepits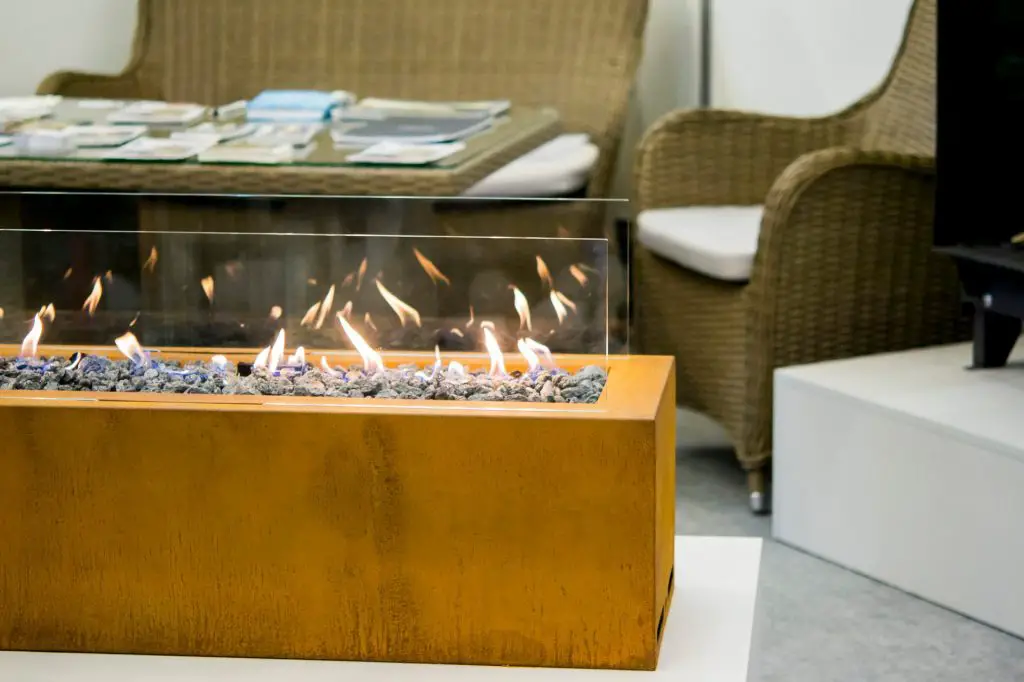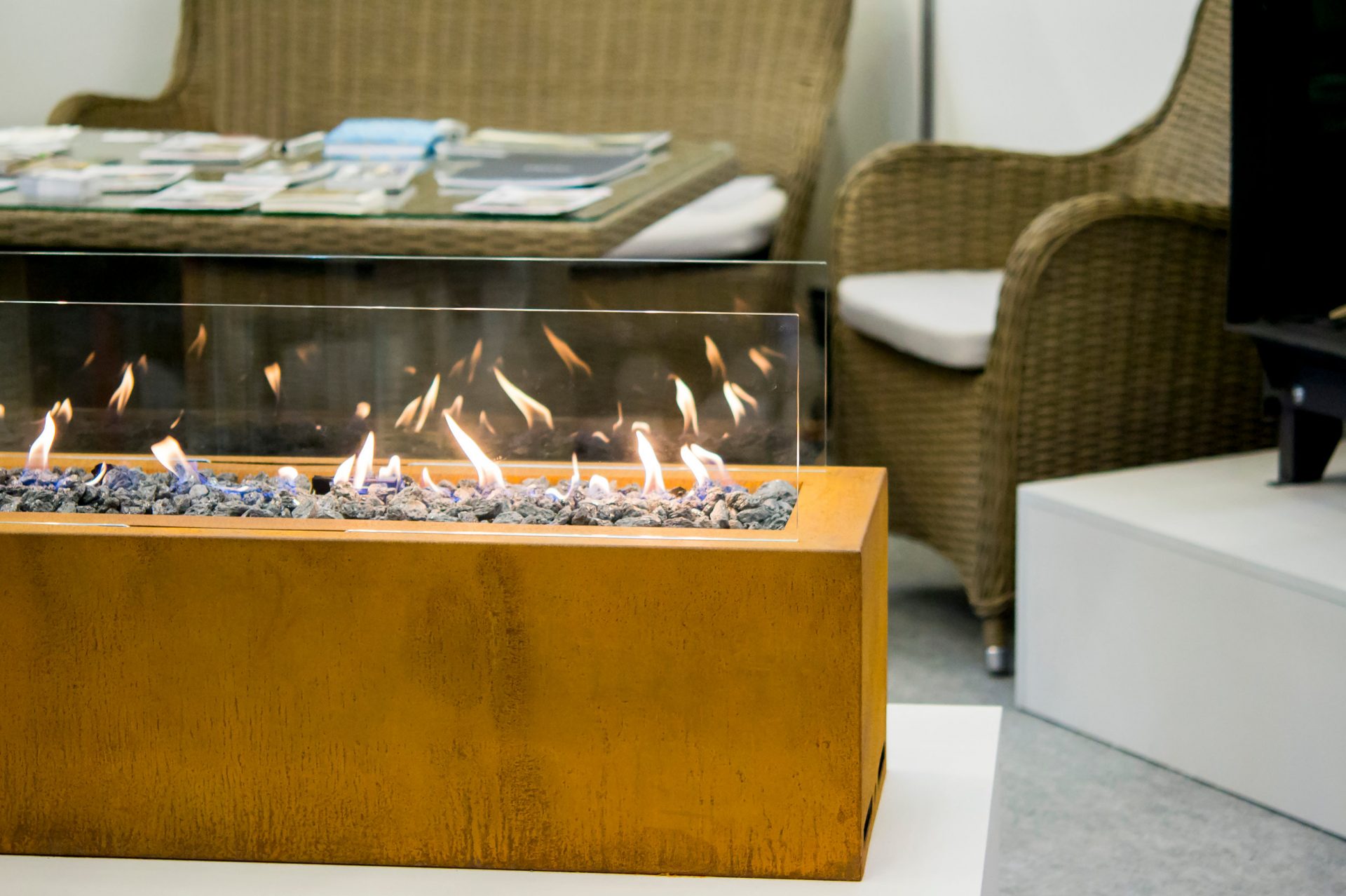 These tabletop fire pits are designed for those seriously concerned about the environment because they use clean energy to produce flames. These firepits offer a better level of heat compared to gel fuel tabletop firepits. We used different Ethanol tabletop firepits, and we were surprised to see that they could warm up a small room within a few hours.
Obviously, it takes more time than wood-burning fireplaces or electric fireplaces. Still, a bioethanol fireplace is worth the investment because it uses clean energy and is easily affordable.
Pros
Ability to Heat up a Small Room
Use Clean Energy
Portable and Easily Affordable
Largely Odorless
Cons
You can't add more Bio Ethanol unless it's colled down
It's a bit expensive than gel fuel firepits
Video Overview
The Best Bio Ethanol Firepit
The Greyhoo Ethanol Tabletop Firepit
The Greyhoo Ethanol Firepit is the best option for those looking for a bioethanol fire pit. This round-shaped tabletop firepit can add more fun and entertainment to your indoor and outdoor parties. The firepit is so small in size that it can easily fit on your coffee table. But that doesn't mean you'd have to compromise on heat because it has the ability to warm up a small room quite quickly.
The most important thing about this fire pit is that it's handmade. It provides you with a campfire experience on your table without producing smoke or odors. Once you start using it on your dining room table, you'd see how it changes the environment amazingly.
Buying Guide: What's Important?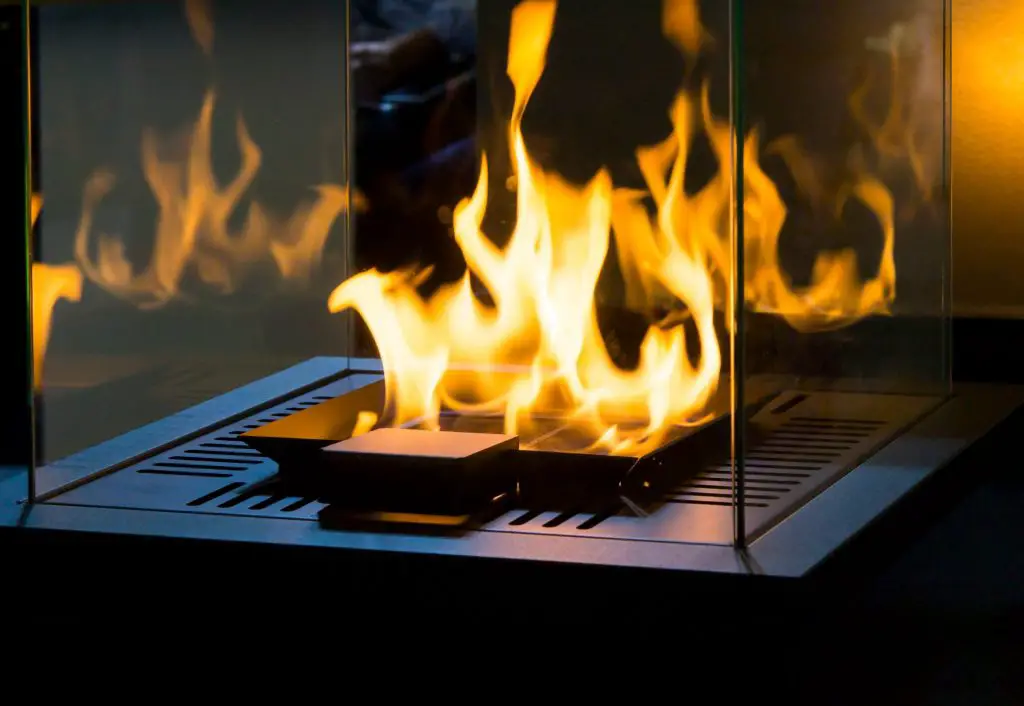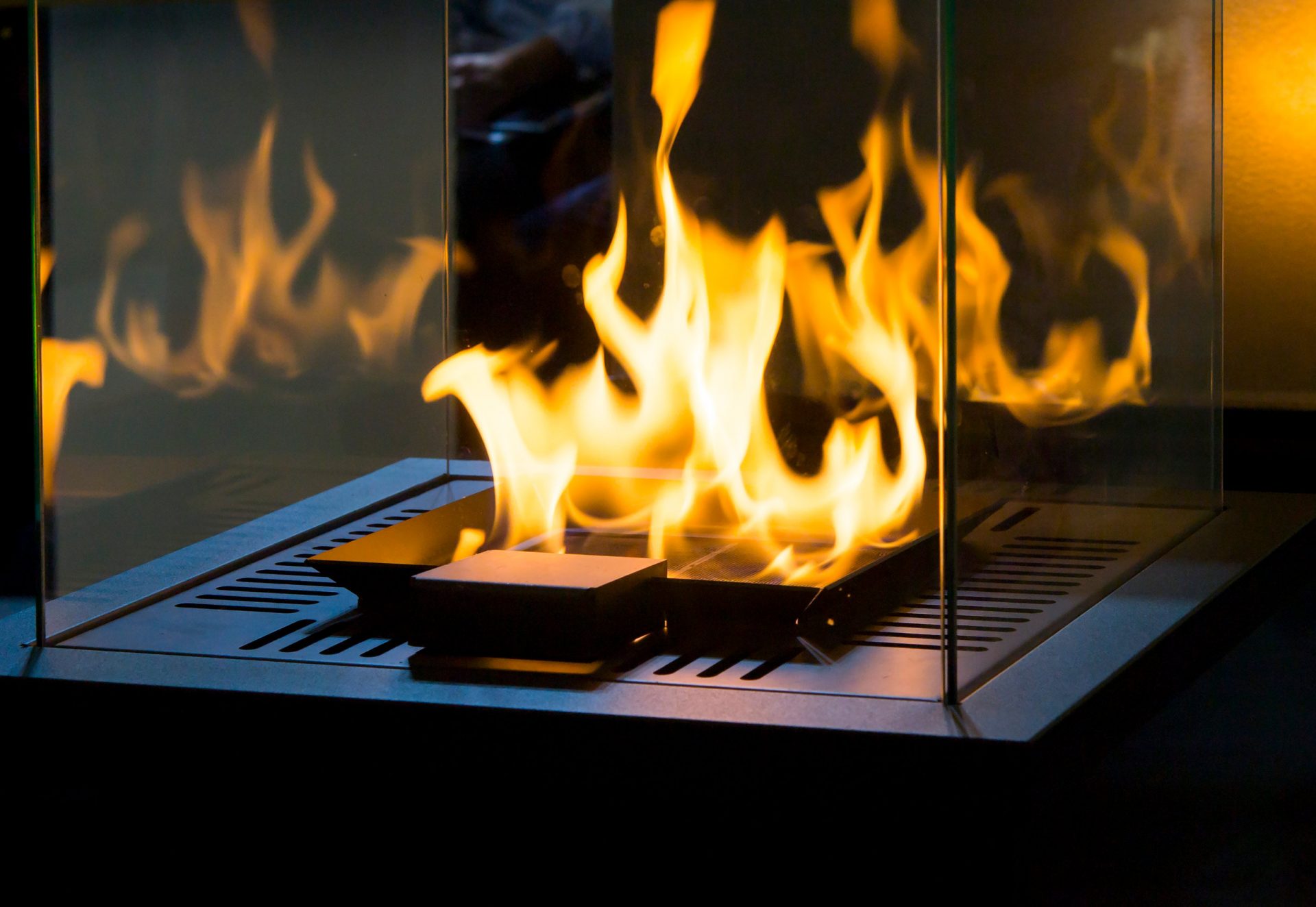 We've followed a detailed process to choose the best tabletop fireplace from each category. And now, we're sharing this information with you to help you decide which option is more suitable for you. So, without any further ado, let's take a look at things to look for when choosing a tabletop firepit.
Portability
Portability is the most important factor that makes a tabletop firepit different from a traditional fireplace. The products we've shared above completely fit this standard. Thus, you won't have any trouble moving them around. It would be best if you also looked for this factor while choosing a tabletop firepit.
Size & Capacity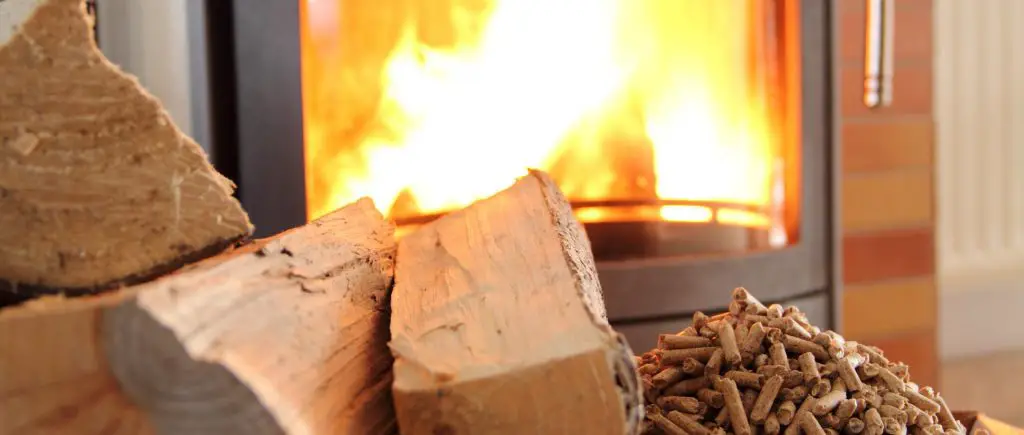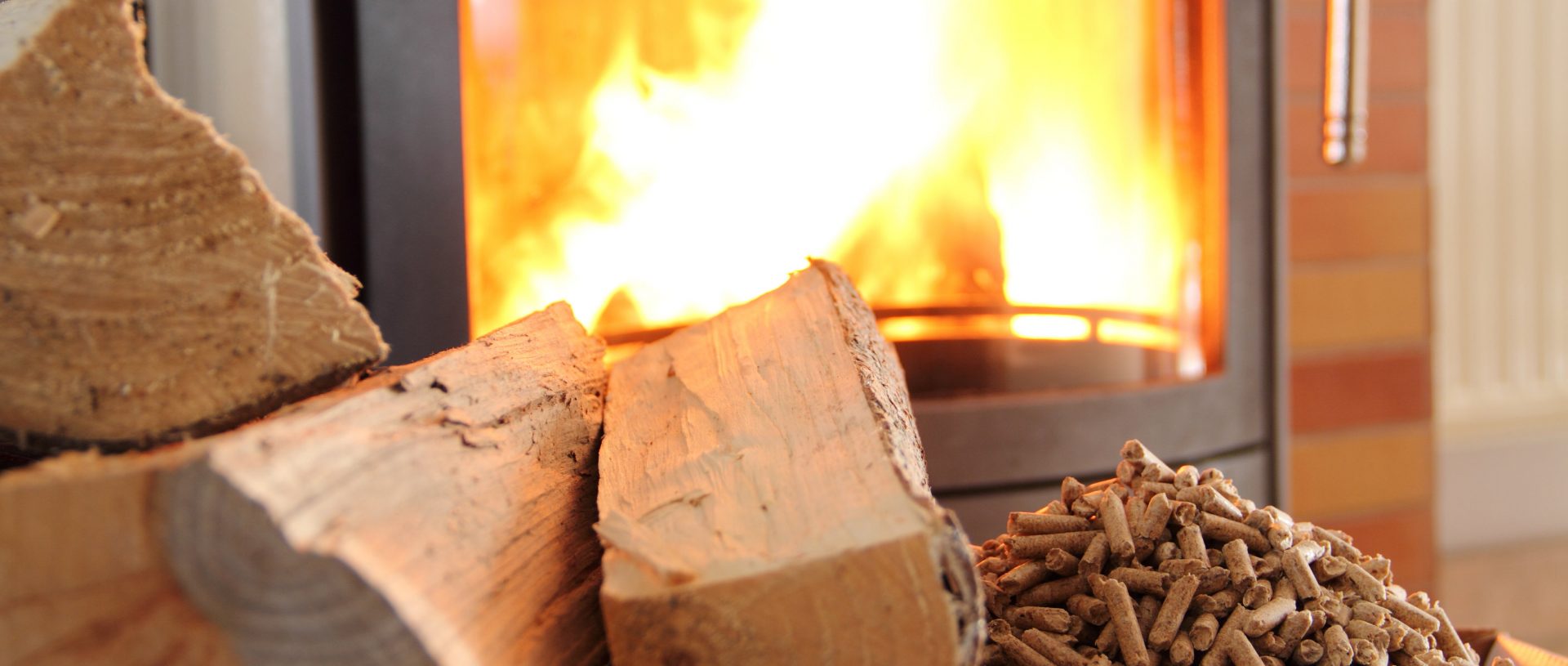 People usually consider choosing a tabletop fireplace when they don't have enough room in their home to install a standard fireplace. So, you can't underestimate the size of a tabletop firepit while choosing one for your home. The portable firepits usually have a diameter of 20-30 inches. You need to follow this standard when choosing a tabletop firepit because a bigger one won't fit on your coffee table or patio table.
You should also figure out how long the firepit burns after a refill. We've already mentioned the burn times of the best tabletop firepits we've reviewed in this article. However, if you're choosing a different product, you must carefully monitor this aspect.
Material
We recommend looking for firepits made of stainless steel because they're pretty lightweight. Some fire pits are made of stone, and they look lovely. But they're a bit heavy. You may also find some firepits made of cooper, but they require a lot of maintenance, and you'd easily get tired of using them.
So, you'd have to make some effort trying to move them from one place to another. However, if you aren't concerned about portability, these firepits can be an ideal option.
Fuel Used
The type of fuel used in a firepit may also affect your decision. A wood-burning fire pit is an affordable option compared to a gas firepit in terms of fuel usage. Similarly, a gel fuel firepit is less expensive than a bioethanol tabletop firepit. So, it would be best if you decided which option is most suitable for your budget.
Indoor or Outdoor?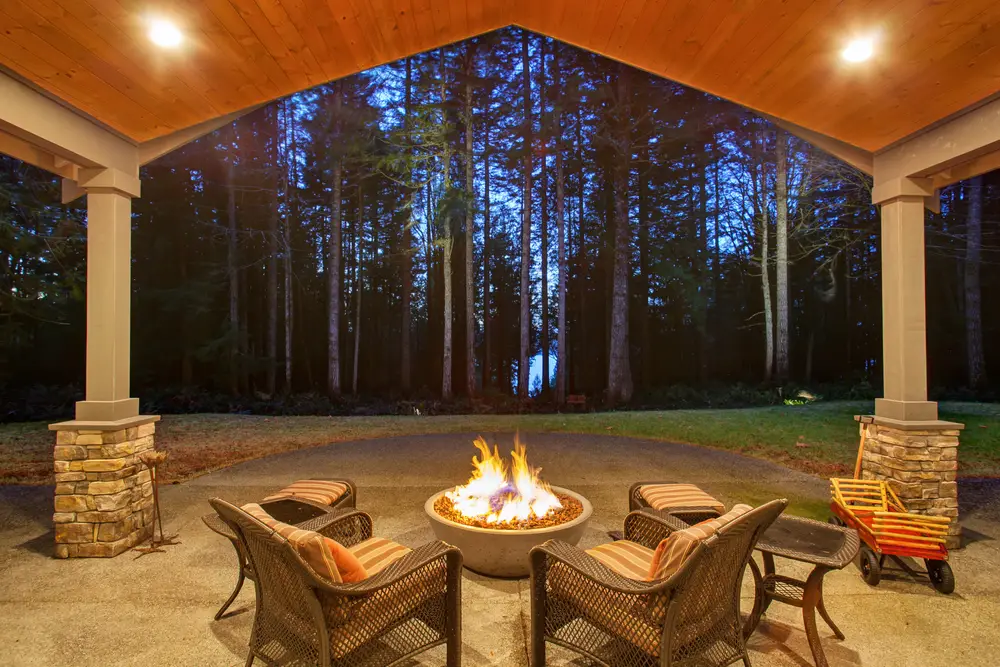 It would help if you considered this factor before you started looking for a tabletop firepit. For example, a gel fuel tabletop firepit can only perform its best indoors. Similarly, a bioethanol firepit offers a much better experience indoors as compared to others.
On the other hand, a prone gas tabletop firepit and a wood-burning firepit work perfectly in both conditions.
Aesthetics
A firepit is supposed to enhance the overall beauty of your home, right? Well, you should then carefully observe this factor while choosing a tabletop firepit. The products we've reviewed above can easily match the style of almost every household. It would help if you also considered choosing a design that may perfectly fit with the area where you will use it.
Conclusion
I love my tabletop fireplace because it's a brilliant way to add a touch of rustic charm to my home.
Choosing a tabletop fire pit can be a pain in the neck as there are so many options available that you can't decide which one is suitable for your needs. In this guide, we haven't just described the types of tabletop firepits, but we've also reviewed one best product from each category. We've also described the process we've used to pick these top tabletop fireplaces for you.
Hopefully, you'd now be able to choose the best option for your home. Buf if you have any questions, we're here to help you out.