It's finally summer (or maybe it's winter when you're reading this)- the perfect time to enjoy the weather and have a barbecue party with friends.
When you're hosting an outdoor barbecue, there are a lot of factors you have to consider. From what kind of food to cook, to what kind of meat, to what type of dessert.
One thing you don't want to overlook is your ambiance. It's important for your guests to feel relaxed and happy when they are enjoying their meal at your home. An outdoor fireplace can make all the difference!
A fire brings warmth and intimacy, which will make everyone feel more comfortable and able to connect with one another during dinner or dessert.
You can use your fireplace as a way to set the mood by adding different types of fireside music playing softly in the background.
I love my outdoor fireplace because it is not only a source of heat, but also a beautiful decorative accent. The fire can be used as a way to relax and unwind from the stresses of the day. I find that having an outdoor fireplace really helps set the mood for a romantic evening with my partner or friends.
I love my outdoor fireplace because it is so versatile. Not only is it great for relaxing on a cold winter day, but it can be used as a focal point for entertaining guests or even cooking some dinner!
I have had so many memorable evenings sitting by my outdoor fireplace on cool evenings enjoying dinner and drinks with people that I care about.
How Much Do They Cost To Build?
An outdoor fireplace can cost anywhere from $1500 to $20,000. A fireplace will cost you approximately $3,000. Unfinished contractor models and pre-made kits usually cost $1500 to $9,000. Custom projects usually cost $8,000 to $20,000 , with some reaching $50,000. The only limitations are space and budget (Source).
If you want to add a poolside fire bowl, check out some of our favorites- they're a gorgeous way to accent your pool!
How to Build an Out-door Fireplace On The Cheap
Materials and tools needed
House bricks
Concrete blocks
Fire bricks
Water
Tape measure, chalk, and strings
A regular level and a torpedo level
Rubber mallet
Acid wash brush, bucket, whisk broom, sponge, and hose
Drill, grinder, and crowbar
Wood and bendable board
Bags mortar mix and fireclay
Industrial hoe
Steel bar
Sand Crete and pea gravel
Fireplace grate and a black pipe
Bricking trowel, brick jointer, and brick spacing rule
Wheelbarrow
Step 1: Building Foundation
Choose the space you it located.
Use a tape measure to determine width, depth, length, and height to estimate the approximate dimension for the fireplace.
Dig three feet into the ground to make a rectangular hole according to the length of your measurements.
Put in 4 inches of concrete into the dug pit.
Put some concrete and pebbles to make the foundation firm.
Step 2. Make a wall of Bricks
Lay bricks with the good-looking side out along the walls of the concrete foundation.
After the first round, lay bricks on top of each other except the front side.
Step 3. Install Grill
Lay 3 layers of bricks to the front.
Make a frame for the grill entrance, set it, and start laying bricks around it.
Mount doors and install the grill.
Use stone slabs or slates to cover both side of the grill and attach knobs for the fire valves.
Step 4. Build Firebox
Make a mixture of clay soil.
Lay firebricks on the base of the box to make a smoke chamber.
Step 5. Install the chimney
Place an angle bar across the fireplace interior.
Get 3 feet tall, 14″ by 14″ ceramic flue pipe and set it on top of the angle bar and backside of the fireplace.
Proceed to cover holes on either side of the ceramic pipe with concrete blocks.
Seal gaps and spaces on the smoke chamber roof with the use of clay.
Step 6. Build Chimney
Plug another ceramic flue pipe on top of the first one and connect it nicely with refractory mortar.
Add more bricks on top of the furnace to create the chimney roof.
Add ten more layers of bricks to the fireplace.
On the sides of the furnace roof, apply triangular bricks first before you start with top. This will hold other bricks together.
Step 7. Complete Flooring & Add Mantelpiece
For flooring, install bricks as you would install tiles on the floor.
Place a stone board on top of the arch to make the mantelpiece.
You can add decorations of your choice above the mantelpiece. Decorations such as carvings, artifacts
Finally, insert the furnace grate inside, and we're done!
The Advantages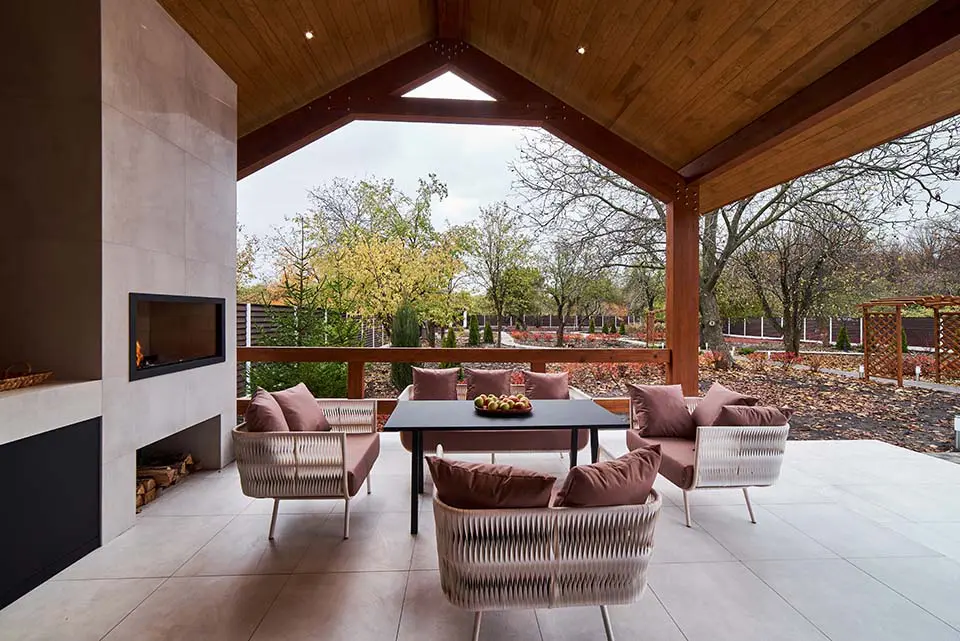 There are several advantages of having an outdoor fireplace, but first, we should note that it is very important to make our backyards welcoming and unique.
We need to make the most of those precious few warm weather months preparing for cold weather, and what a better way than construct our outdoor fireplace—making your space more beautiful, valuable, and fun.
The original purpose of a fire pit or fireplace is to provide warmth and heat. Fire-places for outside can extend the use of outdoor space in colder climates by warming your space to comfortable temperatures.
An indoor fireplace can be cozy and warm, but the benefits of an outdoor fireplace hold a charm of their own. They can be assets to both personal and professional space. From its beautiful appearance to its capacity for entertaining, furnace ideas can help you capitalize on your personal property and change the look of your homestead.
Making a fireplace outside creates several opportunities for one's enjoyment and advantage. includes increased usage of backyard space even in colder seasons, Greater ability for outdoor entertaining in cooler weather, and more prolonged use of outdoor seating in family gatherings and get together.
Bringing a fire pit to your backyard can also provide these opportunities for your guests. Whether you're sharing moments or recounting stories from the past, they create a gathering spot that enhances any get-together.
For commercial purposes, getting a return on your investment when selling your property can feel risky, but an outside chimney is appealing, and beautiful for an outdoor fireplace, hence can be attractive to buyers who desire outdoor living without the upfront expense.
Outdoor fireplaces can translate to increased property values for your home or business.
Precautions To Take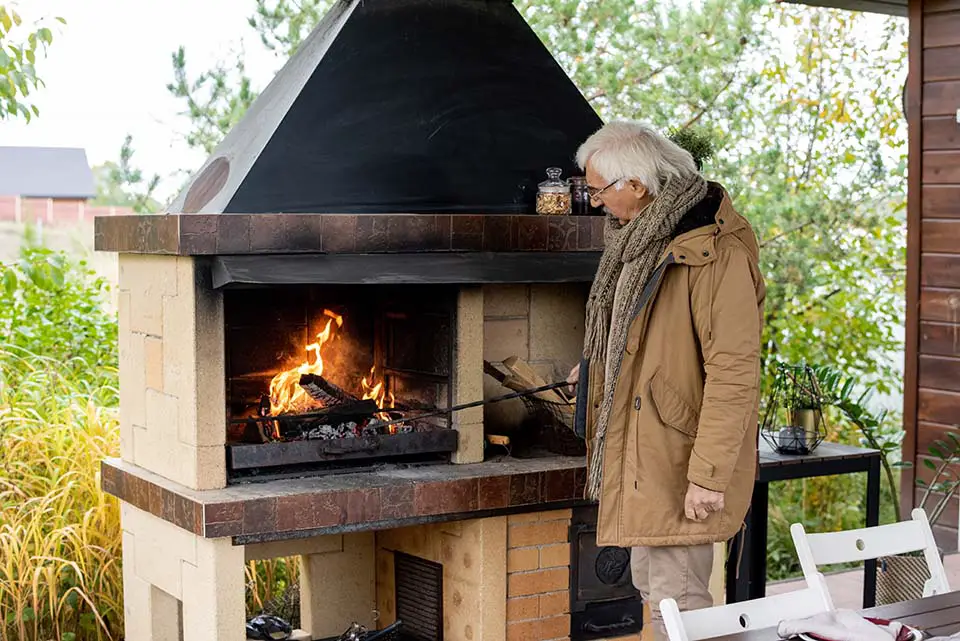 Some standards and regulations must be met when building one- you can read more about the governmental rules here. Some common guidelines include:
The patio should be located 10 feet from structures and any flammable materials.
Dead leaves, branches, grass, and other yard debris are serious hazards like fire if not cleared away from the fireplace. Ensure at least a 10-foot area is cleared of all yard waste on all sides of your patio fireplace.
Make sure to prune low-hanging branches and shrubs growing too close to your fireplace.
While it is convenient to keep your firewood within reach of your patio fireplace, this can increase fire hazard. It is recommended to store firewood at least 30 feet away off your outside fireplace, and always remember to extinguish your fire at night.
Conclusion
Having right the outdoor fireplace will add character, beauty, and value to any home when a proper working system is implemented. With a good YouTube video, one can build on a reasonable budget.
There are several options on the market today. You can decide to construct one on your own or pay for it to be built for you.
For cost-cutting and spending less, you can construct your fireplace.
There are a lot of advantages to building a fireplace yourself. Generally, you will spend a lot less money on it than if you had one made for you.
The other advantage of constructing one on your own is that you can be in charge of design. If something does not please you, you can change it up, so it fits you and your family's needs made to your specifications. Determining a furnace project cost depends on two variables, labor and material used.
When constructing a fireplace outside, the saying, "if you want something done right, do it yourself," totally rings true to me. We can have our specifications.
Constructing an outside chimney can be very easy, and it can also be enjoyable to try making one. There are a lot of parts involved, and learning how to build your own chimney might teach you a few things, and the above article can be of significant help to those wanting to try and construct one.