Fireplaces are expensive investments, but they can provide you with the coziest and most relaxing nights during the winter. They are also great for warming up your home after a long day of work, or to keep you warm during those winter days when the temperature drops below zero degrees.
The fireplace is one of my favorite things about winter. It can be used as both an aesthetic piece and for warmth, which means it's not only a valuable asset to my home but also provides me with many hours of enjoyment outside of just saving me money on heating bills.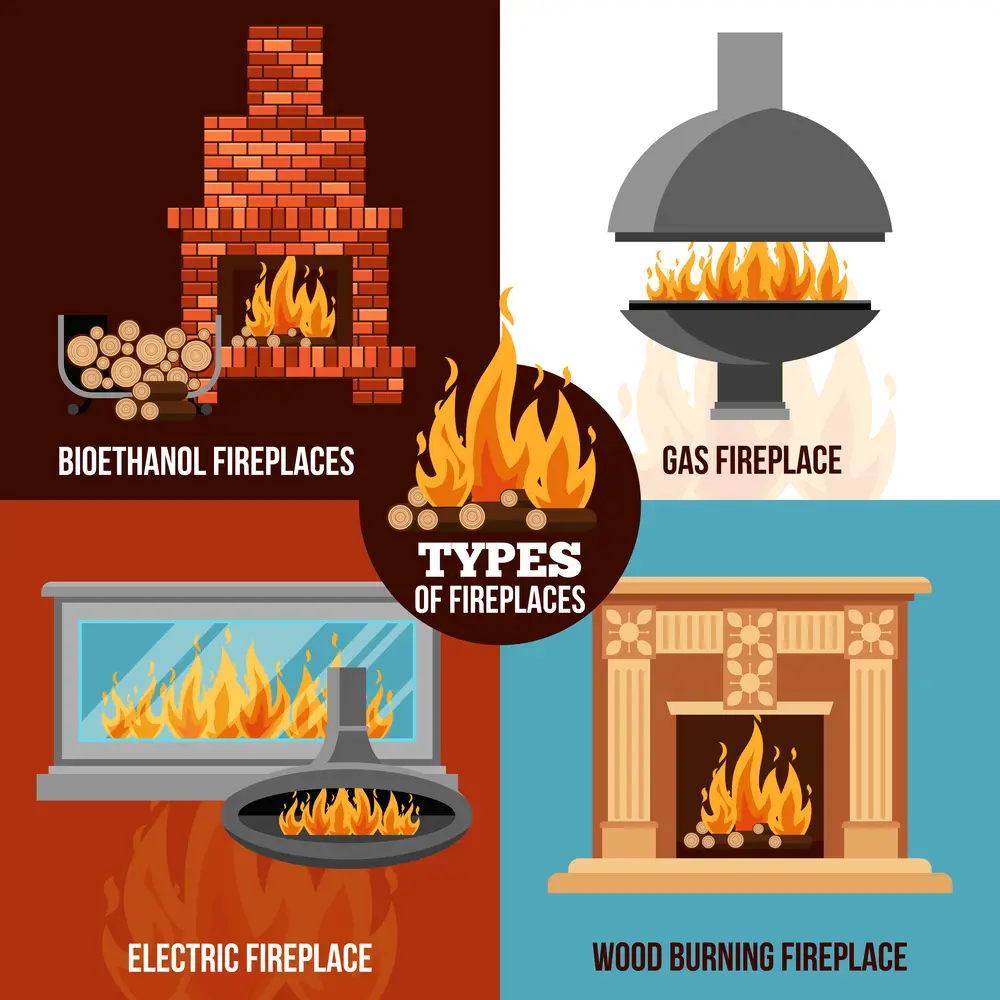 Many people think that fireplaces are only valuable because they save money on heating bills, but I disagree. Fireplaces can be very valuable because they not only provide warmth to your home but also look good in any space.
Today, there are an abundance of fireplace designs available for consumers to choose from. They range from traditional wood-burning hearths to wall-mounted electric styles However, no matter what style or installation design you choose, it is worth taking the time to research your options and what will work best for your space.
Types of Wood Burning Fireplaces
A traditional wood-burning fireplace is the ideal representation of the word" cozy". Being able to sit next to a wood fireplace with a real flame can invoke unparalleled feelings of relaxation. There a wide range of options and styles available- let's figure out the best one for your home.
1. Traditional Open Hearth Fireplace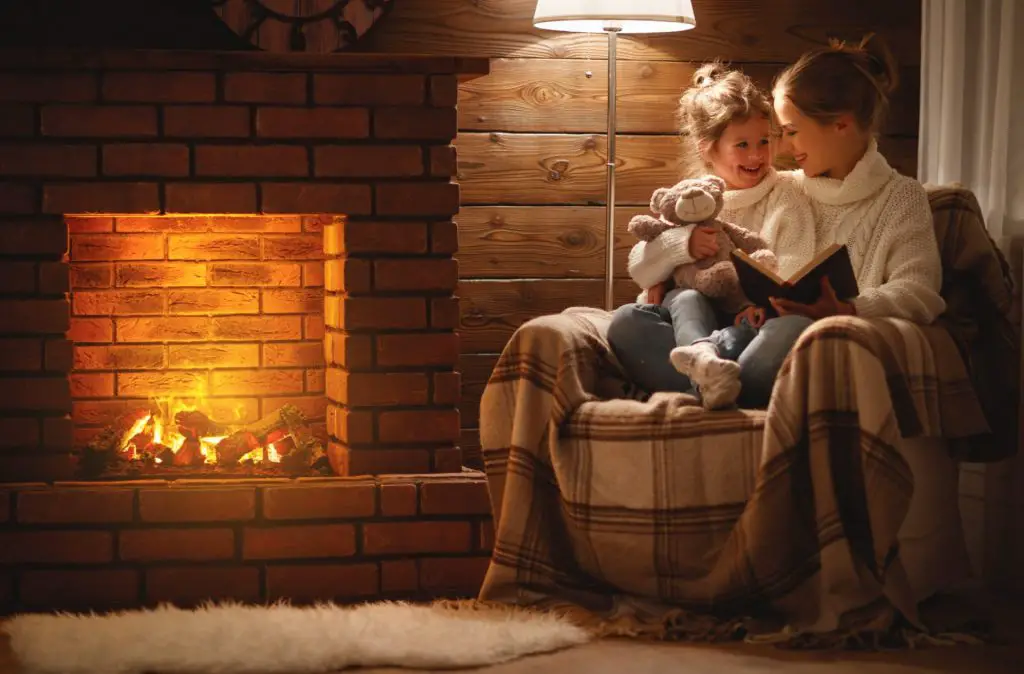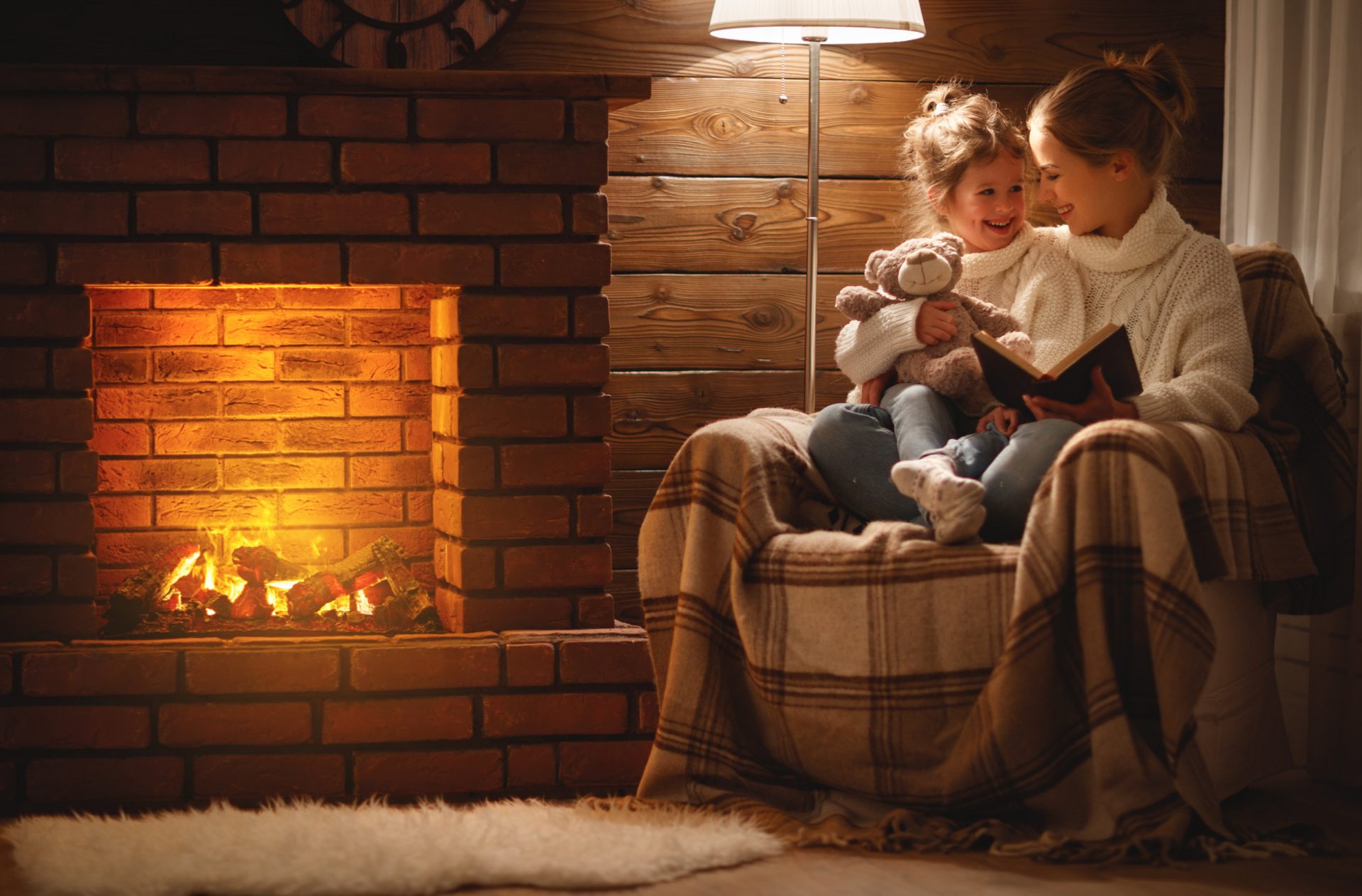 You have probably seen an open-hearth wood-burning fireplace at your grandma's house or even in a local hipster cafe. They have been used for thousands of years as central heating devices and to cook food.
They are great for air circulation and are a substantial heating source. The reason for this has to do with the amount of oxygen an open-hearth fireplace uses. This causes increased airflow within the room.
Another great thing about this type of fireplace is that you can choose between coal or wood as a fuel source rather than just having one choice.
Unlike others, an open-hearth fireplace is not very efficient. Around 70 to 90 percent of the heat generated from an open fire goes up the chimney rather than staying in your home.
2. Enclosed Fireplaces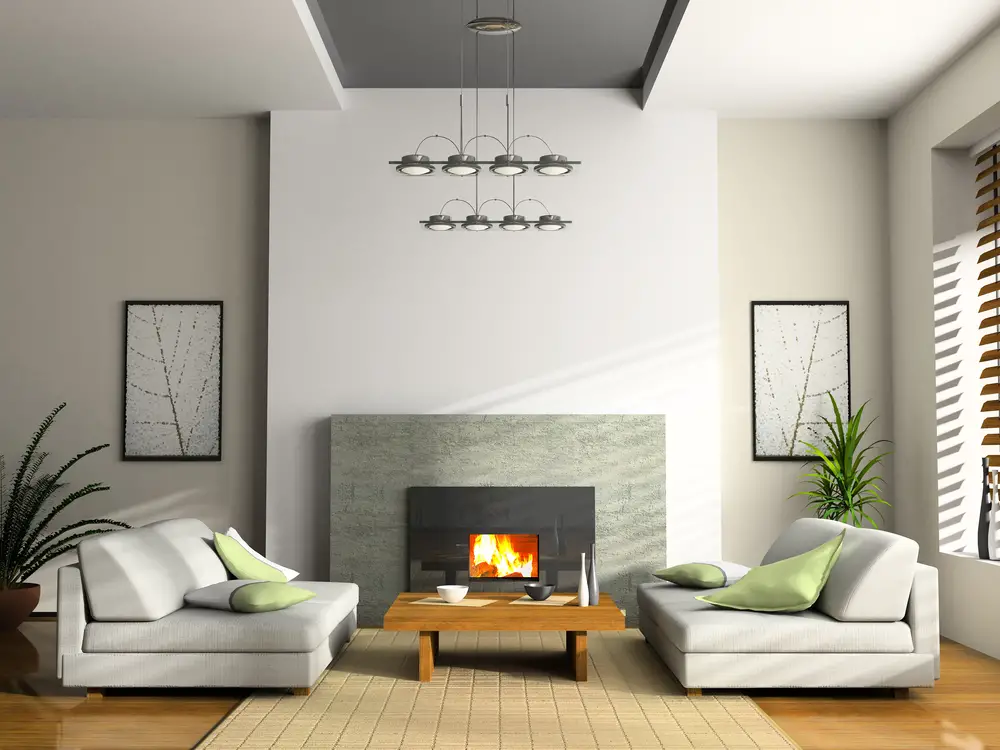 Indoor enclosed fireplaces, also known as zero clearance manufactured fireplaces, have a large panel of tempered glass that separates you from the real flame. This type of indoor fireplace was designed to keep heat from escaping up the chimney and staying within the confines of your home.
If you already have an open fireplace in your home, you can get an insert fitted to create an enclosed space. For the most part, an enclosed fireplace acts almost similar to an open-hearth fireplace and therefore does not give much more in benefits or detriments to your home. They're generally very expensive to install in existing homes and are often limited to new home constructions.
Even though it's listed under 'wood burning', you can get a zero clearance fireplace that works with wood pellets and gas.
3. Wood Burning Stoves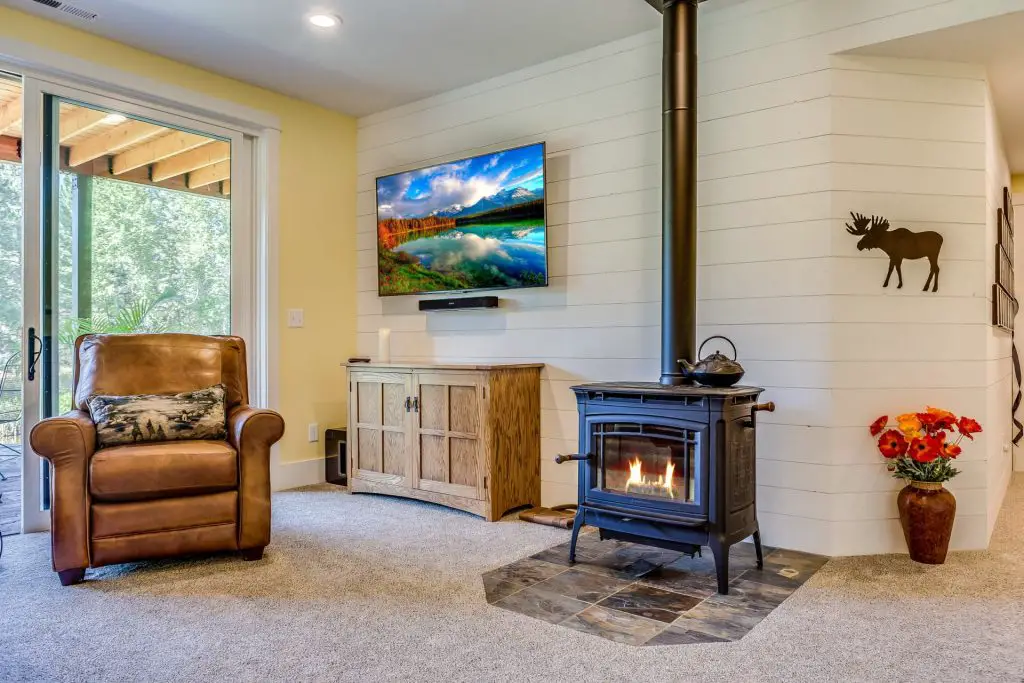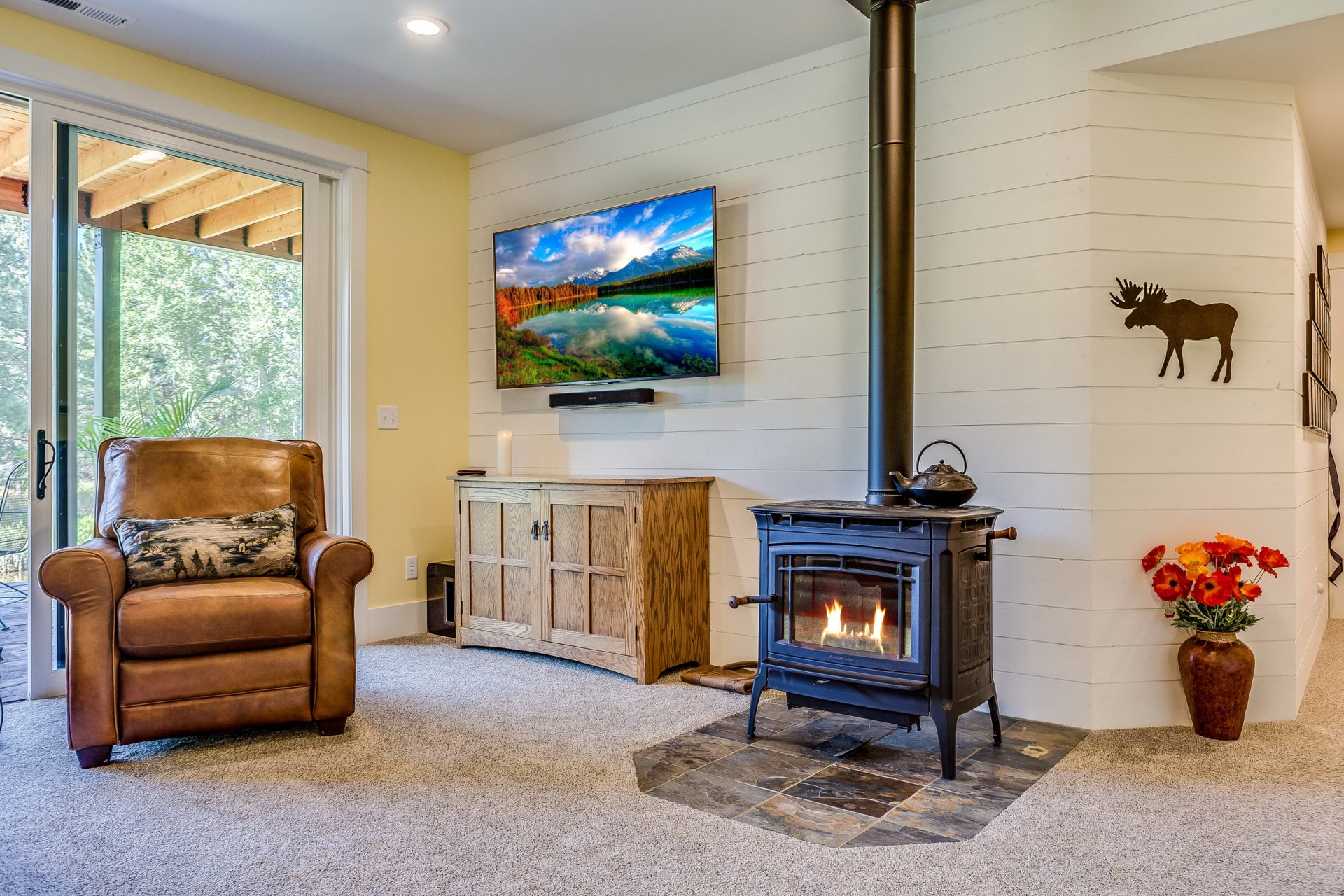 Unlike the other two options, wood-burning stoves are stand-alone heat boxes that are more efficient and eco-friendly at heating homes compared to their traditional sibling.
Of the three, these stoves extract the most amount of energy and can transfer this heat to the room efficiently.Not only is there a higher output of heat but since these stoves are more strictly regulated, fewer emissions and pollutants are released.
Another great feature is that they are easy to control compared to other wood-burning fireplaces. These stoves are enclosed and have air vents that control the air supply to the fire. With this ability to easily control the fire, fires tend to burn longer and don't require as much maintenance.
The cost of owning one can be a turn-off, however. A typical wood stove can be priced in the thousands but can be even more expensive depending on brand and size. Installation can be pricey too. It will help if you already have an existing fireplace as you'll have an existing route for your stove to be installed.
One of the last things to know about these stoves before buying is that there is a small learning curve that comes with owning one. You'll need to know how to control the stove vents, how much fuel to add and which type of fuel is safe for your stove.
4. Fireplace Insert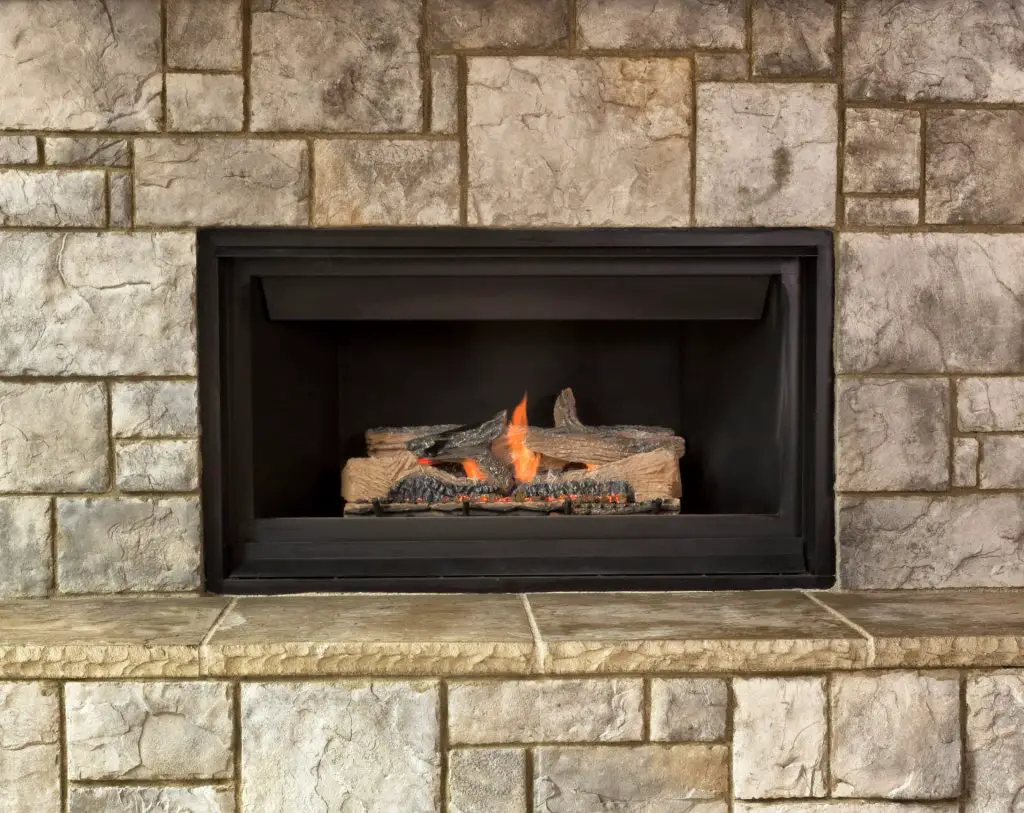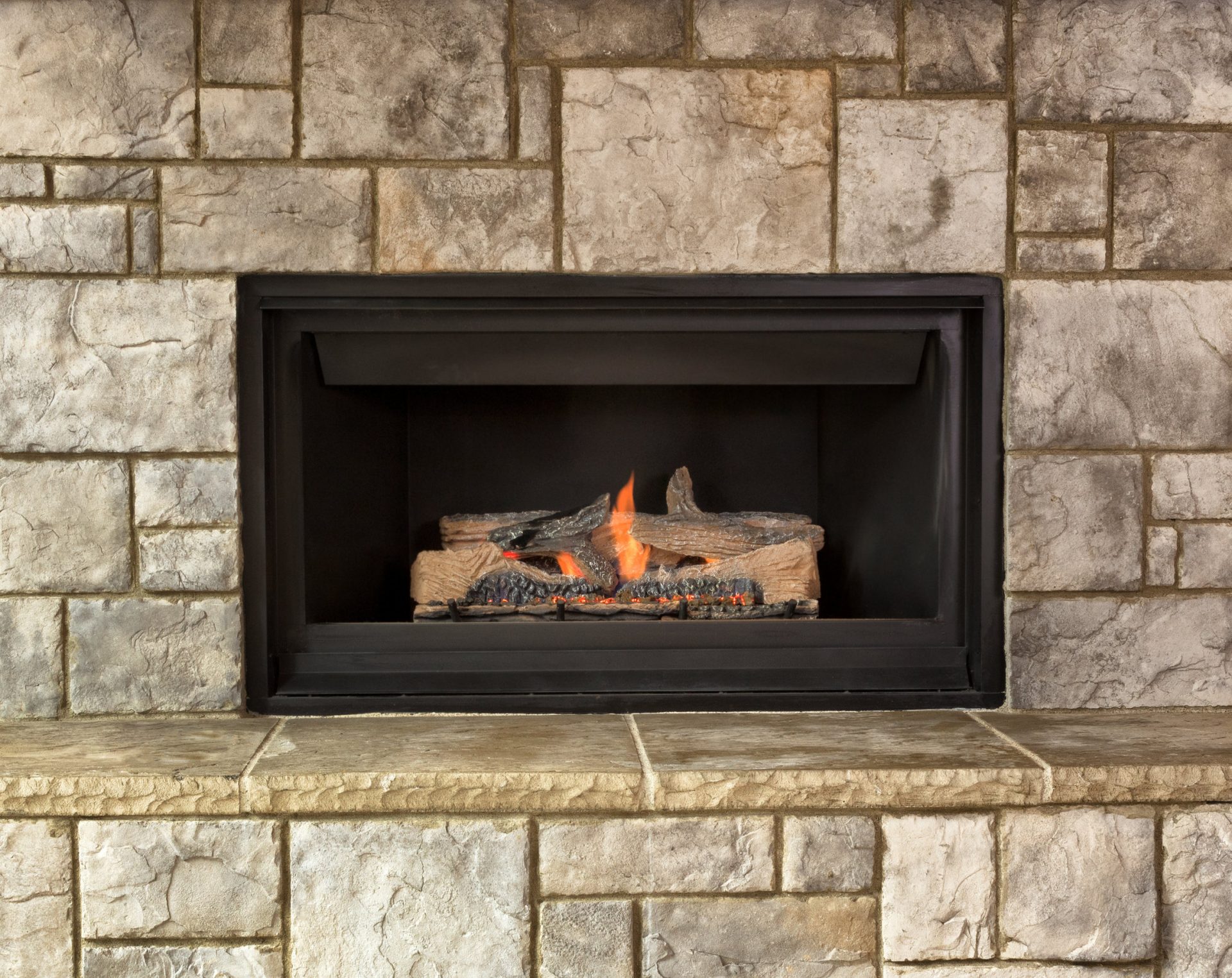 An insert is a fireplace that can be built into a preexisting setup or act as a stand-alone rig- also known as a closed-combustion firebox.
These are bigger than stoves but can also be made in specific dimensions depending on what the customer is looking for. These customizable inserts are perfect when finding a system for your older open-hearth fireplace.
Compared to a traditional fireplace, these inserts are more efficient in the way they heat your home. They are also EPA certified and spew fewer pollutants and particulates than regular fireplaces. We will also touch on the gas fireplace insert as an option as well.
One thing that you should keep in mind before purchasing is that, unlike a wood stove, which can heat from all sides, an insert acts more like a traditional fireplace that heats only from the front opening.
Installation Considerations
Types of Gas Fireplaces
Unlike a wood-burning fire, gas-burning fireplaces can bring down the overall maintenance cost and create better heating efficiency.
5. Direct-Vented Built-in Fireplaces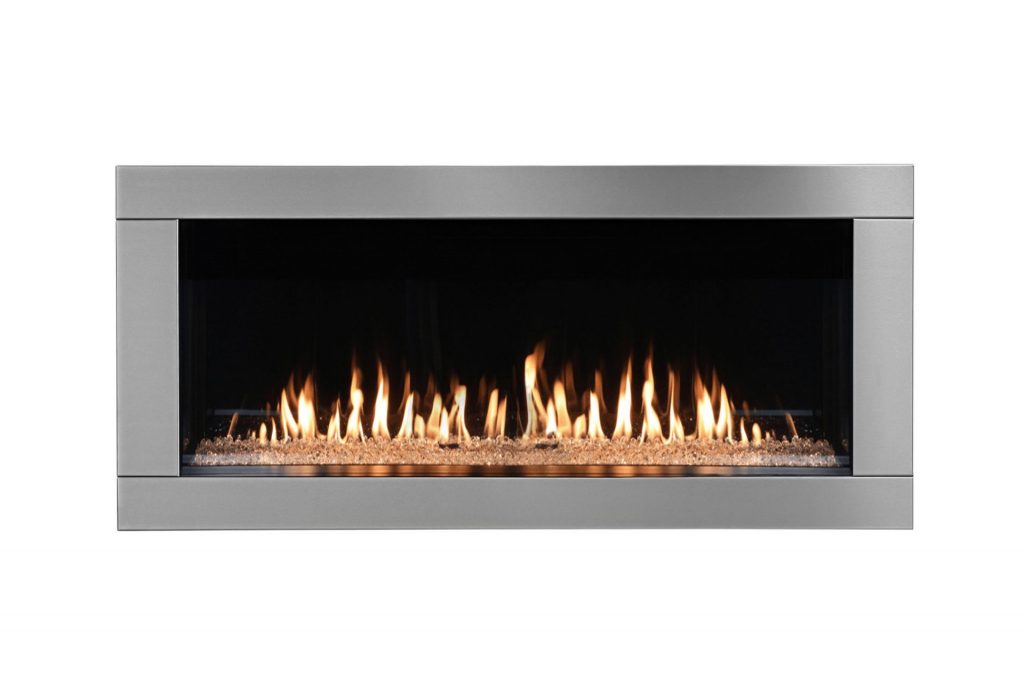 Direct vent fireplaces are gas fireplaces that rely on a ventilation system that transports outside air for combustion. This system also does not rely on a chimney and can be installed through the walls of your home.
This type of fireplace can be placed practically anywhere in your home making it very versatile. Not only this but safety concerns can be diminished since the flue is eliminated. Backdrafting is no longer an issue and other precautions can be taken during installation to ensure safety.
Just like enclosed fireplaces, these direct vent fireplaces are sealed off by a glass door to prevent heat loss and can convert most of the fuel to usable heat making them very efficient.
Although these are more convenient and have a lower cost than their traditional predecessors, gas fireplaces can be more expensive when it comes to the cost of gas. Compared to wood or coal, it's important to note that gas comes with significant costs.
On that note, there is also a lack of ambiance. You'll surely miss this when you own a gas fireplace but this could be a pro depending on what you are looking for.
Installation Considerations
6. Ventless Built-in Fireplaces
Ventless or vent-free fireplaces rely on natural gas or propane that is piped into a gas-burning unit. These fireplaces are designed to be more efficient than a venting unit.
There is no flue for ventilation required this helps with installation costs and versatility. These fireplaces also emit substantial heat which can heat a room a lot faster than traditional sources.
Just like the other gas units, the unvented model can lack the atmosphere since the flames can't compare to those that come from wood. Another issue that can come up is odors that can be emitted since there is no proper venting outside of the home.
Ethanol Burning Fireplaces
Ethanol-burning fireplaces can be an eco-friendly and portable solution to what's lacking in your home decor.
7. Fireplace Conversion
A fireplace conversion is basically just switching from one method of heating to another. Usually, it's a switch from wood burning to gas.
A conversion can also be as simple as a gas fireplace insert. This insert can be more cost-effective for those who already have a fireplace.
8. Wall Mounted Fireplaces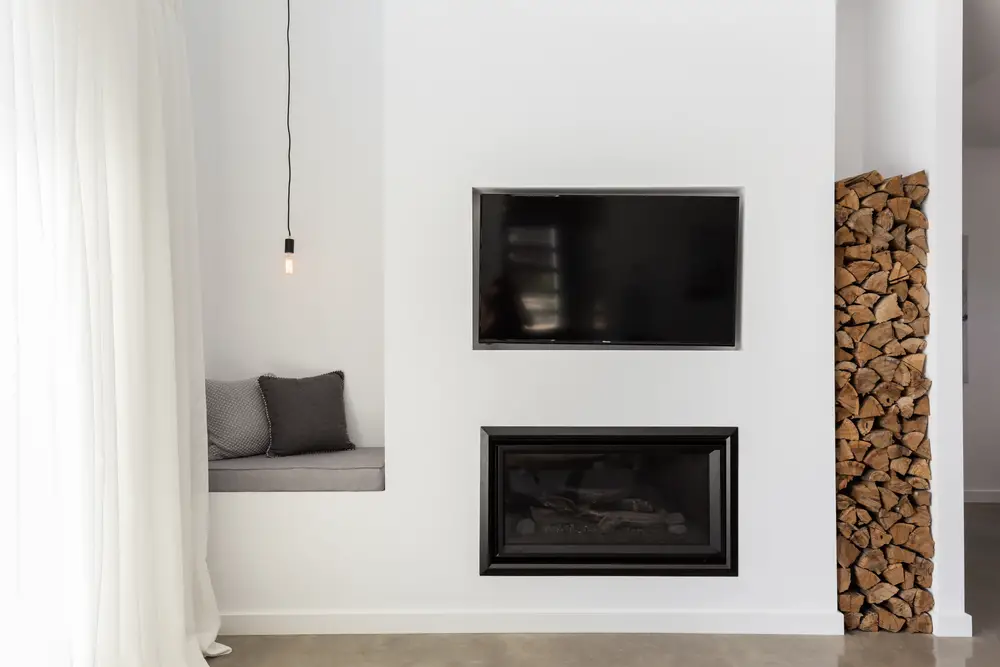 If you're living in a small apartment or you're lacking space in your home, this fireplace might be the one for you! Since they're hung on the wall, there is little floor space taken up. The cleaning process is a lot easier since there are no chimney flue or wood logs.
Just like other ethanol fireplaces, these have a low heat output compared to gas or wood fuel options. You also lack the real look of a fireplace that you get with other models. Lastly, you get no added value from a wall-mounted fireplace compared to others. People want real fireplaces and might be turned off by "fake" looking setups and the ethanol flames.
However, these are often pretty high-tech and you can control them with a remote control.
9. Tabletop Fireplaces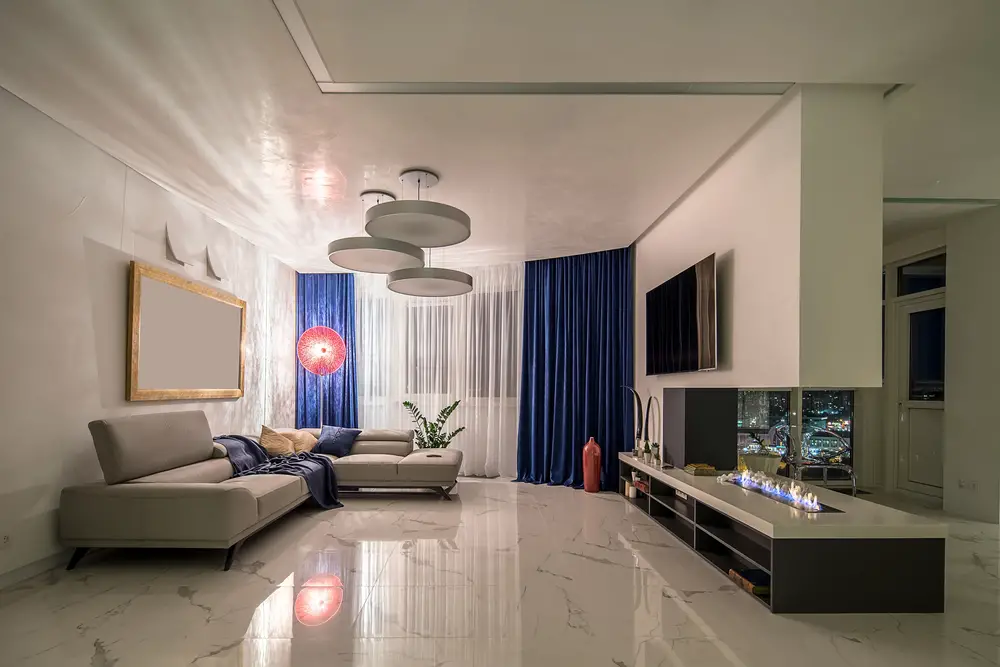 Tabletop fireplaces are pretty versatile like other ethanol fireplaces, they don't require a direct gas line because their fuel source is within. This creates an easy clean-up and clean burning.
They are also portable fireplaces that can be used in both indoor and outdoor spaces but with this, there is a lack in how much heat is emitted. Ethanol flames are also low fire risk since they're easy to light and extinguish.
However, just like gas, ethanol-burning fireplaces can be expensive to keep up with if you decide to use them often. of course, you can look at other options like denatured ethanol but make sure you're informed on what the best fuel type is for your freestanding unit.
Our favorite tabletop stocking stuffer: The Colsen Concrete Portable Firebowl
This portable fire tabletop can be used indoors or outdoors. It is fueled with rubbing alcohol, which is non-toxic and odorless. This fireplace provides instant ambiance to any area of your home.
It uses clean-burning (Isopropyl alcohol) for fuel.
This small fireplace can be used to create warmth and ambiance at your desk, in your living area, as a centerpiece for your main table, or outdoors.
The flame can last approximately 40 to 50 minutes depending on the room temperature and climate.
Electric Fireplaces
Electric fireplaces can be an affordable and convenient option for those who enjoy a nice fireplace glow. Without an actual heating element, you can enjoy your fireplace any time of the year.
10. Mantel Electric Fireplaces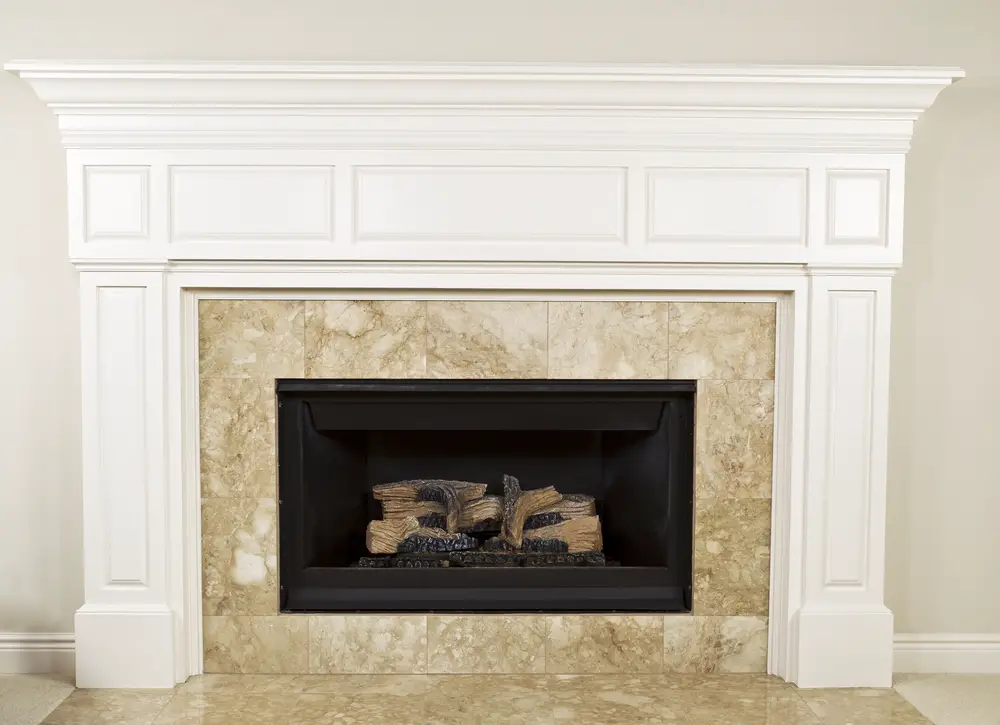 An electric fireplace insert could be a good choice for an apartment since there is a very low fire risk while still having a reliable source of heat within the home. This type of fireplace is very easy to use and a relatively inexpensive source compared to others mentioned in this blog. You can control the colors– so if you want a blue flame or a yellow flame, you can opt-out of the traditional hearth style and try something more modern.
Some things to be wary of, however, are that these types of fireplaces have shorter lifespans since the parts cannot be replaced. Also, take into account that you cannot use the product if your electricity goes out or if it is not close enough to an outlet.
11. Electric Fireplace TV Stands & Entertainment Centers
If you want a cooler way to display your fireplace, look no further than this swanky electric option. The only difference between these options compared to other electric fireplaces, it just fits in with the entertainment aspect of the room.
12. Infrared Fireplaces
An infrared fireplace works with electricity but can also be powered the same way as natural gas fireplaces. It uses infrared and fans to heat your room.
Overall, infrared fireplaces are a healthier heating type compared to their predecessors. This fireplace will also be friendlier with your heating bills since it only relies on around 300 watts of power.
Some things to keep in mind; there can be some safety concerns since the heater can get very hot and cause burns. Also, since we are relying on infrared, the heat will immediately disappear once turned off. That being said, it will not heat your entire room.
13. Gel Fireplaces
Gel fireplaces are another ventless fireplace on our list. These rely on gel fuel as the primary source of heating.
This can work if you want a free-standing fireplace option and can be renter-friendly. Not only this but gel fireplaces burn cleanly in every environment.
The downside to these fireplaces is that they can be more dangerous for the heat output it gives compared to other options.
14. Faux / Fake / Decorative Fireplaces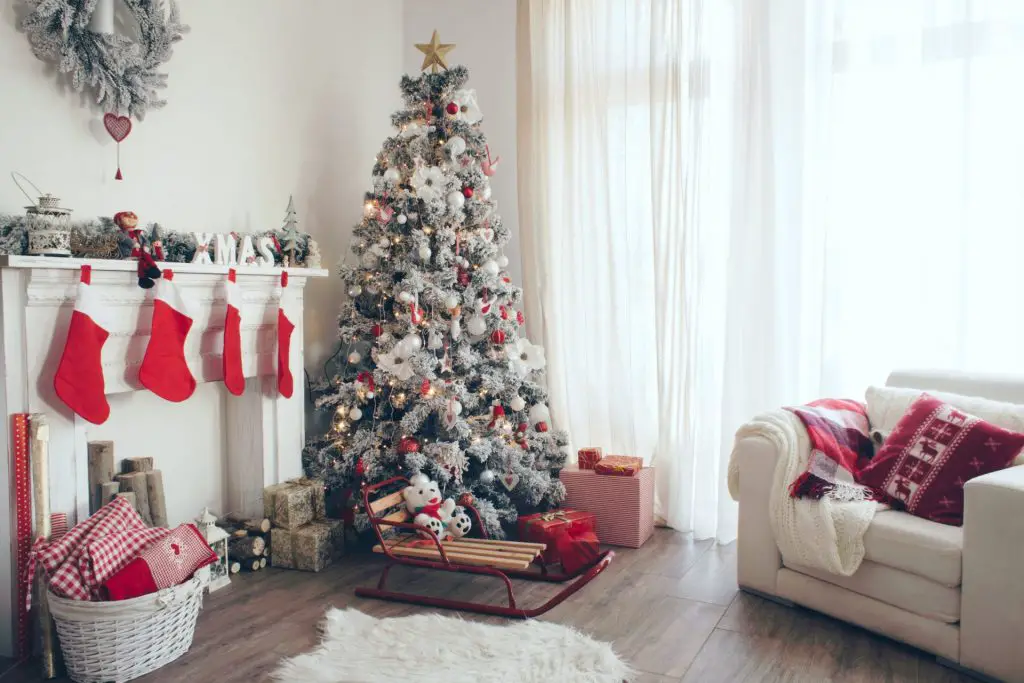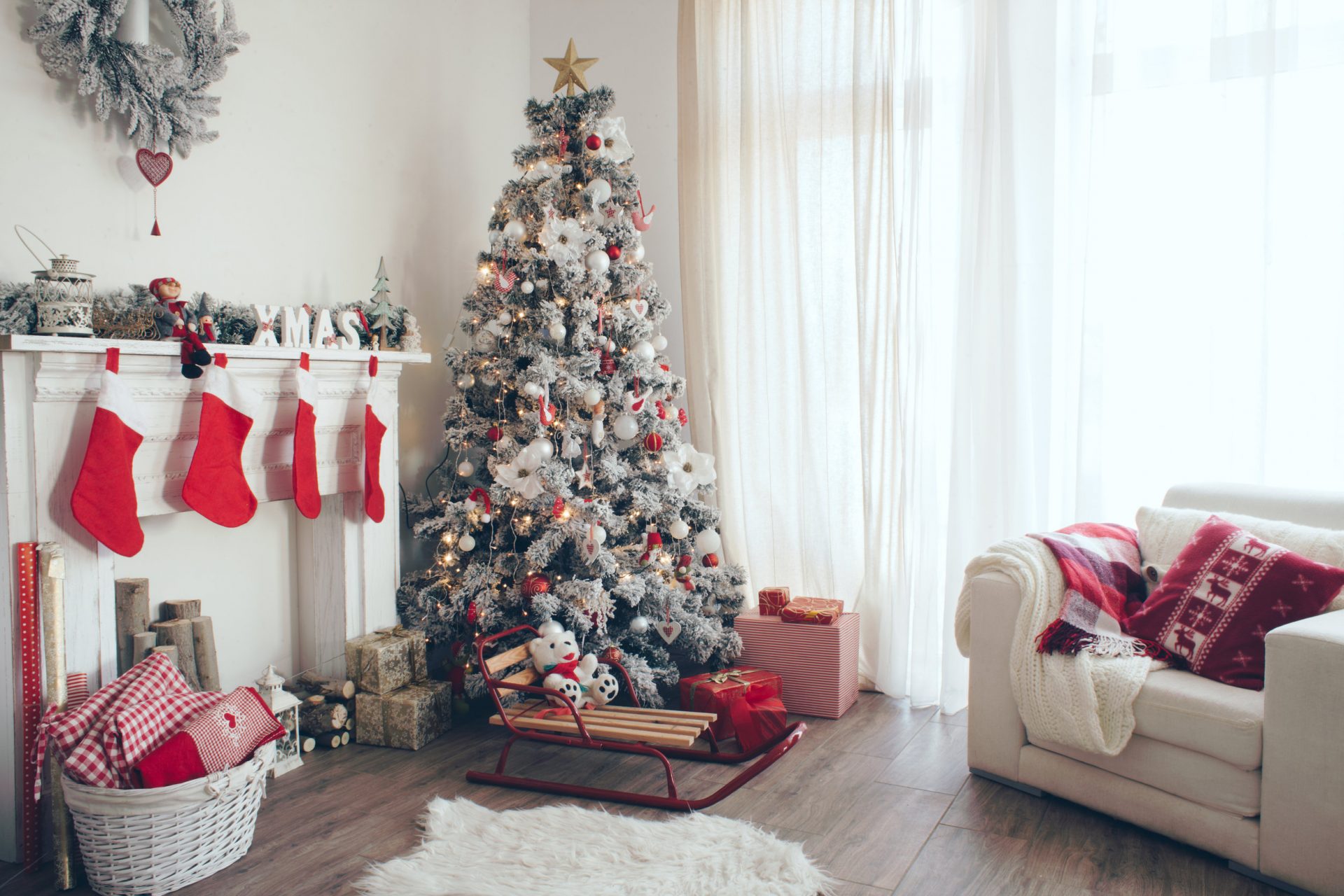 Fake fireplaces look like any other fireplace, but they don't produce any heat. They are purely for decoration and they allow you to add an additional touch of luxury to your living room.
15. Outdoor Fireplaces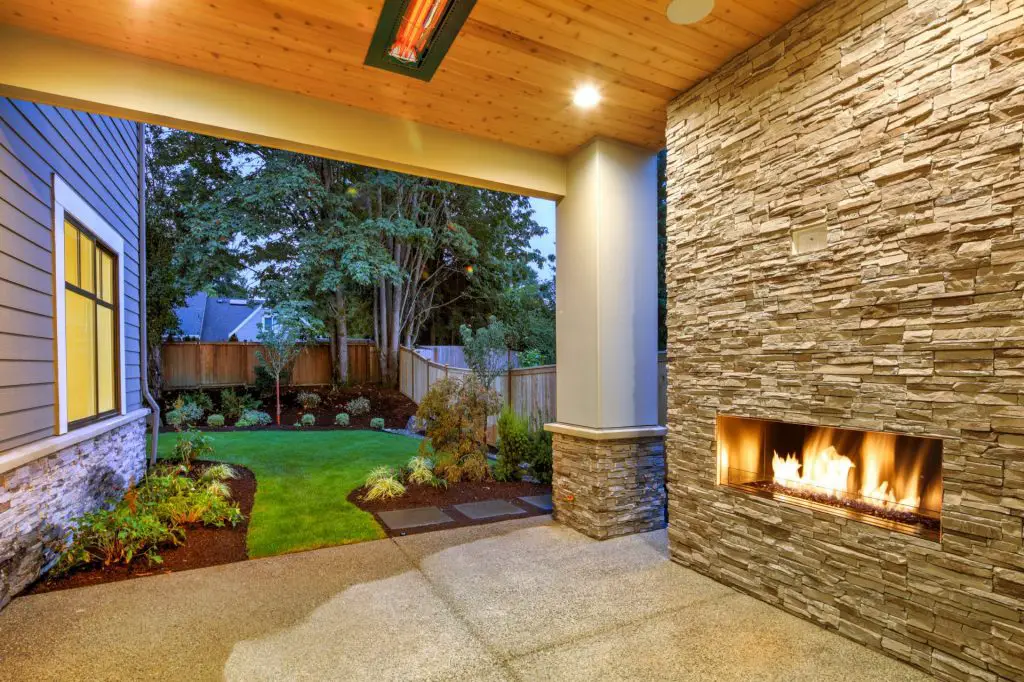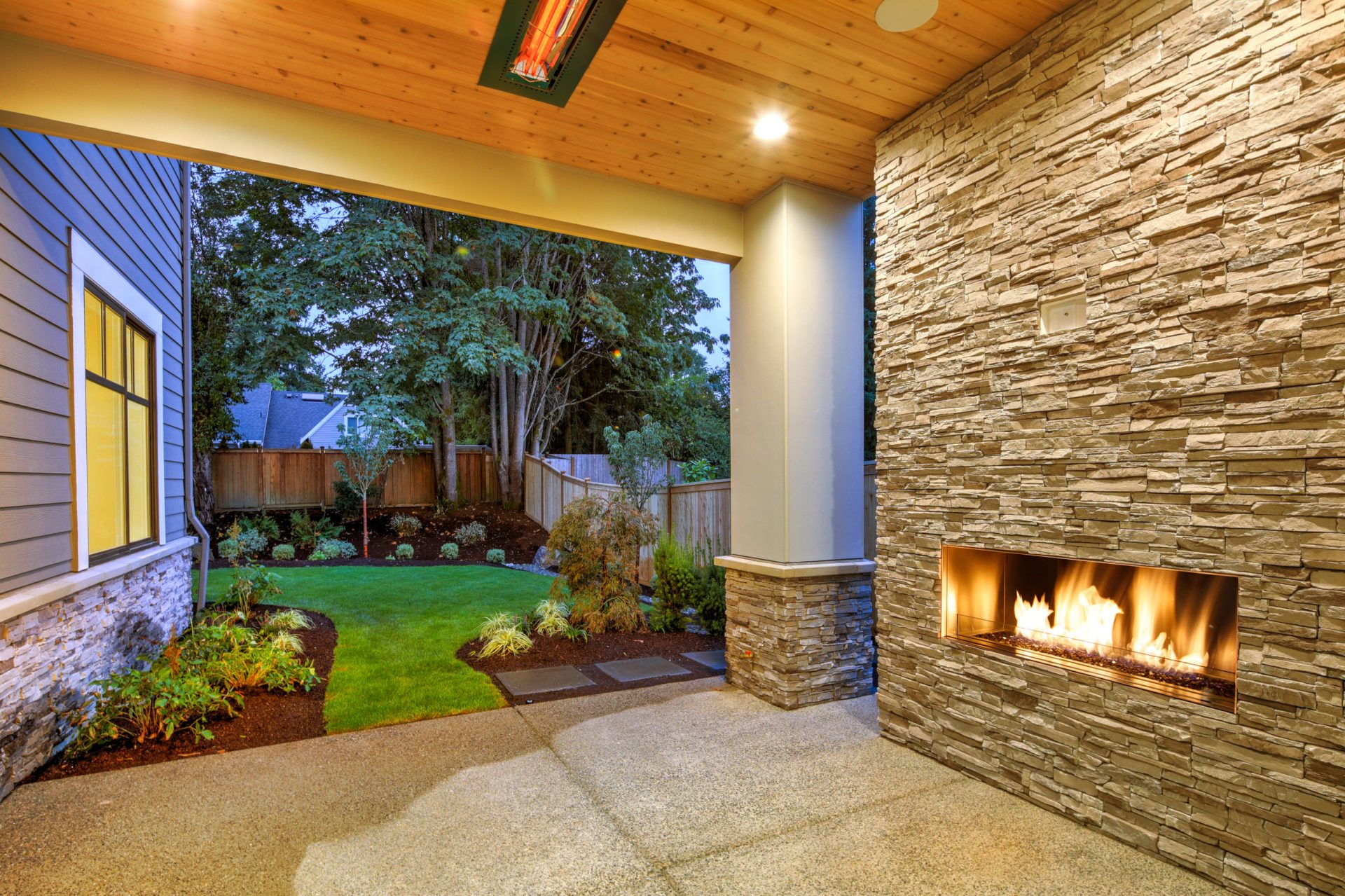 The beautiful thing about outdoor fireplaces is that they can be placed in a variety of locations. I love my outdoor fireplace because it's a focal point for our backyard. It's also great for cooking too. We can put a grill over the fire and cook delicious foods as the sunsets! There are a ton of options available, from traditional chimney hearths to in-ground fire pits.
A subset of outdoor fireplaces, wood burning firepits are a highly customizable type of fireplace that can be a gorgeous complement to a backyard.
16. Pellet Stoves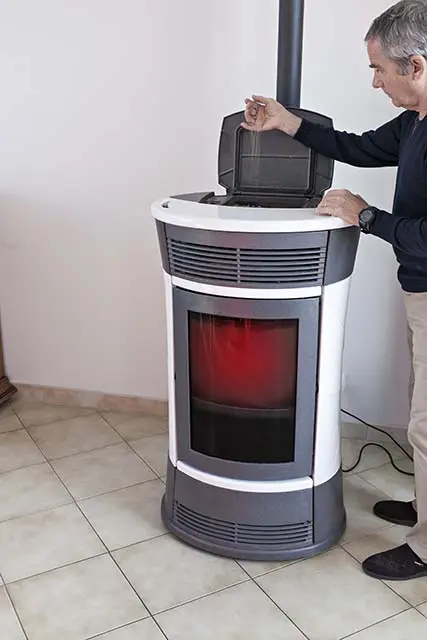 Pellets made from organic materials, such as wood or food waste, can be burned in a pellet stove. They come in small, cylindrically shaped pellets that are densely packed.
The stove's hopper is used to store the pellets. A hopper holds 35 to 130 pounds worth of pellets. The hopper holds 35 to 130 pounds of pellets. They then fall into the fireplacebox section of your stove, where they are heated up to heat your room. If you have a budget stove, you may have to manually ignite it.
The thermostat is what makes pellet stoves unique. Once the thermostat is set, the auger screw turns to release pellets into the firebox. This continues until the [stove/room] is at the right temperature. The thermostat can be set to release fewer pellets, while raising it will release more. We ranked the best pellet stoves, so check out our rankings if you're interested in this unique heating option.
Purchase Considerations
A typical gas or wood-burning fireplace can cost you anywhere between 2,000 and 6,000 dollars which can really skew where you decide to go based on your budget. The best fireplace for a tighter budget is an electric fireplace since it's the cheapest to install and has more affordable options available.
Versatility is also a huge push for homeowners who want to install a fireplace. Options like ethanol and electric fireplaces can act as a free-standing fireplace which can help those looking to add to their home as well without any pesky installations or added costs.
Size is also important. The average dimension of a fireplace is around 2-3 feet wide, 24-29 inches high and 16 inches deep. This can also vary depending on whether you install a customized insert or purchase a free-standing model.
Looking at the type of fuel used, gas fireplaces offer the most efficient and cheapest heating choice. Although wood can be cheaper, it does not always boast the most efficiency.
Now when we talk about aesthetics, you cannot beat the coziness of an open fire. Although it lacks efficiency, there is nothing that beats the wood crackling and the warm glow from a traditional open flame.