Thanks to the innovations in the field of technology, electric fireplaces have become one of the most popular types of heating appliances in recent years.
They are also becoming more and more affordable for homeowners. That is because today, electric fireplaces are available to suit any budget or decorating style.
Whether you are looking for that cozy warmth on a cold winter night or just want an attractive focal point in your living space, an electric fireplace can offer you both.
Electric fireplaces are perfect for apartments with little room for a traditional wood fireplace installation (learn how to measure for an electric fireplace).
These units allow homeowners to enjoy the look and feel of a wood-burning fireplace without having to do any messy cleanup afterward. And while they may take up some floor space, they take up less than half the space of their traditional counterparts, making them perfect
Have you recently considered adding a fireplace to your home or updating your old wood-burning fireplace? Between security, health, environmental and economic considerations, a lot might come into play regarding this seemingly simple decision.
This article provides an overview of the reasons why purchasing an electric fireplace may be a better option than opting for a traditional or gas-powered fireplace. They're one of our favorite types of fireplaces for both indoor and even outdoor use!
What is an Electric Fireplace?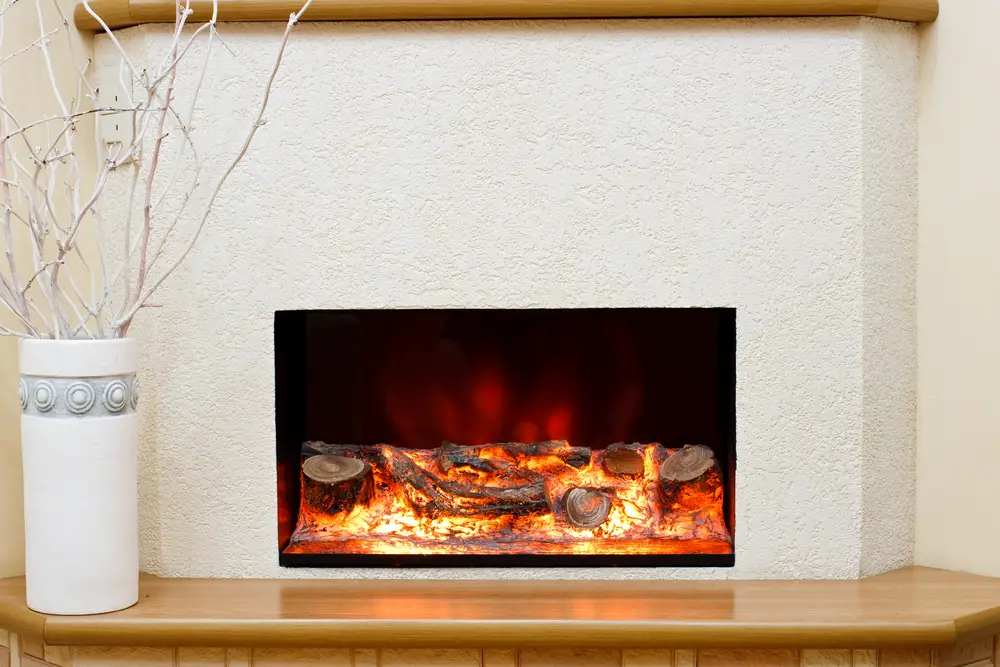 Electric fireplaces are a modern option for remodels, new homes, commercial spaces, and residential living spaces that do not have a traditional fireplace but still wish to fill their living area with the warmth and atmosphere of a glowing fire.
Electric fireplaces use LED bulbs which are far more energy-efficient and long-lasting than traditional wood fireplaces.
They commonly include a hand-held remote control, timer, and thermostatic control. Thermostatic control allows you to be able to set a specific temperature for a room. An electric fireplace will bring the room up to that temperature and keep it there by turning itself on and off.
Most models offer either a choice between a low heat setting of 750 watts and a high heat setting of 1550 watts.
An electric fireplace is a fantastic alternative to a traditional wood-burning or gas fireplace.
Additionally, most electric fireplaces come with a 1-year warranty.
How do they work?
Every electric fireplace functions differently depending on which brand and can vary from one model to another.
In most cases, cool room air is exchanged with heated air. Cool air is dragged into the fireplace, warmed by an internal heating coil, then sent back out into the room by a fan as heat.
They function similarly to home space heaters, where the air is blown over a heating element to produce warm air for the room. They use specialized technology and electricity to produce heat and a realistic flame presentation.
The primary type of heater is a fan-forced heater, but some models use infrared heating technology instead. Infrared heaters are capable of heating larger areas than fan heaters but are also more expensive.
Some electric fireplaces use halogen bulbs which use more energy and burn out faster than LED lights. The majority of electric fireplaces have on-demand heat allowing the fireplace to be operated with or without heat.
They're a convenient alternative to combustion fireplaces, which can be expensive and dangerous to maintain. Learn how to change the bulb in an electric fireplace– it will probably be a required maintenance issue if you have it for a couple of years.
Is the flame real?
The flame effect is produced in a variety of ways, but most utilize a motorized mechanism that refracts light off of strips of metal or mirrored panels to create the illusion of dancing fire.
Most electric fireplaces only simulate the look of fire by projecting LED lights in a randomized pattern onto a screen. Sometimes, the simulated flames can tend to lack flame detail – since there is no rising burning embers or smoke. Additionally, they produce no crackling log sounds.
Some models have a non-traditional flame color while others are equipped with a full-spectrum LED lighting low-to-high flame setting. This allows you to change the height and color of the flames to match your mood or surrounding decor. Most models also allow you to control the flame speed.
Electric fireplace logs add to the aesthetic of the fireplace by mimicking the look of a fireplace grate with burning logs.
Electrical requirements
It is recommended that the outlet that you use for your electric fireplace is on a dedicated circuit breaker or fuse. Dedicated circuit breakers are not shared with any other outlets or lighting fixtures and serve one single outlet.
Low Cost
One of the major upsides to electric fireplaces is that they do not require inspections or permits, gas, or chopped wood in order to operate. Furthermore, there is no need for chimney sweeping nor annual maintenance, and installation costs are very minimal, making the investment economically viable.
Electric fireplaces generally cost as little as 1-cent an hour while in flame-only mode and only 8 cents an hour while in heating mode. More expensive models come with more realistic flame effects.
Aesthetically Pleasing & Customizable
Electric fireplaces come in many varieties of stainless steel, gold, and silver to perfectly accent any room in your house.
No Mess
Using electric fireplaces means that you will save a lot of time having to clean up the mess created by burning wood. An electric fireplace re-creates the ambiance of having a traditional fireplace with the upside of having no debris to take care of after each fire.
Clean Air
With the effects of global climate change beginning to take hold of the collective human attention, there is comfort knowing that electric fireplaces are predominantly environmentally friendly. Electric fires are almost 100% efficient and can use renewable energy to operate.
An additional bonus is that they do not pollute the air inside of your home – limiting the amount of particulate personally inhaled (which is harmful to human health) because nothing is actually being combusted.
Safe for Children and Pets
A major concern for potential purchasers of electric fireplaces is whether or not they are safe for their children or pets. Since there is no actual combustion occurring, electric fireplaces are actually much safer than traditional fireplaces. Electric fireplaces stay cool to the touch; therefore, it is generally acceptable to have pets and children within the proximity of an electric fireplace. However, it must be noted to always keep an eye on children when they are playing around an electric fireplace or to escort them to a different room.
Another safety feature built into most electric fireplaces to ensure the safety of your children or furry best friends is a built-in overheat protection switch that automatically turns the heater off if overheating is detected.
Compared to gas-burning fireplaces or traditional wood-burning stoves, an electric fireplace is considerably safer.
Easy Installation
While wood-burning fireplaces or gas-burning fireplaces require a multiplicity of additional parts, electric gas stoves are relatively easy to install. Since electric fireplaces do not require a chimney or gas line, they can be installed almost immediately. Anywhere there is an electrical outlet, an electric fireplace can be installed. Any homeowner should be able to do the task; it simply plugs into the wall. Usually, the only tools needed for installation are a screwdriver and a level. One must basically follow the provided instructions in the manual.
Zone Heating
Electric fireplaces can be used as zone heaters, saving you money on your heating bills by allowing you to keep your thermostat set lower. Electric fireplaces only heat the room which you are in. They are far more efficient than full home heating systems.
Supplemental Heat Source
Many electric fireplaces come with an integrated heater to provide supplementary heat to accompany the effect of the flames. Zone heating electric fireplaces add supplemental heat to areas as large as 400 square feet.
What Are the Various Types Of Electric Fireplace?
Electric fireplaces are becoming the wave of the future. With many manufacturers jumping on board, there is a variety of unique styles of electric fireplaces. The following is a list of the most common ones:
Wall-Mounted Electric Fireplace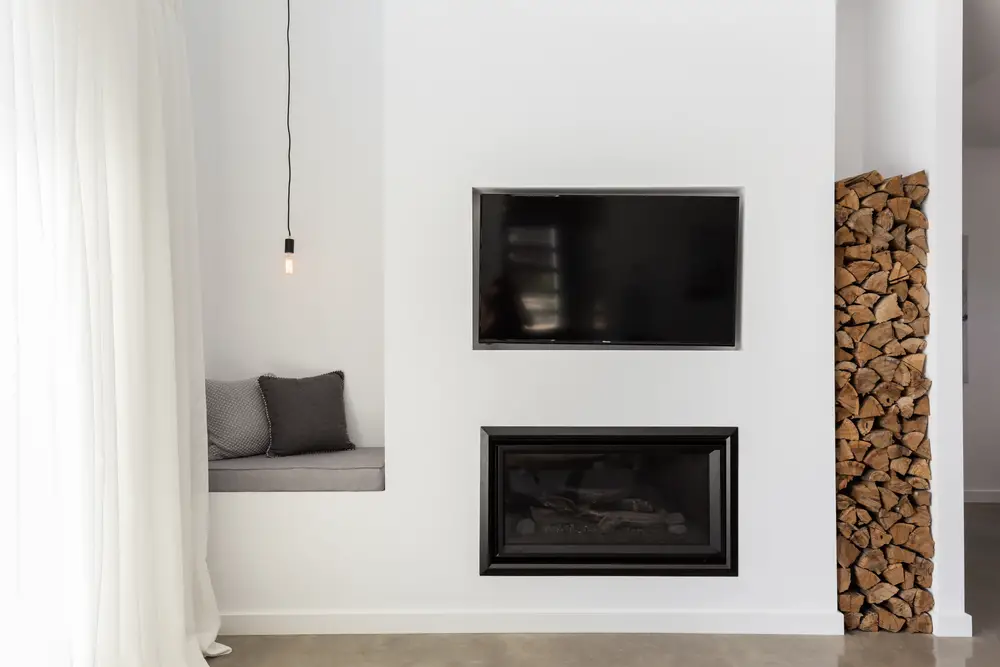 Wall-Mounted electric fireplaces provide a dramatic modern look. There are two common types of wall-mountable electric fireplaces: models recessed into your wall, and models mounted to your wall.
Electric Fireplace Mantels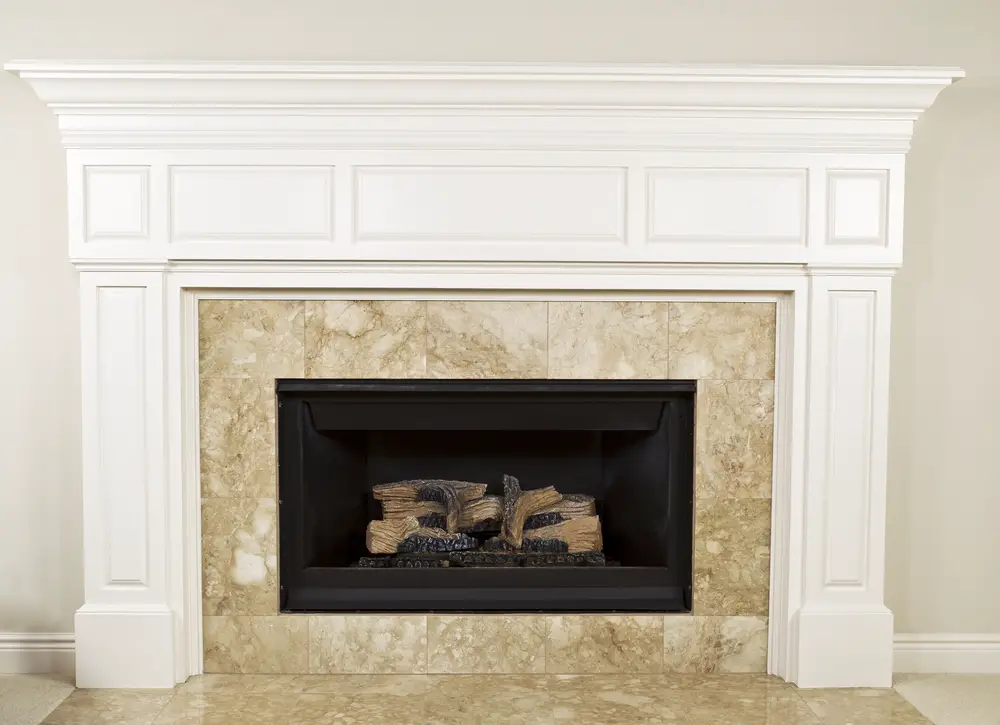 These are designed to mimic the look of traditional fireplaces. They generally sit flat against a wall with a firebox that is inset.
Corner Fireplaces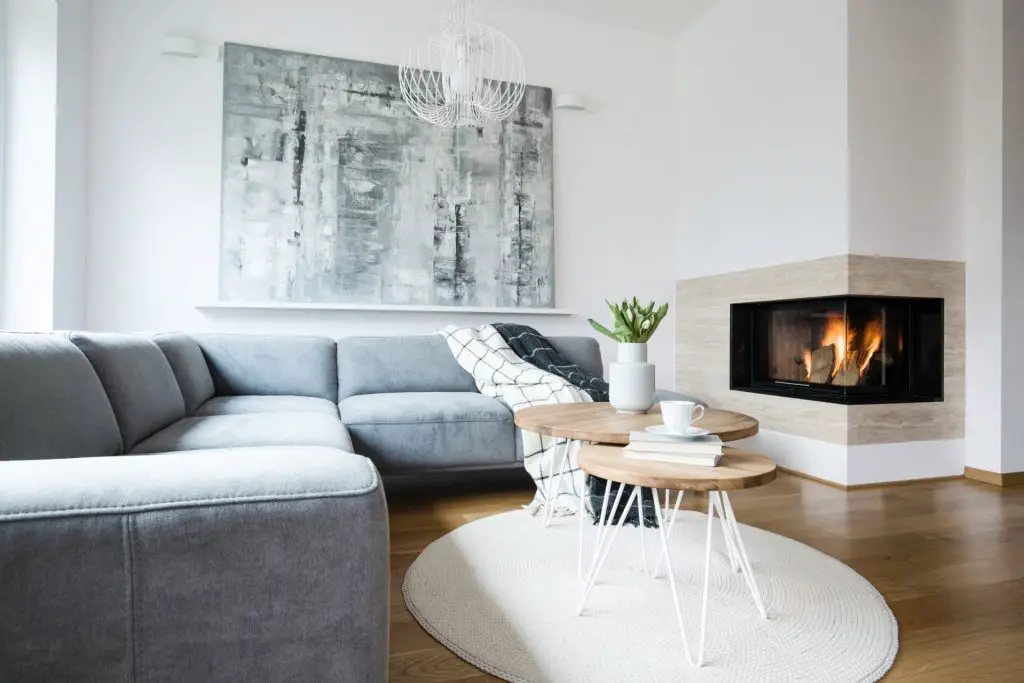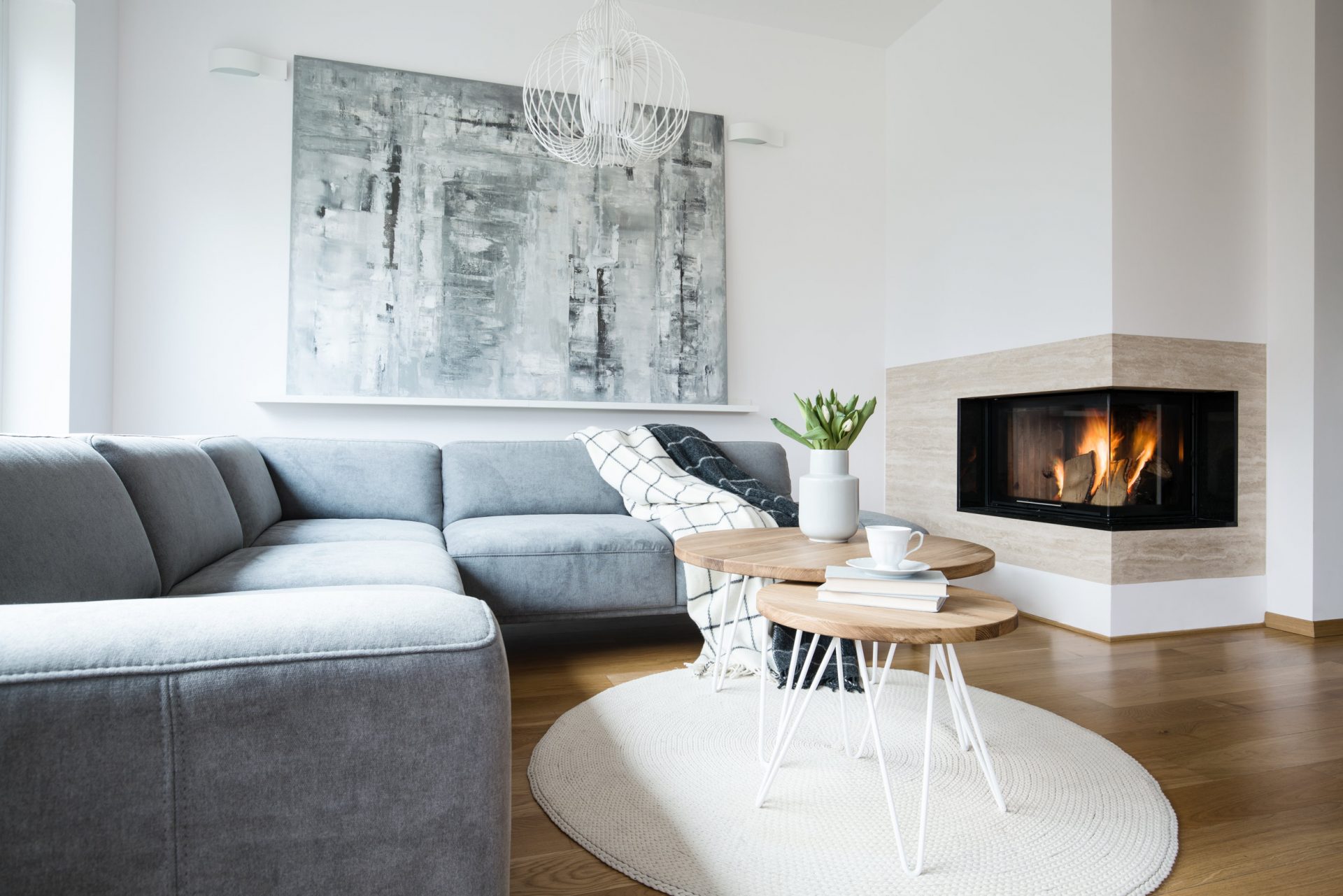 The corner type of fireplace is one of the most common. It also resembles a traditional fireplace and is simply placed against a wall, or even recessed into it like the picture above shows.
Fireplace TV Stands
These electric entertainment fireplace stands are similar to wall fireplaces but also act as entertainment centers for your flat-screen TV.
Electric Fireplace Inserts + Logs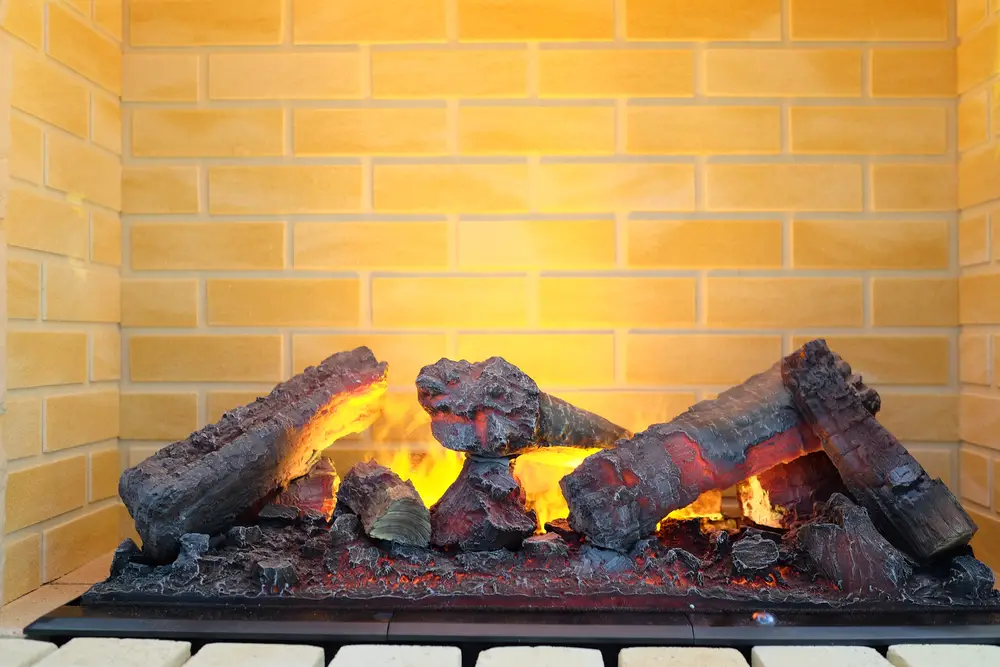 A fireplace electric insert is made to be inserted into existing traditional fireplaces. They transform traditional polluting fireplaces into efficient electric fireplaces. If you want to get a sense of the cost and installation savvy to get one of these inserts installed, check out this video:
Installation Overview
Outdoor Electric Fireplaces
For those who love the idea of having a fire in an outside setting – there is an option for you. Only the best outdoor-rated electric fireplaces can be used outside. You cannot use standard electric fireplaces outdoors, nor can they be modified to do so. There are two common options when it comes to buying an outdoor-rated electric fireplace; the Panorama Series Deep-Built Outdoor Electric Fireplaces by Amantii, and the Touchstone 80017 Sideline Outdoor Built-In Electric Fireplace.
Gel Fireplace
Some people desire the look and feel of a real flame. Gel fireplaces are a mix of electric and traditional – they produce a real flame, but the downside is that they also emit fumes. They are not recommended unless you are seeking installation convenience without an electric requirement.
High-Tech & Trendy Options
Depending on your budget and how advanced an electronic fireplace you are seeking, there are some more costly but more high-tech and trendy options available, such as linear designs and smart electric fireplaces.
Linear designs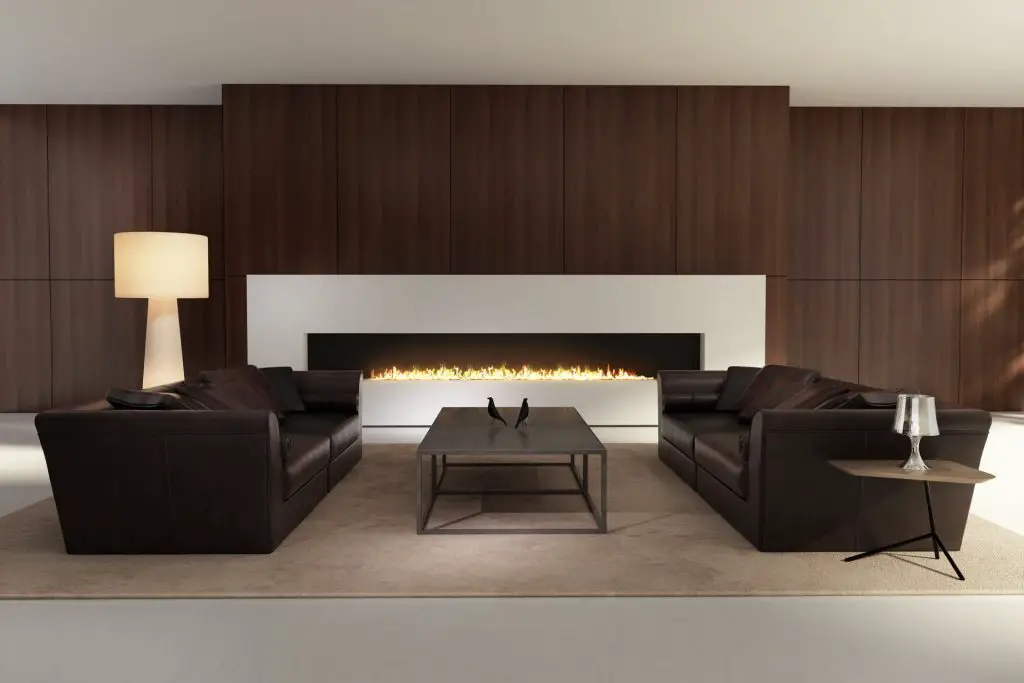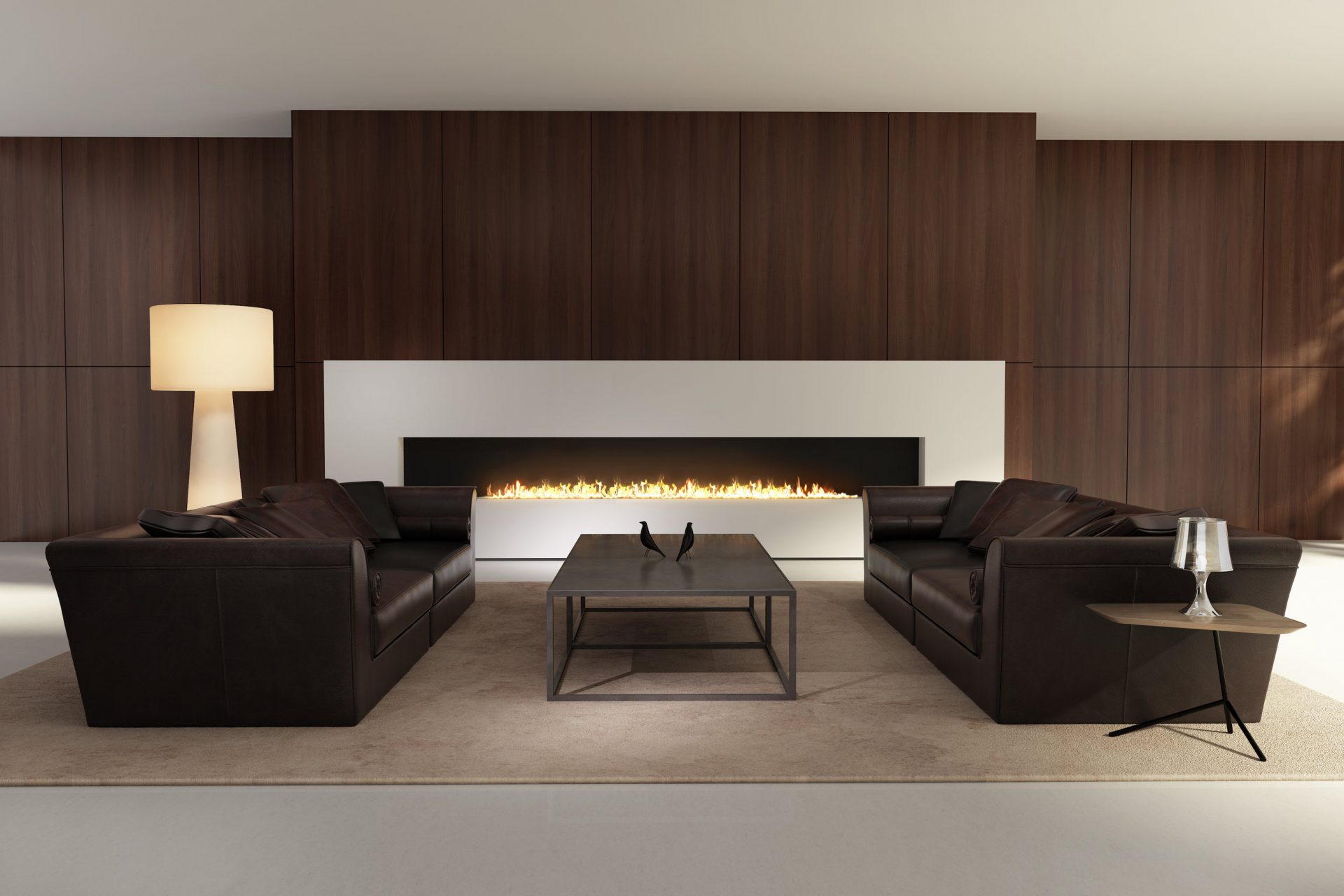 Generally, linear fireplaces are frame-less and are a fantastic alternative to gas fireplaces. They are popular with homeowners due to their ultra-realistic flame appearance, low cost, and ease of installation. Wall mount electric fireplaces are generally linear in style meaning, that they are wider than they are tall.
Smart electric fireplaces
Nearly every aspect of the home is beginning to use smart technology, so shouldn't your fireplace also follow the trend? Advanced electric fireplaces like MagikFlame offer innovative electric fireplace technology allowing fireplaces to be operated with a smartphone over Bluetooth so that the fireplace can be controlled from any room. Some units make it possible to adjust the heat, flame, and timer settings simply by speaking to Alexa. With a smart electric fireplace, you will never need to get up to change the settings or make use of the included remote control.
Buying Considerations
Measure Your Space
Before purchasing an electric fireplace, make sure to measure the space ahead of time to make sure it will fit in and be able to heat the total amount of the desired location.
Electric fireplaces generally heat rooms between 400-1,000 sq/ft depending on which type of electric heater they have. A good thing to know is that electric fireplaces have little-to-no clearance requirements. Smaller homes and contained spaces are better suited with a corner unit. Electric fireplaces can also be directly installed into TV stands to combine the two units and save on floor space. While a compact fireplace allows you a high degree of portability, a larger option will better suit bigger rooms as well as provide a larger heating effect.
Estimate Your Operating Cost
Another consideration when thinking of purchasing an electric fireplace is the cost of operation. Based on the national average kilowatt-hour (kWh) rate of 12 cents, a 1,500-watt electric fireplace will cost around 18 cents per hour with all settings at maximum.
DIY or Hire a Pro?
If you are considering purchasing an electric fireplace, an important step in the process will be whether you can install it yourself or if you will have to hire a professional. Luckily, most electric fireplaces are ready to use without professional installation. However, an experienced and licensed electrician should be hired to install an electric outlet – if there are none nearby to the location that best suits your fancy or if you are planning on hardwiring it straight into your home's power supply.