Outdoor electric fireplaces come in a variety of styles, including built-in and wall-mounted
The most important feature to look for when purchasing an outdoor electric fireplace is that it is rated for outdoor use
Outdoor electric fireplaces can be used to produce heat, either through fan forced heating or infrared heating, but many don't produce heat
Some of the most popular brands that sell outdoor electric fireplaces include Touchstone and Amantii
When using an outdoor electric fireplace, it is important to purchase a weatherproof cover to protect the unit from the elements.
The search for the perfect outdoor electric fireplace was not an easy one. I spent hours online, looking at all the different models and their specs. I knew that I wanted something that was weatherproof and could be recessed into a rock wall by our pool.
I finally decided on the Touchstone 80017 Outdoor Electric Fireplace. It wasn't the cheapest option, but it had everything I was looking for. It was weatherproof, could be recessed into a rock wall, and came with a remote control.
The only downside was that it couldn't produce any heat, but I figured we could always use a portable heater if we needed it.
My favorite outdoor electric fireplace
The installation process was fairly simple. The guys who installed it said that it was one of the easiest fireplaces they had ever installed.
It took them about an hour to install it and they didn't need any help from me.
Now that it's installed, I couldn't be happier with it. We've already spent hours sitting around the pool enjoying the warm weather and the beautiful flames of the electric fireplace.
Outdoor electric fireplaces are a great way to enjoy the outdoors while still having the warmth and comfort of a fireplace. They are perfect for any outdoor space, whether it is a patio, deck, or even a porch.
There are many different types and styles of outdoor electric fireplaces to choose from, so finding the perfect one for your home is easy. Outdoor fireplaces are not only great for experiencing in the wintertime but can also be used in other seasons or when hosting guests with ease.
Outdoor electric fireplaces come in many different sizes, styles, and prices, and finding the best outdoor fireplace for your home can be difficult, but it is possible. Here is a complete guide on choosing the best outdoor electric fireplace for your home.
Factors to Consider When Buying an Outdoor Electric Fireplace
1. Size and Dimensions
The first thing you will want to consider when choosing an outdoor fireplace is the size and dimensions. Which is the best one to fit into your space? Is it going in a small area, or are you more worried about it being visible from far away?
Are there certain size requirements to ensure it will fit into your space? These are all things you need to think about when choosing the perfect outdoor fireplace.
2. Design or Style
The design and style of the outdoor fireplace can be a deal breaker. A lot of people choose their outdoor fireplace based on the design or style as opposed to actual functionality and there is nothing wrong with that.
The design of your backyard or backyard patio space should be aesthetically pleasing to you, so choosing an outdoor fireplace that will look good in your yard, garden, or patio space is a great way to go.
3. Easier Installations
Of course, you want to choose an outdoor fireplace that is easy to install, but the fact is some fireplaces will require more professional help to install.
This can make the project a lot more expensive than anticipated, so make sure it is something you want to tackle before choosing the outdoor fireplace.
4. Durability and Quality
Quality and durability are two things you should be looking for in an outdoor fireplace. The last thing you want is the exterior or parts of the fireplace to start chipping off after a few seasons. Also, you want to choose a fireplace that is high quality and will be durable for many years to come.
The 5 Best Outdoor Electric Fireplaces
1. The 8000 Touchstone
Touchstone 80004 - The Sideline Electric Fireplace - 50 Inch Wide - in Wall Recessed - 5 Flame Settings - Realistic 3 Color Flame - 1500/750 Watt Heater - (Black) - Log & Crystal Hearth Options
APPEARANCE: The Sideline electric fireplace is designed for recessed in-wall mounting. Creating a cozy atmosphere of a traditional fireplace, this electronic fireplace has realistic flames with a real fire look. The Sideline's 5 flame settings radiate a soft ember glow up to an intense blaze. Sideline gives you the total package. Control the heat and flame with the remote control. Designed to use one log or crystal, if you prefer you can mix both safely.
INSTALLATION: This Sideline installs simply and can safely be attached to framing studs. The sides & back of the unit remain cool to the touch with the heat feature on. Recommended minimum of 8" of space between the top of the fireplace and your TV, mantel, picture ceiling. The Sideline can be installed in existing fireplace openings safely. Consult with a licensed professional to ensure your unused gas lines and vents are secured properly. The Sideline fireplace is ventless.
This electric fireplace is the perfect amount of warmth and style to fit any outdoor space. It has a 50 in. X 30 in. dimension and comes with either a tan or brown finish as well as your choice of log or crystal hearth options.
Pros
This fireplace is made from stainless steel, which is great for durability, but also rust resistant.
The tempered glass window is an added benefit because it allows more light into the room and will allow you to see the flames from any seat in the room, including those that are farther back.
Cons
This electric fireplace is a bit bulky and may not fit in some residential spaces or private yards.
Video Preview
2. The Dimplex Sierra 48″ Linear Electric Fireplace
Sale
This linear fireplace is 31 inches wide and 23 inches tall. This fireplace would be perfect for a large or spacious patio, pool area, or even a back porch. The flames are very realistic and the steel casing is durable.
Pros
This is a great fireplace to fit into just about any space that needs extra warmth or a rich design element. This fireplace has 4 flame settings and it's easy to control the heat output as well.
This fireplace is also perfect for adding ambiance to any backyard or patio.
Cons
This fireplace may be very difficult to install by yourself. It weighs over 50 pounds and will be hard to maneuver into place.
Video Overview
3. The Sunnydaze Modern Flame
This is a curved electric fireplace that is 32 inches long. It has a black housing with a clear glass screen to surround the flame and heat output of 1,800 watts.
Pros
This electric fireplace looks great and is a great addition to any place you would like to add warmth and ambiance quickly. The flame can be easily adjusted and the colors are adjustable.
The glass cover is tempered, which means it is sturdy and reliable for years even in harsh weather conditions.
The height is perfect and it is mounted on a slanted angle, which makes it look very realistic.
This electric fireplace can be used in a recessed or wall-mounted setting and the heat output can reach between 1500 to 700 watts
Contains a variety of heating and display options
Cons
This electric fireplace will not fit into smaller spaces and the glass cover is not for everyone.
Video Overview
4. The LIMOR Indoor Tabletop Fire Pit
Sale
LIMOR Indoor Tabletop Fire Pit - Mini Personal Fire Bowl Outdoor Portable Tabletop Ventless Bio Ethanol Fireplace
【STURDY AND DURABLE】:This tabletop fire pit hand-cast from organic sustainable concrete,rugged and will not break;the internal double-layer leak-proof container is made of stainless steel and aluminum containing a wick, which makes your use safer, 300ml capacity for a better flame and longer burn time, approx 45-60 mins (depending on room temperature and climate);Windproof Glass Cover is made of tempered glass,effectively helps to block the wind from shifting the flames.
【CLEAN BURNING FUEL】:This table top fire pit bowl uses 70%、91% Isopropyl alcohol、bio ethanol fuel. Producing a vibrant orange, dancing flame without irritating smoke or mess. It's free from soot and ash and emits nothing more than heat,water vapor and CO2.so you don't have to worry about harmful emissions. For best results, we recommend using 91% Isopropyl alcohol fuel.Please remember not to ever pour/refill fuel onto open fire or when burner/fireplace is not cool to touch.
This mini fire pit is perfect for a patio or any other space that needs a little warming up. It will be the perfect size for anyone looking for a more compact option. It also has natural bio-ethanol for heat output, which helps make it more environmentally friendly as well.
Pros
It is portable and easy to set up, which makes it great for outdoor spaces that aren't quite big enough for a full fire pit or an outdoor fireplace. The heat output is also very strong and can reach up to 2900 watts.
It is durable and made from stainless steel.
Cons
This mini fire pit can be challenging to get started and requires more time and maintenance than other options.
Video Overview
5. The TURBRO Suburbs TS17
Sale
This compact electric fireplace is a great choice for users who have smaller spaces to work with. It will fit into any 18-inch by 24-inch space and it can be connected to a standard 110 outlet. It has a variable heat output between 1500 to 700 watts and it's also CSA certified.
Pros
This electric fireplace is easy to move around, which makes it perfect for many different spaces or situations.
The light from the flames is adjustable as well as the temperature settings.
Overheat Protection: Prevents overheating and burning the surface it is being used on.
Cons
This product requires maintenance, so regular cleaning and dusting are required to keep it working properly.
Video Overview
FAQs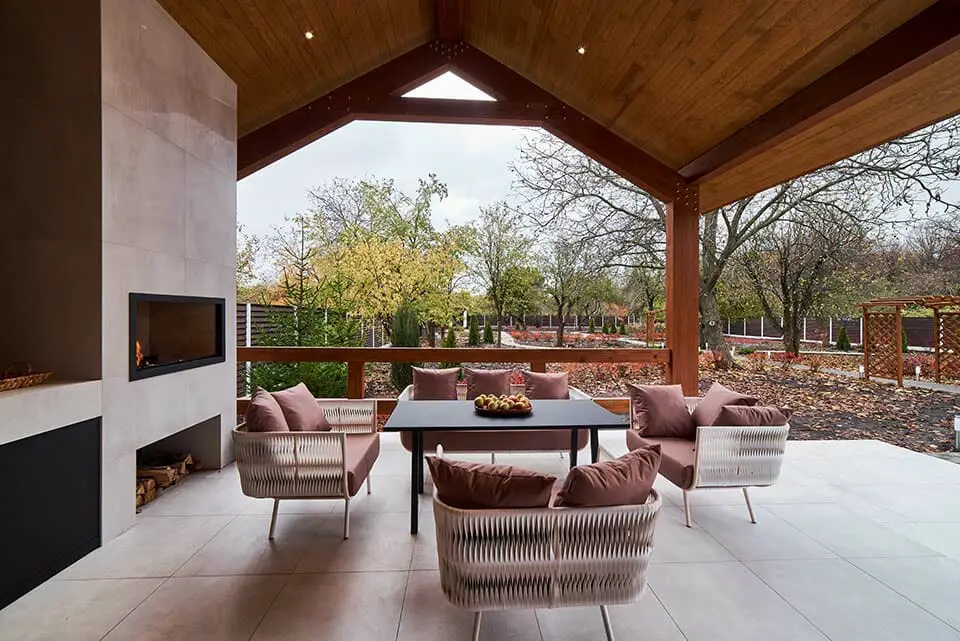 Can any electric fireplace be used outdoors?
No, not all electric fireplaces can be used outdoors. Only those that are specifically designed for outdoor use can be used outside.
What is the difference between an indoor and outdoor electric fireplace?
Outdoor electric fireplaces are typically larger and more durable than their indoor counterparts. They also come with weatherproofing features to protect themfrom the elements.
Do all outdoor electric fireplaces come with a weatherproof cover?
No, not all outdoor electric fireplaces come with a weatherproof cover. However, it is important to purchase one separately in order to protect your investment.
Can outdoor electric fireplaces produce heat?
Some outdoor electric fireplaces come with fan forced heating, which can produce heat even when used outdoors. Other models come with infrared heating, which is ideal for creating a warm and cozy atmosphere.
How long do outdoor electric fireplaces last?
With proper care and maintenance, most outdoor electric fireplaces can last for many years.
Conclusion
Electric fireplaces are the perfect way to create the perfect warmth and ambiance for any outdoor space. These fireplaces provide an alternative to conventional means of heat and light, creating a more modern feel for your backyard or patio.
Whether you like the sleek lines of a contemporary design or prefer something that looks more natural and rustic, there is an electric fireplace that can fit your style perfectly. An electric fireplace will add a sense of sophistication to your patio or backyard space, as well as being a practical addition.