Whats the difference between electic and gas fireplace inserts?
Gas fireplace inserts are generally more expensive to buy and install than electric ones. If you don't already have one, you will need to install a propane supply or natural gas line.
You will need standard electrical outlets for electric fireplaces. However, larger units may require a dedicated circuit or a new line. It depends on which fireplace you are using.
Gas fireplaces have additional requirements regarding their placement in the home. Vented gas fireplaces must have an outside exhaust. They can be installed against an exterior wall, or into an existing masonry fireplace. Ventless gas fireplaces may not be legal in every state. Before purchasing, make sure to check the local ordinance codes.
Because electric fireplaces do not produce carbon monoxide, they don't require venting.
They are both relatively inexpensive to operate and require little maintenance.
Although you can install a gas fireplace yourself, it's best to hire a professional to do the work.
The size and style of the electric fireplace will determine how easy it is to do the DIY install yourself. For a permanent unit, you will need to frame and drywall the wall. However, for a standalone electric fireplace, it is easy to install- just buy and place where you want it!
Simple selection process:
A gas fireplace is for you if you:
crave a natural-looking flame
already have a gas line
already have expensive electrical costs
want to heat a larger space
An electric fireplace is for you if you:
don' have a gas line setup
don't need to heat large spaces
are indifferent to the look of a natural flame
want as much DIY as possible
current electrical costs aren't high
don't want to spend too much upfront
would like a fully DIY install option
prioritize safety
Choosing between an electric fireplace insert and a gas fireplace insert can be tough. We've designed this guide with descriptions of the differences between gas and electric fireplaces. Inside, you'll find an explanation of the advantages and disadvantages of each type.
Taking this information into consideration will help ensure that you choose the fireplace insert that fits your home and lifestyle best
Gas Fireplaces
These Inserts are becoming more popular compared with traditional wood-burning fireplaces for both installation in new homes as well as replacement of older models due to their convenience and ease of use during moderate weather conditions. Additionally, they are easy to install and maintain.
A gas insert is a great way to update and modernize an existing wood-burning or masonry fireplace. They can be found in either free standing style or as inserts into existing fireplaces. There are several benefits of using these fireplaces including:
No need for chimneys
Built-in fans that help circulate warm air throughout the home
Convenient remote-control access
They require virtually no maintenance
Provide year-round warmth
And give off almost no harmful emissions into the home.
The quality of these inserts will have many safety features including anti-tilt bars, overheat shutoff systems, pilotless ignition systems, child lock controls etc…
Pros and Cons: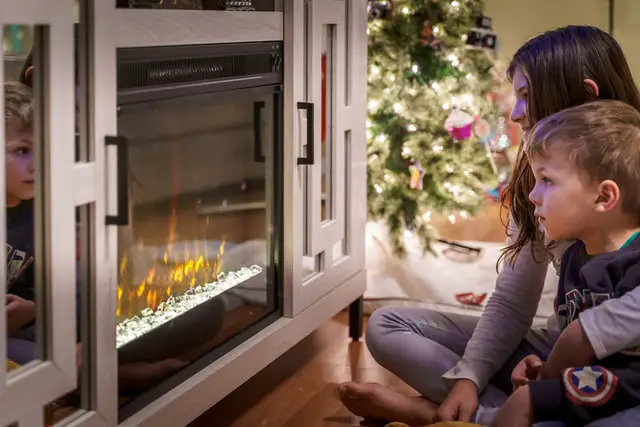 Pros:
Free-standing gas fireplace inserts are a relatively inexpensive way to add the warmth and convenience of a fireplace to any room in your home.
They require much less maintenance than traditional fireplaces that burn wood or natural gas logs which need regular cleaning and feeding. Furthermore, they do not require chimneys for installation allowing them to be placed virtually anywhere in the home. These fireplaces can safely be turned on and off with the simple push of a button, no need to start or tend to a fire.
Cons:
A gas fireplace insert will not provide quite as much ambiance as traditional wood-burning fireplaces. Another notable difference is that ventilation is required for any type of gas fireplace, this may require extra effort and care to ensure proper ventilation.
Electric Fireplaces
Bestseller No. 1
An electric fireplace can either be a freestanding unit or as part of a wall-mounted system.
They are usually made from real flame effect fire screens and use an electric heater to provide warmth into the room. They have been around since the early '80s but have started to increase in popularity within the last 10 years.
Electric Fireplace Inserts: A fireplace insert is a great way to update an existing wood-burning or masonry fireplace by providing additional heating capacity while preserving the overall look of the existing fireplace.
Since most inserts are designed for use in an existing masonry or prefabricated firebox, they require no major modifications to your home's structure.
Most models offer realistic-looking flames, adjustable heat, and built-in blowers that help circulate warm air throughout the home.
What are the Advantages of Electric Fireplaces?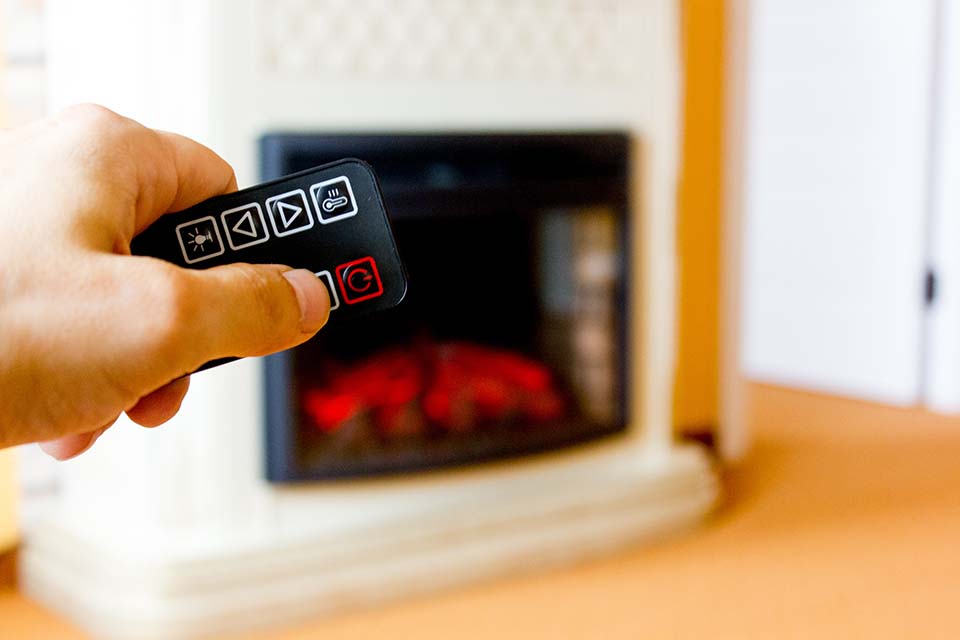 Electric fireplace inserts have many advantages. Here are a few of the top ones:
Cleaner: Since they don't require an open flame, electric fireplaces emit fewer emissions and toxins into the home. This is especially important for those with respiratory issues or chemical sensitivities. They're also much safer to have around children who may try to use them as toys.
Easier: Electric fireplace inserts are much easier to install, operate, and maintain. All you have to do is plug them in. Gas fireplaces require venting through the roof or sidewalls for combustion air intake, which can be dangerous if it's not done properly. Other maintenance tasks include replacing the pilot light valve every so often, cleaning your burner yearly, inspecting your flue liner annually, and having it cleaned once a decade by a professional chimney sweep company.
More Affordable: Electric models are more affordable because they don't require gas hookups or venting costs.
More Efficient: Most electric fireplace inserts carry EPA and Energy Star ratings of at least 70 percent efficiency. This is significantly more than the average efficiency rating of 48% for all vented home heating appliances. Gas fireplaces, on the other hand, average 55% efficiency. The low efficiency of gas fireplaces means that you'll spend more to keep your home heated compared to choosing an electric one.
Easier Resale Value: Since they're safer and easier to operate, electric fireplaces tend to have higher resale values than their gas counterparts do. This is another important factor to consider if you're thinking about upgrading to a new home down the road.
Cons:
Electric fireplace inserts have a few disadvantages as well including:
Most do not provide enough heat for larger spaces
They are generally more expensive than their gas counterparts
They lack the realistic flame effect of a gas insert
They do not provide even heating throughout the room.
Electric vs Gas Fireplace Inserts Summary
Gas fireplaces have a traditional look and appeal that will always be in style. There are a variety of styles and heating levels to fit almost any budget including some with additional features such as built-in TVs, sound systems, or even a fire pit on the front. Installation is much easier and less expensive than a traditional fireplace as they require no special chimney or flue requirements.
One of their main benefits is that they are available in much larger sizes suitable for heating even large living spaces. With many models including built-in fans that help circulate warm air through your space, you can enjoy the benefits of a fireplace without having to rely on your furnace or another central heating source.
Summing Up
For those looking for a more realistic flame effect with the convenience of easy installation, gas fireplace inserts are generally more expensive than their electric counterparts. With that said, both inserts are great ways to increase the warmth in your home by providing clean, efficient heat. If safety, convenience, and affordability are your primary concerns, electric fireplaces are the way to go,