Yes, you can paint a marble fireplace- here are some tips:
Clean the surface of the marble fireplace using TSP
Sand the surface to remove gloss and prepare it for primer
Apply primer (sealer, undercoat, and primer in one)
Paint two coats of heat-resistant paint over the primer
Enjoy your new, updated fireplace!
It was a beautiful sunny day and I had just moved into my new house. The fireplace was old, tired-looking, and didn't match the rest of the room's décor. I considered embedding a gas or electric fire in the old structure, but eventually decided to paint it instead.
I wasn't sure what paint to use, so I did some research online. I found that painting on marble would require chalk or latex-based paint in one flat color. I needed to use heat-resistant paints that had been rated for use on inside fireplaces if my house got very hot.
The process wasn't difficult, but it was a lot of work. First, I cleaned the marble using TSP and let it dry. Then I used sandpaper to rough up the surface and wipe away any dust or dirt. After that, I applied a three-in-one primer consisting of a sealer, an undercoat, and a primer. Once that was dry, I painted two coats of heat-resistant paint over it.
It turned out great! The fireplace matched the rest of the room perfectly and looked much better than before.
Here's a great step by step process if you want to paint your marble fireplace:
The fireplace often assumes the centerpiece of your room by providing space for photos, trinkets, and, most importantly, heat. If your home has a marble fireplace, it adds a visual appeal to different areas of your house, bringing attention to them.
Marble fireplaces provide some benefits over conventional brick fireplaces. They are down-to-earth but elegant and work well in contemporary and traditional spaces. They come in various colors and many surround design styles.
Can you paint a marble fireplace?
You can paint the marble fireplace and its surroundings to enhance its appearance. Marble, a natural stone, is expensive to replace and heavy, which means that if you paint it, you can restore the luster and the style of your room.
Several reasons might cause you to contemplate painting your fireplace. One might be that you have just moved into a house, and a tired-looking or old fireplace does not allow the décor in the room to come together.
The original fireplace might not be operational, but you might consider embedding a gas or an electric fire in the old structure. Also, the chimney might be so damaged as to fit a fire; at what point, painting your fireplace might be a great way of sprucing up your room.
In one swoop, you can do away with any dirt and soot while making a perfect match of your fireplace with the interior surrounding.
What paint is best to use?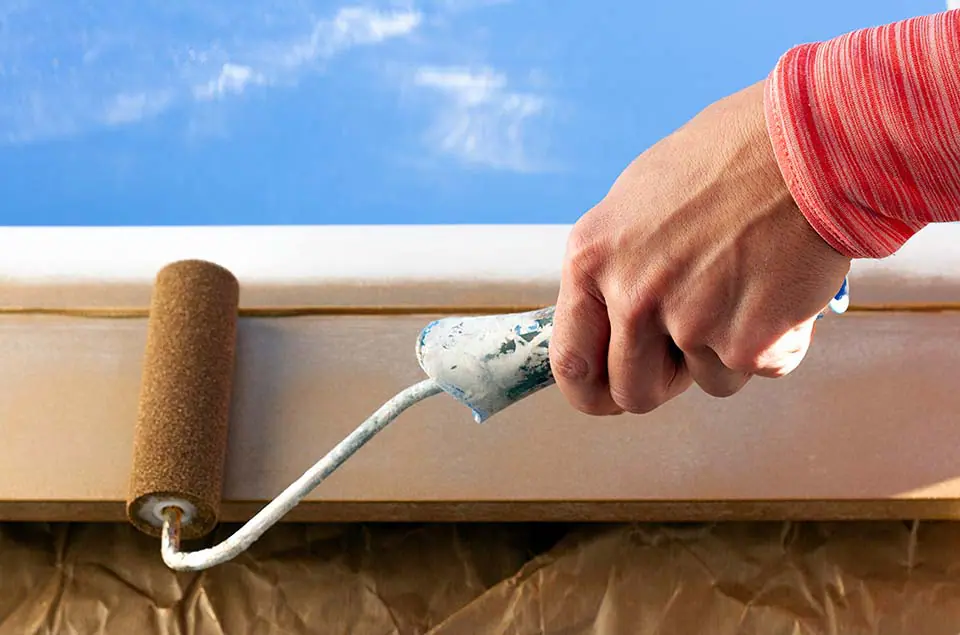 Painting on marble will require you to have chalk or latex-based paint in one flat color. You need not worry about chalk paint since it is not flammable. Yet, it can crack, chip, and peel off when exposed to high temperatures.
This necessitates using heat-resistant paints that have been rated for use inside fireplaces if your house is very hot. The paint should have underneath it a three-in-one primer that includes an undercoat while preventing dust and soot from your fire from coming through.
Painting the marble causes you to lose its natural touch, but you can choose the color and refresh its surroundings if it appears tired. You can reinvigorate it using a paint finish that creates a marble effect.
What process should be followed?
Some of the necessary supplies for painting your marble fireplace hearth are sandpaper, a multi-surface primer, a tray and foam roller, a paintbrush, TSP, and satin enamels in the color of your choice.
Cleaning the marble is necessary to remove dirt, soot, and grease, anything that might hamper the painting process. Cleaning the hearth is essential due to the substances that accumulate on it over time. The substances might include ash, dirt, or dust. Do not sidestep this step, considering the roughing up of the surface you have just done using sandpaper. You can use a TSP mixture, which works great as a cleaner before painting commences.
Any cracks that might be manifest should be filled by caulking and then allowed to dry.
The entire place should be sanded using sandpaper to remove the gloss from the stones to make the application of a primer easy. It should then be wiped to remove dust. Sanding the marble is a vital part of the preparation process, especially if you want a quality finish. This step should not be overlooked, mostly for surfaces as slick as marble. Fine-grain sandpaper will do the trick.
You should then apply a three-in-one primer consisting of a sealer, an undercoat, and a primer, then let it dry.
After the primer's second coat has dried completely, you can paint the topcoat using heat-resistant paint when necessary.
What might go wrong?
Failing to sand the marble means that the primer will not set on the stone as required, which gives it a potential for not settling since marble is way cooler than other stones.
It is also good to use heat-resistant paint, especially if your fireplace is active. Failing to do this means that your paintwork might not last as long as expected.