The Big Picture: Pros & Cons
Gel fireplaces are favored for their realistic appearance and great crackling sounds. They're great for renters who want a freestanding flame, but can't modify their homes. It's a clean-burning flame, so it's eco-friendly and the thickening agents added to the fuel create a gorgeous fire effect.
However, you can't regulate the flame size like you can with an electric fireplace. Gel fuel can be a safety hazard if spilled. It's generally not a very strong heat source, especially in cold weather.
Once a can has run out, you'll need to wait a bit to replenish with a new can because it can hot for up to an hour after it's extinguished. It's also very pricey to operate, especially if you're looking for an all-day solution, with 1 can generally lasting 1 hour.
On the other hand, electric fireplaces are safer; they have easier to control flame size; they're generally a stronger heat source, but you're out of luck if the power goes out! Since the heat and the flame effect are separate, you can also enjoy the look of a fire during the summer without overheating your home.
Electric Fireplaces
Bestseller No. 1
Electric fireplaces can keep a home warm and can heat several hundred feet without a problem.
Plug-in electric fireplaces that have fan heaters and are conventionally plug-in can generate an average of 4600 BTUs per hour, while infrared fireplaces can generate an average of 5200 BTUs. Built-in electric fireplaces can produce as much as 9000 BTUs and can be hard-wired to receive 240V.
Generally, unless it's a large unit soaking up the power bill, it will use about as much power as the average coffee maker making it an inexpensive heating option.
How They Work
Since these fireplaces do not use a lot of electricity this can help a person save money on their heating costs including their electric bill. This heater will generate a lot of heat and will keep the place hot. A person can get a smaller heater if they are looking to provide heat to one room.
Instead of turning up the heat in the entire house, a person can choose the room that they spend the most time in and make sure this is hot and cozy.
The fireplace costs an average of 11 cents per hour to heat a specific room. Depending on the electric fireplace a person can heat between a 400 square foot room or they can heat 1,000 square foot room. The electric fireplaces are stylish and they come in many different colors. They are secure with a firebox and a mantel to look like a real fireplace. There is an insert that has led flames and will look like a real fireplace.
The downside of this type of fireplace is that if the power goes out it will not work. This may be an issue for those that live in areas of high wind, heavy storms, or prone to outages. It needs to be plugged into a good outlet so that it does not trip a breaker or lead to other heating issues. This is a great way to supplement heat.
Gel Fireplaces
The gel fireplace can put out generally around 3,000 BTUs of heat. The fireplace can burn fuel for up to three hours and when it is empty it is easy to refill. A gel fireplace can provide heat to a small room in a home, but shouldn't be depended as a primary heat source
The fireplace will have live flames and will allow the flames to provide heat.
How They Work
They are also relaxing to look at like a real fireplace. This fireplace will use gel fuel and it is odorless when it burns. This gel is also eco friending. There are no ashes or residue that are left behind.
The gel fireplace does not need to be cleaned out and there is no mess. Once the fuel is good it can be replaced with a can of gel fuel or a pour of this fuel. There are different gels for different fireplaces. They will use either viofue, biofuel, or pour gel fuel to produce heat.
There are some downsides to the fireplace as well. A person will not have control over the size of the flames. When the fuel is running low the flames may be smaller and not as robust. This is another supplemental source of heating. A person needs to be careful with this type of fireplace and make sure there is no spill when they are using the gel. They need to make sure the fireplace is supervised at all times.
Differences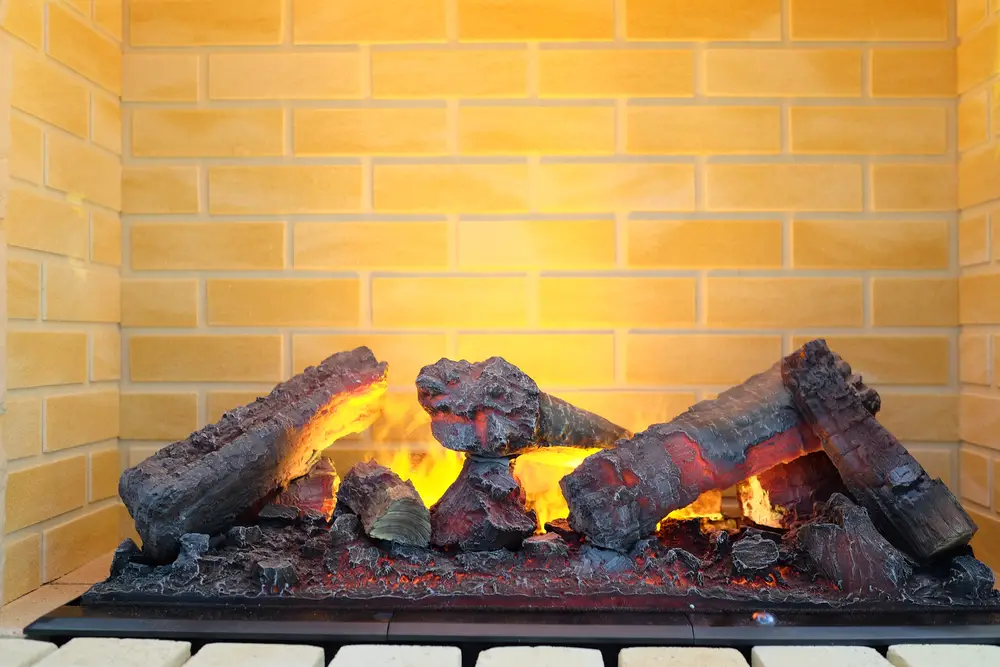 While both types of fireplaces can provide a solution for heating there are some main differences between the two types of fireplaces. The electric fireplace is plugged into an existing outlet and it will go to work right away. As soon as a person plugs it in and turns it on the fireplace will go to work.
There is nothing to refill and there is no maintenance. A person will set the temperature and they can even set a timer and that is all they need to do. There is no added expense besides the little bit of electricity it will use to keep the home or a specific room warm.
The gel fireplace will have live flames which is something that most people can enjoy. The gel fireplace is able to put out almost double the amount of heat as an electric fireplace. In addition to this, a person will need to replace the gel. If they run out of gel the fireplace will not work. There are different types of gel fireplaces so a person would need to do some additional research. They will need to find the fireplace that will heat their home and they would need to find the type of gel that would work best for their needs.
If a person is looking for a fireplace without the mess and hassle of wood a person can choose either an electric or a gel fireplace. The fireplaces can be used in a specific room or they can be used to heat specific square footage. These fireplaces can have the beauty of a wood fireplace without the mess.
When a person is looking to heat their home they may want a fireplace. A wood burning fire place or stove is nice but it is not easy to install. There are other types of fireplaces that can plug into the electrical outlets and allow a person to enjoy the warmth and the glow of a fireplace. There are other options when it comes to the fireplace. There is an electric fireplace which is very popular. There is also the gel fireplace. The gel fireplace is newer but has been making an impression on consumers. There are some great features to each of these products.
There are many heating devices on the market that can be used to help reduce the cost of electricity or other fuels to keep the home warm. There are several types of fireplaces on the market where wood is not needed. Electric and gel fireplaces have the look of a traditional fireplace but they do not have the mess. They are also much easier to install.