A fireplace mantel is a decorative frame that surrounds the fireplace and its protective frame on both sides. It's also known as a mantelpiece.
Fireplace mantels have become part of interior design and architecture. They serve as the room's focal points as the frames are decorated to blend in with the house's interior and have become an integrated part of interior architecture, making your fireplace a center of attention.
It was initially developed in the medieval period for functional purposes, to prevent smoke from entering the room, diverting it back into the chimney. You can add custom mantels to these fireplace types:
How To Make A Fireplace Mantel
A new fireplace mantel can brighten up an entire room- and they're a great place to hang a stocking.
There are several types of fire mantles as they can be done from different materials; for this project, we shall use wood to create a fresh new look fire mantle. Make sure you read our guide on how mantels are attached.
Tools
Wood
Saw
Drill
Tape measure
Nails
Hammer
Wood glue
150-grit sandpaper
Stud finder
3″ construction screws
Screwdriver
Level
Procedure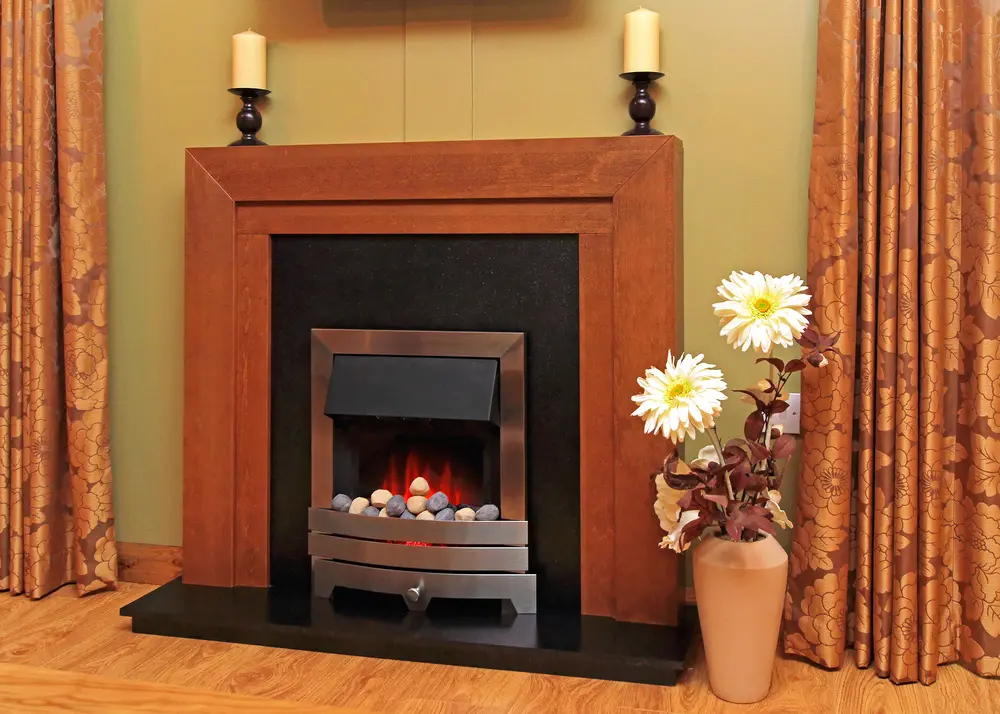 Step 1
Using a tape measure, take measurements across the fireplace and note how long you would like the mantel to stretch along with the fireplace.
Cut your wood according to that length you preferred your mantel to stretch.
Step 2
Balance two boards on their edge, lay one board onto a table and place the second board on the top, and ensure they line up flat at the edge.
Using a Nail and a harmer of a Nail gun, Nail places the boards at the interception edges.
Add a line of glue between the edges to support and make it firmer. Using wood glue and the nails ensures the boards are firmly held together
Step 3
Using the saw blade, cut a piece of wood that will fit perfectly inside the mantel.
Measure the widths of the inside edge and cut to your desired size. This is important to have perfectly straight, so the top board lays nice and flush.
Place non-combustible material such as marble, stone, or tile and install between the fireplace opening and your mantel.
Step 4
Hold the mantel tle we made at step 2 on top, lifting it to see if everything fits your measurements and how it's supposed to.
Make any adjustments you need
Find studs, and screw them onto the wall where you want to hang the mantel.
The mantel should hang about an inch above the floor.
Place your new mantel on top, letting it rest across the fireplace, and then nail it firmly as per your measurements.
We added some screws on the bottom of the mantel into the wall to ensure it's firmer.
Step 5
Clean the furniture with a cloth to gently remove any dust and Sand with sandpaper to open the wood and make it easier for the stain to penetrate.
Apply your stain, but first, always test your stain on untreated wood to get a sense of the color.
Let the stain soak in for some time before wiping off excess with a cloth.
Apply a second coat of stain by rubbing slightly with sandpaper, then reapply.
Step 6
Sand the surface lightly to create grip. Proceed to Paint on the varnish in even strokes as you avoid running over the same area too many times to prevent brush strokes.
Allow the paint to dry for roughly 24 hours.
Lightly buff once dry to bring out the shinning effect of the paint applied.
Step 7
Cover up the unwanted gaps at the end seams with a piece of wood veneer overlay.
Stain the wood to make and color to make it look like one solid piece of wood.
Step 8
Decorate your newly made Fireplace mantel with decorations of your choice. For us, we placed old seashells on top, but there is a variety of other options. These options include hanging a mirror in the middle, putting flower verse on either side. Anchor the mantel with a larger vase in front or place decorative objects on top.
It's essential to consider the material and color you apply on your fire mantel and its surrounding, as this will play a massive role in how the fireplace looks and whether or not it takes command of the room or blends in. Unfortunately, mantel surrounds are generally much more expensive than a simple mantel shelf due to the additional materials used and the time spent making them. Still, if you have the budget, this is a great way to showcase your fireplace and ensure that your home is as impressive as possible.
Common precautions during construction

For safety purposes, the mantel is placed about 12 inches above the fireplace opening. A fireplace mantel without enough clearance from the fireplace opening could be a serious safety hazard as it may lead to damage and injury. You are supposed to add an inch to the distance for every inch that the mantel protrudes. So, a mantel 6 inches deep would be attached 18 inches above the firebox opening.
The mantel needs to be placed a safe distance from the firebox opening as most fireplaces radiant heat out through the front side of the firebox.
It's advisable to use a non-combustible material such as marble, stone, or tile is also required to be installed between the fireplace opening and your mantel.
Use a mantel heat shield when you have small clearances between the top of your fireplace and the bottom of your mantel. A mantel heat shield will prevent your mantel from becoming too warm. It will also avoid any discoloration to your mantel due to heat.
Conclusion
A fireplace surround, or a fireplace mantel, is not just a functional part of the home, but it is a bold statement that sets the tone for your living room and can add value to your home in terms of appearance. There are several options for every style and preference. Still, it's important to make sure that a reputable company is installing it. After all, it will be next to something extremely flammable, and in cases where you want to make one on your own, this extract can be your lead. You can even build your own DIY surround if you want!