A living room with a fireplace is a great way to enjoy cable television or stream the latest (awful) Netflix release.
However, many people struggle arranging their furniture, especially with a TV too. Note that fireplaces are the focal point of living rooms. But, so are the TVs. Therefore, this makes things tricky, and if one is not careful, the arrangement may clash visually.
Today, we share some ideas on how to arrange living room furniture with a fireplace and TV to help you out. Let's get started.
Video Guide: Arrangement Tips
#1. Invest In An Electric Fireplace TV Stand
If your space is small, this will be the best solution. This entertainment fireplace TV stand holds your television while giving you some storage as it comes with shelves. As such, you can enjoy your fire while still watching the TV on top. However, bear in mind that this will not work for living rooms with built-in fireplaces.
#2. Place the TV Over Your Fireplace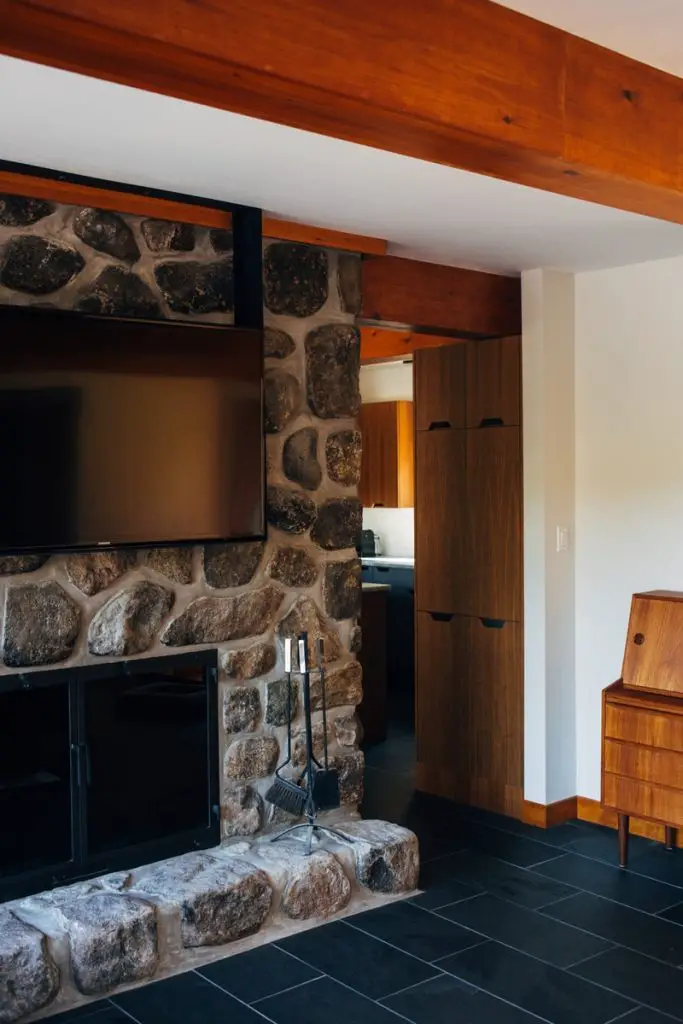 This is a simple but effective way of arranging furniture. But, note that some people don't find it ideal. However, it's still an easy solution to the problem as it allows you to enjoy warm flames while still watching your favorites shows. Additionally, it saves on space, and you'll not be forced to mount your television into the corner, which can look awkward.
One can then put their couch opposite this focal point. This solution is suitable for small spaces that don't need much furniture.
But if you have a big living room, you can decide to put a sofa and several armchairs in a right angle layout to the focal point.
The only drawback of this method is that some people worry that their televisions can be damaged by the heat. And some say it causes neck strain and lowers the picture quality. Make sure you clean your brick fireplace first!
#3. Place Them on Different Walls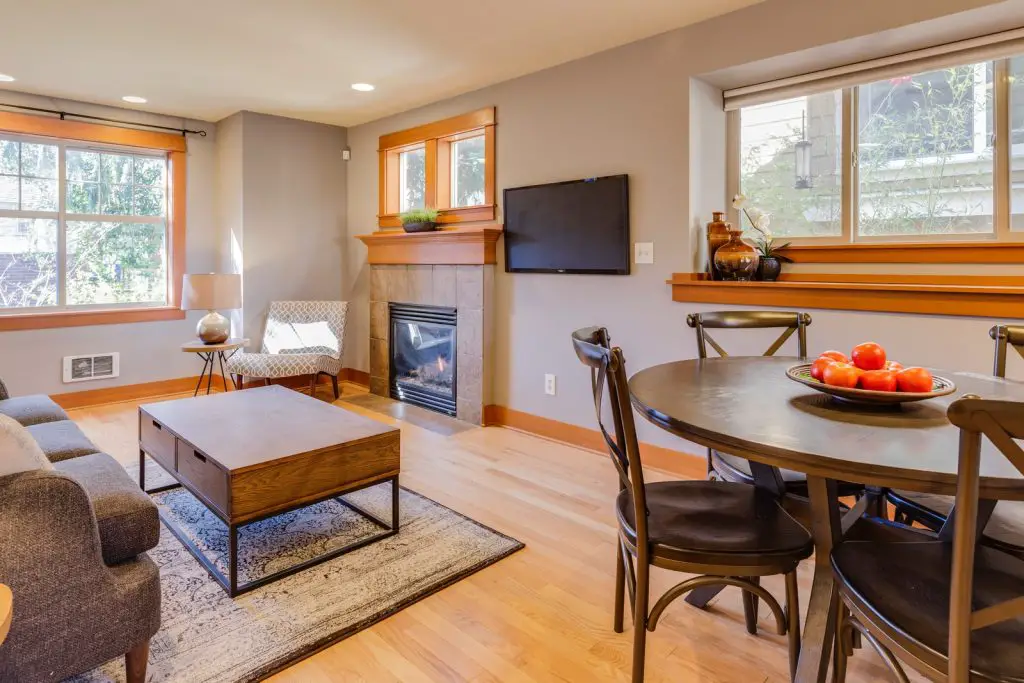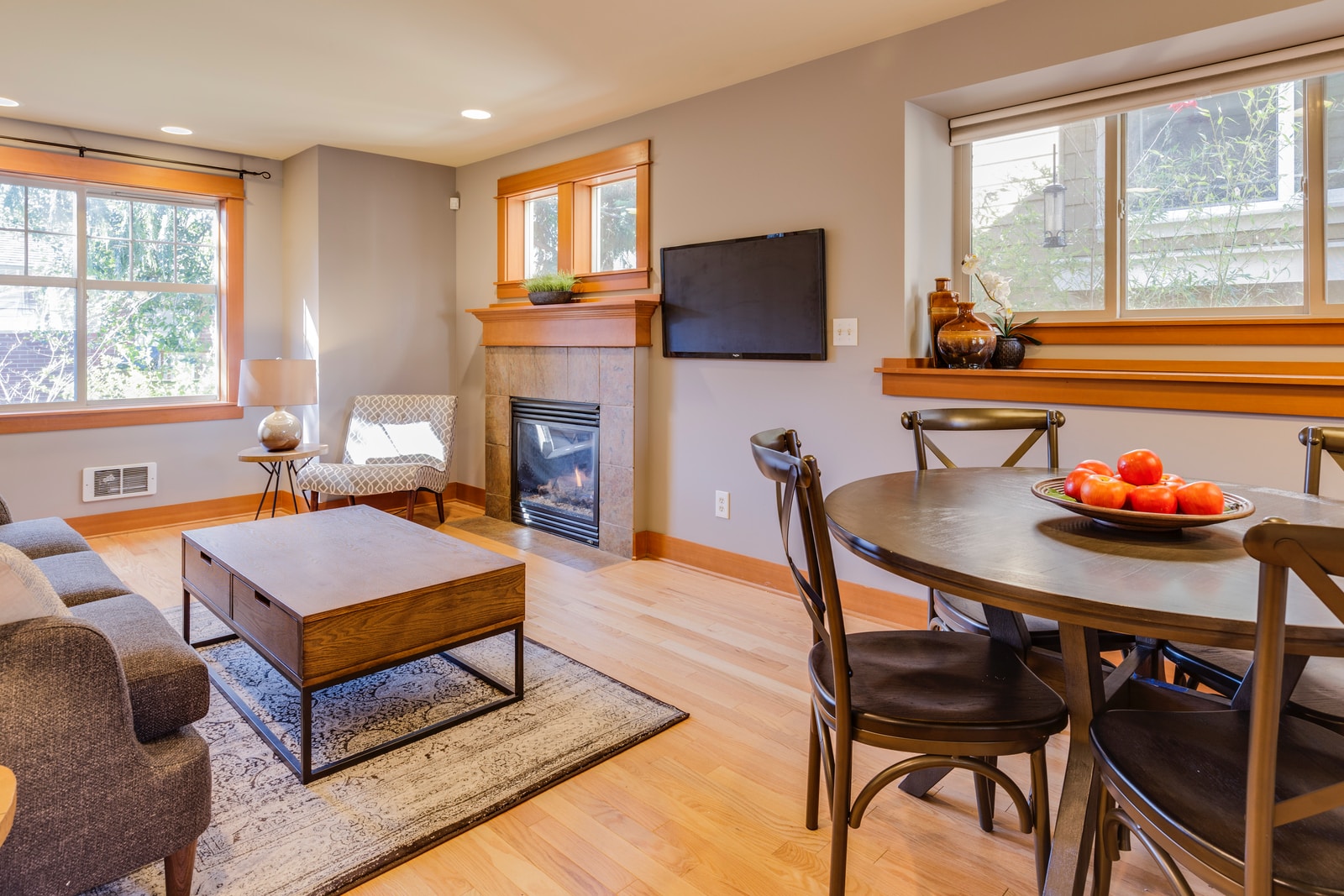 Design this layout such that these two are adjacent to your doorway. However, you must decide which one you want your focal point as it can't be both. Now, place the furniture in a way that's directed to both of them. We also advise leaving some space between your furniture to make it more accessible.
#4. Put Them Next to Each Other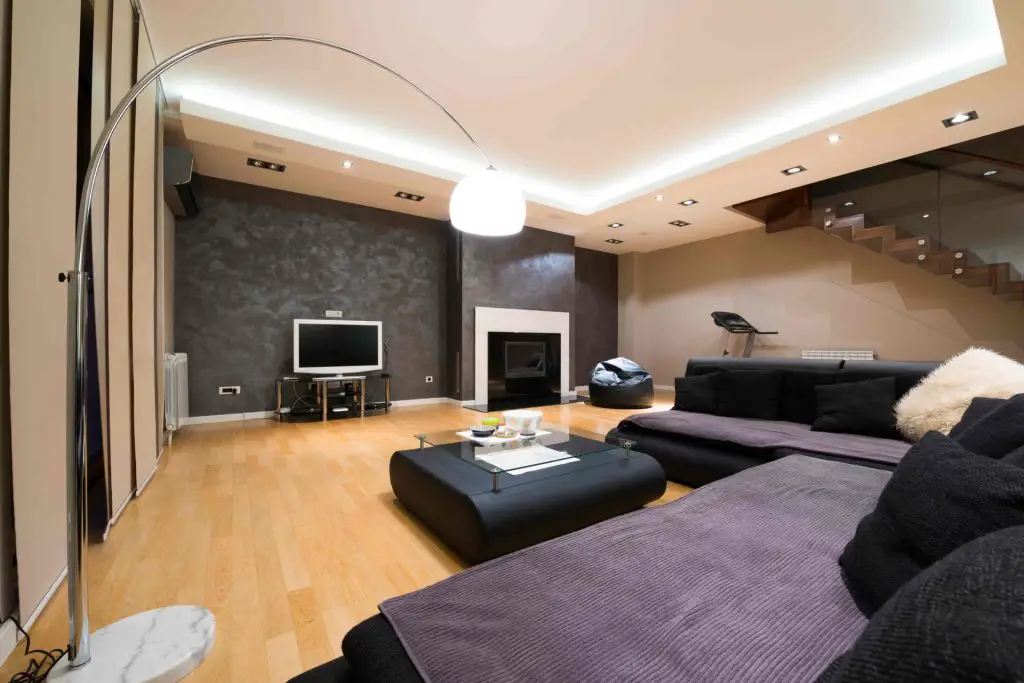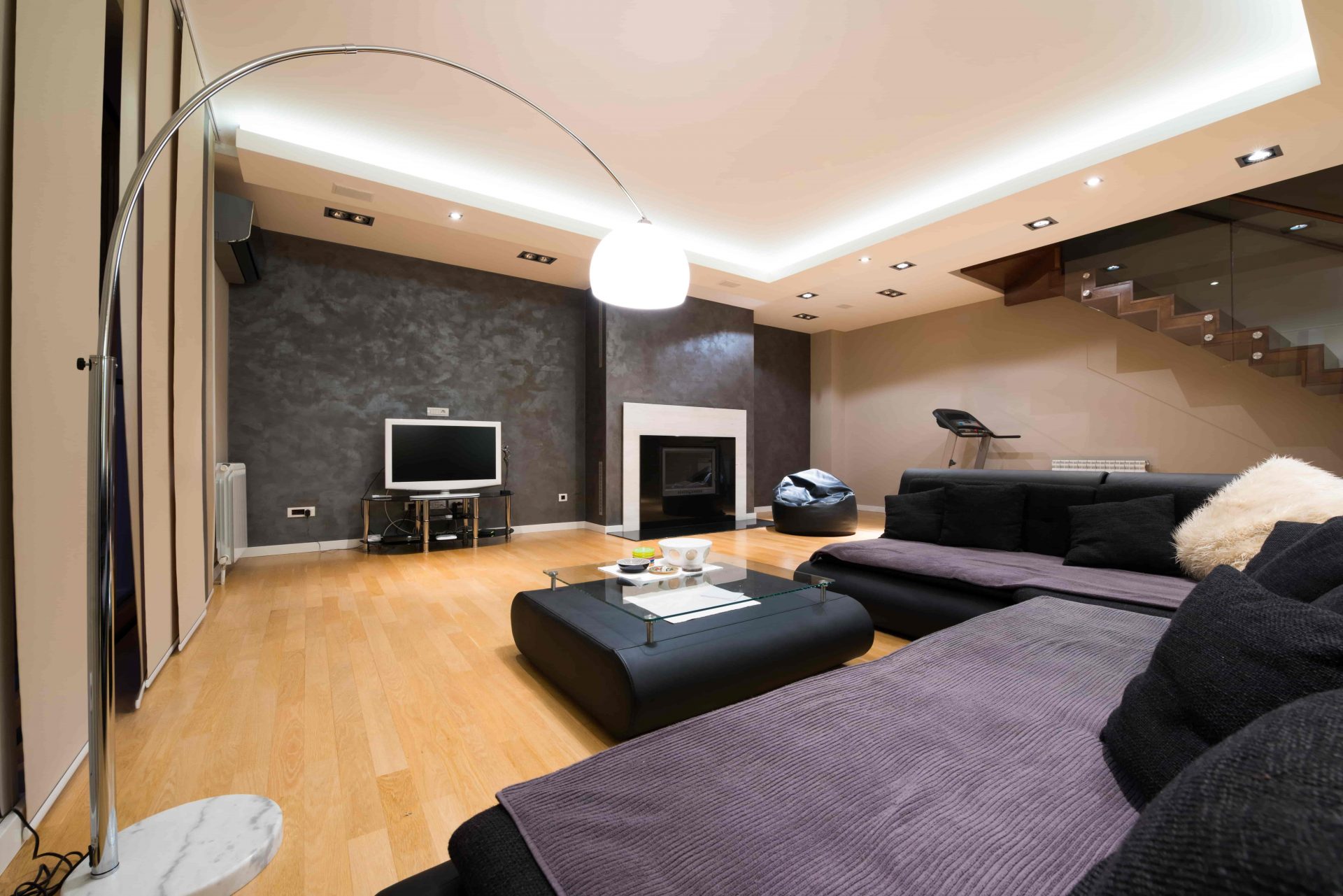 If you're concerned about the drawbacks of mounting your television over the fireplace, this is your best alternative. It is easy, especially for those with a chimney breast, which creates a nook on the fireplace's side. This allows you to nestle your TV perfectly. Then, you can put your furniture opposite these focal points and enjoy them both at the same time.
This design is suitable for a rectangular-shaped living room. You can even add a coffee table or footstool in the middle if space allows. However, most people choose to put a rug to complete this arrangement.
Since the furniture is placed at your fireplace's opposite, it maintains your living room's focal point. However, avoid hanging any deco on top of the fire, as it can make your walls look a bit cramped. Also, you'll benefit more from this design if your TV has maneuverable mounts as you can move them around to see the fireplace better.
#5. Place Them on Opposite Walls
Spacious living rooms can benefit from this layout since you'll arrange your furniture along the walls. What we love about this design is that it divides attention, which makes your room multi-functional. For instance, you can use it as a family room and a lounge area at the same
time. But like when placing them on different walls, you also have to decide which one will act as your focal point. Think about your needs when deciding this.
#6. Make an "L" Shape Using Your TV and Fireplace
Those with a short living room or small wall space can benefit from an "L" shaped layout. With this arrangement, your fireplace and TV should be placed on perpendicular walls. Then you can put your couch on the opposite of either or both, depending on your needs and space. However, the latter is better as it creates more seating.
We recommend this design for a square room. And if you have more space, you can place a plush poof or coffee table in the room's middle part.
But, you also have to decide which you want as your focal point. If you choose the fireplace, you can make things more appealing by hanging a piece of art or mirror over it. Additionally, you can decide to place some plants and vases, ambient lighting, or fire surround around the fireplace to attract your attention to it.
#7. A Corner Fireplace with a TV Alongside It
Such a layout creates two focal points, allowing you to design an enclosed seating area perfectly. We love this design as it forms a cozy zone where you can enjoy the warmth from the fire while watching your television.
However, we recommend a sectional arrangement to center the space while still attracting attention to the corner fireplace and TV that is next to it. Also, consider using a media cabinet that anchors your room's front. This helps balance the fireplace's architectural element. Lastly, don't overcrowd your space with accent pieces. One coffee table or one additional sofa is enough. Doing this creates enough space around your focal points.
You can benefit from this layout if your living room is open and has space for a sectional or sofa. And it's also suitable for a small living space as it accommodates both the TV and fireplace well such that none distracts the other.
Other Tips for Furniture Arrangement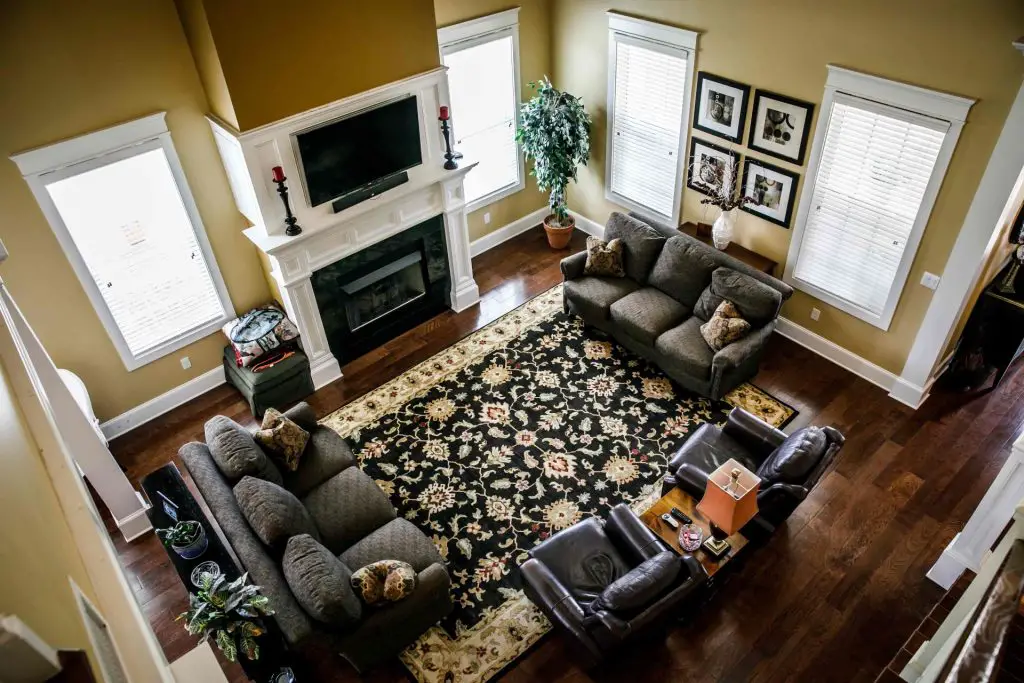 Don't place your sofa's back against the window as it will block natural light, making the fireplace feel dominant.
Ensure you leave enough distance between the fireplace and furniture. It shouldn't be too much as you will not feel the heat's warmth, neither should it be too close as it may be uncomfortable to sit. The recommended distance is 2-3 feet.
Minimize the furniture if your space is limited. Opt for rounded pieces, as they make the place look flatter and allow your focal point to be seen.
I love watching TV with my fireplace because it makes me feel safe, warm, and cozy. It helps me relax after a long day of work or school. The sound of the fire outside is also very calming and relaxing, much like background noise would be for other people who find silence difficult to cope with. The flickering light from the fireplace helps me focus on the show I'm watching without shifting around in my seat or feeling distracted by anything else in the room.