I made a fake fireplace because I wanted to make my room look like it had a fireplace.
I have been wanting a fireplace in my living room for a while now, but after looking at prices and talking to friends, I realized that it just wasn't going to happen right now.
After some research into how much it would cost to build one myself, I realized that it was going to be way more expensive than just buying one.
So I decided to make a fake fireplace instead – and here's why:
It is cheaper – not only do you not have to pay for bricks and other building materials; you also don't need the skills to assemble the materials.
It is also much less messy than building an actual fireplace (this might be worth considering if you live in an apartment like me).
Remember to decorate the walls on the side of your fireplace– it's a great area to express your creativity!
This guide will show you how to make a fake fireplace in your home for a meager price.
It will look realistic and is easy to make. All you need is about an hour, some creativity, and the materials listed below. This fireplace can be used as either a decoration or heating appliance, depending on what materials you choose to use.
Remember, you can always buy a tabletop fireplace if you want to add a low-maintenance fire to your home without any mess!
How to Make a Fake Fireplace
How to Make a Fake Fireplace From an Old Dresser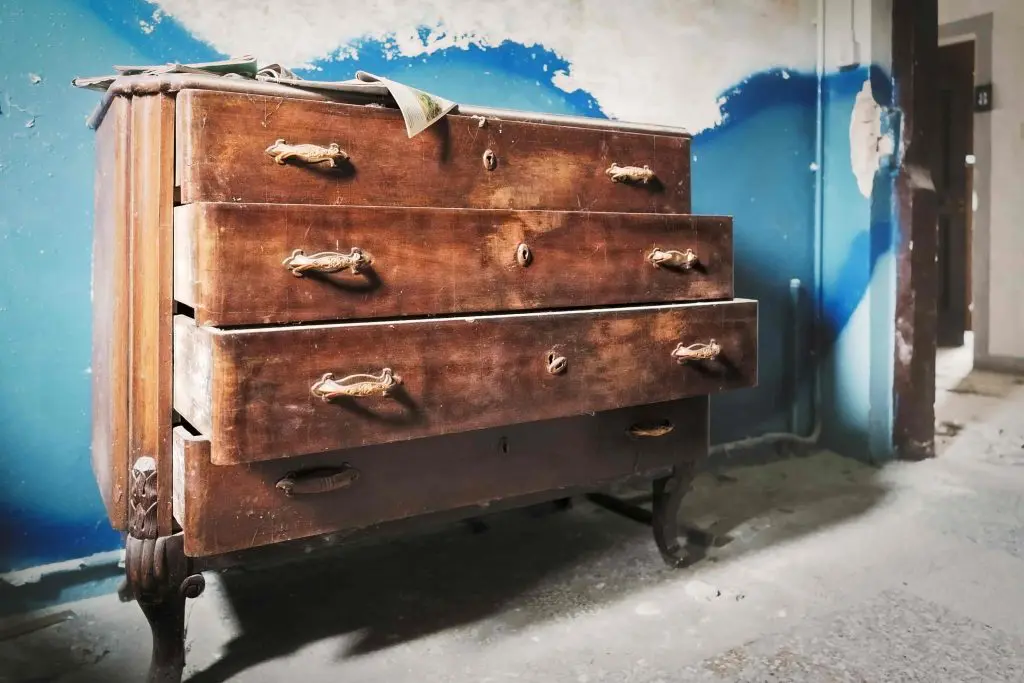 Find an old dresser
Find an old dresser you don't use or a similar piece of furniture. It should have a solid exterior and ample space inside. If it's sturdy, you can make your fireplace support the weight of a TV, for example.
The Dresser & Removing the Drawers
Remove all drawers from your dresser and take off any external doors, such as the back door.
Attach a drawer face horizontally across the top of the open front of your dresser.
If you don't have any drawer fronts, attach a piece of wood across the top. Make sure it fits snugly and that you can remove the entire piece easily if needed elsewhere.
Measure the height of the remaining opening in the front of the dresser.
Take this measurement and transfer it to the back of the dresser.
Mark where you would like your heater unit to sit and cut an opening out for it with a circular saw or jigsaw. Insert the heater unit into the space and secure it in place somehow (screws, heavy-duty tape, etc.) You can attach shelves or a rack to the back if necessary.
Measure the length of the drawer faces.
The widths should be slightly wider than the length to make the fireplace look like it has "depth."
Attach the remaining two drawer faces vertically on either side of the opening.
Use a drill and screws to attach them securely. Make sure that the front edges are flush with one another for a clean look. You can also connect these two drawer faces to the horizontal face above using either nails or glue.
Paint your faux fireplace.
Using a paint that is metallic in appearance will give it a more realistic look. You can find paints that have aluminum or stainless steel in them, depending on the desired color you want.
Make a base for your fireplace (optional).
Make a base from wood or cement to make your fireplace stand upright. Alternatively, you can use it as a tabletop decoration, with the heater unit concealed beneath it.
How to Make a Fake Fireplace With Plant Pillars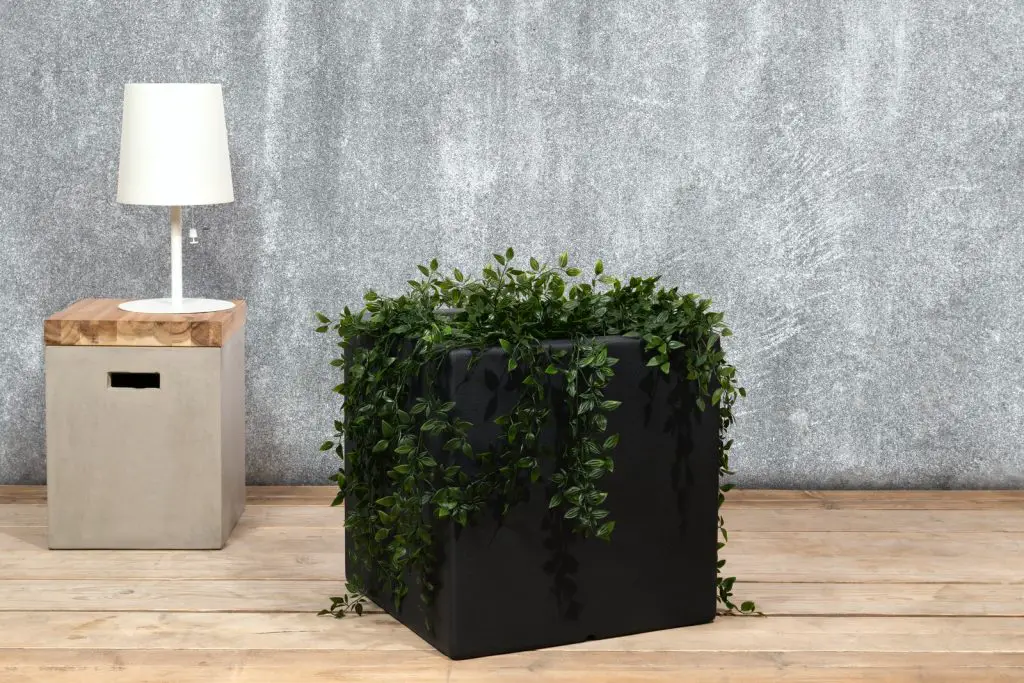 Get two decorative pillars of equal height and four wooden squares.
Measure the height of your pillars and cut wooden squares to match. Glue them together on top of one another, so they stand up straight and ensure that the bottom is flush with the base. You can also drill through these blocks and screw them into place instead.
Get a "mantelpiece."
This is a piece of wood connecting the two pillars and goes across the top. Measure this and use glue or nails to secure it in place. You can find these shaped pieces at craft stores, but you can also build your own by cutting down more significant pieces of wood with a circular saw or jigsaw.
The space between your pillars should be about the same width as your wood pieces.
Paint your components to match.
Decorate your pillars with fake plants or pictures of flames, and paint the wood pieces so that they look like a burnt wood fireplace. This will add to the realistic appearance of this faux fireplace.
Attach the wooden squares to both the top and bottom of the pillars.
Use a drill and screws to attach these. Ensure that the top is flush with the mantelpiece so you won't see any gaps. You can also use nails or glue for this step if necessary.
Attach the mantelpiece across the tops of your pillars.
Make sure that the mantelpiece covers the tops of both pillars. You can also attach this to your squares with nails or glue if necessary.
Make a base for your fireplace.
You can cut a rectangle from wood and attach it to the bottom of your pillars for this, or make a base as described in method 1.
How to Make a Fake Fireplace From Cardboard
Cut out two-three 1\2-foot by 2-foot pieces of cardboard.
You can cut these out with a sharp knife. Make sure the pieces are big enough to fit your pillars and mantelpiece so that they will be strong enough to hold up even when you add decorations.
Fold lengthwise every 6 inches (15.2 cm).
These creases should create four vertical folds. Be sure to measure these so that they are all the same distance apart and fold them tightly for a clean look.
Paint the "bricks" on.
Cut pieces of cardboard to match the length and width of your three 1\2-foot by 2-foot pieces. Apply a layer of paint over these and glue them to the front and back of the "bricks." Make sure that they are spaced equally so that it looks like real bricks, not just colored paper glued onto something.
Cut two long pieces from your remaining cardboard.
Measure and cut these pieces so that they are as long as your pillars or base. Make sure to paint them as well, and you can even shape the ends into points for a more decorative appearance. For example, if your pillars have pointy tops, secure those at the top of each "brick" with glue before you attach them. If you're attaching a base, secure the pieces at the bottom of your pillars.
Paint the false mantle and the base the desired colors.
You can paint this however you like, but make sure that it matches your pillars and base. If desired, you can also decorate the mantelpiece with fake plants or a fireplace picture on top of it to add more visual interest.
Attach the columns to the base and mantle using glue or tape.
You can also screw these components together if they hold securely. Ensure that the top of the mantelpiece is flush with the tops of your pillars so you won't see any gaps.
Cut the fifth piece of cardboard that serves as the back of the fireplace.
Measure and cut this piece so that it is the same width as your pillars. Paint this piece and attach it to the back of your fireplace with glue or tape, covering up all of the edges from the front view.
Add "fire" to your fireplace.
Draw or cut out pictures of flames, or apply stickers to your pillars. You can also paint this on, but make sure that it doesn't cover up any part of the cardboard sections. If you're using small candles instead of other decorations, be careful not to ignite them when attaching them with glue or tape because they will be flammable.
How do you make a fake fireplace out of a bookshelf?
The steps to make a fake fireplace out of a bookshelf are pretty simple.
First, you need to decide how big it should be.
Once you do that, you can cut the bookshelf to size with a saw and glue the pieces together if they aren't already attached.
Then, you should create the mantle.
You can do this using wood sheets, thin plywood, or thick poster board, but be sure to paint it so that it looks right with your bookshelf. You can also decorate this with fake plants or pictures of fireplaces.
If you want a false chimney, cut out the bottom of the bookshelf with a saw, glue some cardboard together to form a chimney shape. Then paint it along with the mantle, and you're done!
FAQs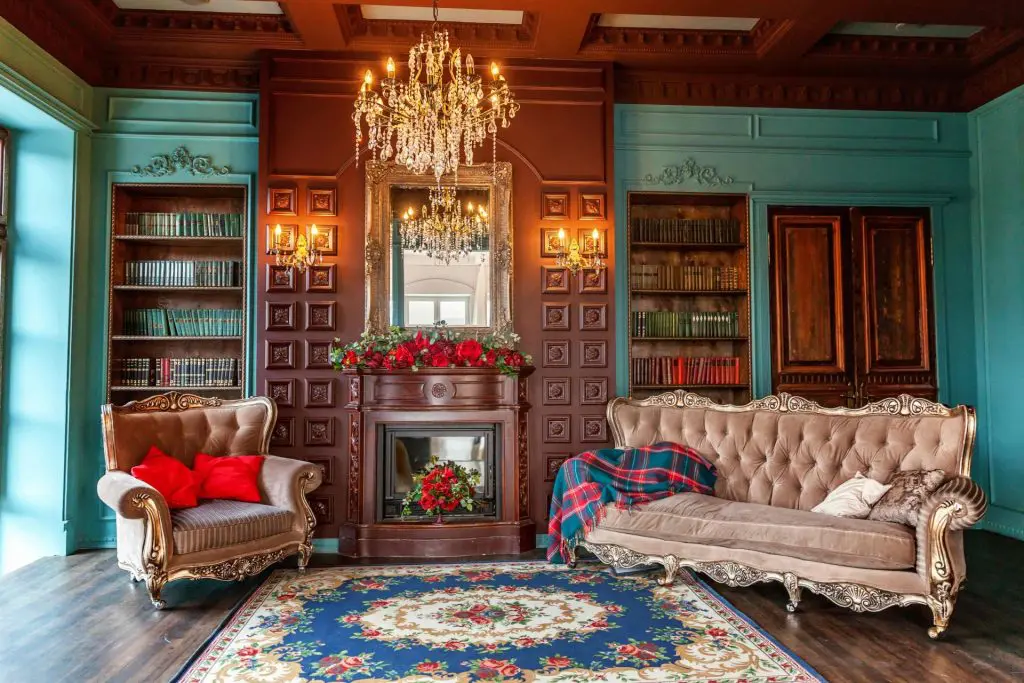 Can I use a decal instead of paint?
Yes, you can apply a decal or even regular wallpaper to your fireplace. You can also use wallpaper samples you have lying around the house for this purpose. If necessary, add extra support by attaching these with glue if they aren't secure enough on their own. Remember- you can add fake flames, plant life, family photographs, or any other decoration you want.
What do I use to attach the mantelpiece?
You can secure this component in various ways, but most people use glue or tape. You can also nail it in place if you're picky about where all of the nails enter the mantelpiece.
How much does it cost to build a fake fireplace?
The cost to build a fake fireplace varies depending on the materials you use. For an easy and cheap version, you can use cardboard and glue or tape for small projects. However, if you want something more durable that looks nicer, it will cost a bit more.
When using thin plywood for a mantelpiece or base, expect to pay $10-15 depending on your building size.
If you're using thick plywood and sturdy bookshelves, plan to pay around $25 for a more professional-looking project. You can also use wall or ceiling paneling pieces, which will cost even less than this if necessary.
What are some standard features of a fake fireplace?
Every fake fireplace is different, but most have a mantelpiece with the hearth and the fire below. Some also include a backing to attach them to.
Does adding a fake fireplace increase home value?
This is a difficult question to answer because it depends on so many factors. If you want a fireplace without spending money on building materials, this decoration is a great alternative! A fake fireplace will not increase your home value by any significant amount, but it can enhance the room's appearance and ambiance.
What size of a fake fireplace do I need?
This depends on where you want to place it. If you're going to put it in your family room or living room, expect it to be 2-3 feet wide and at least 1 foot tall. It can be smaller if necessary, but most people like the size of this type of decoration. For a bedroom or office area, a 2-foot tall model is usually sufficient.
Conclusion
If you're looking for easy and cheap decoration, then a fake fireplace is a great option. Consider how big it needs to be, where you want to put it, and how much money you're willing to spend before building your own. Depending on your preferences, you can make it as ornate or simple as necessary depending on your preferences- be careful not to let it overpower the room or anything else in it. Add in a fireplace ash can, a firewood log holder, and a fire-tender stick for added realism!