Decorating walls on side of the fireplace can be a simple and beautiful task.
Remember, we've got guides on painting stone fireplaces, painting fireplace tiles, decorating unused fireplaces, tiling fireplaces and even making your own faux fireplaces!
It is very easy to embellish your fireplace walls with a little craftsmanship and a small budget.
This tutorial offers practical tips on decorating walls on side of the fireplace from scratch, from making the plans of the project to finishing touches.
But first, check out some amazing wall design ideas:
or some of these ideas from Instagram:
Pictures & Wood Framed Fireplace
A wood stained wall complemented with side wall picture frames.
Alcohol Shelves
Curtains
Add some curtains for privacy and a really chic effect!
Shelves & Cupboard Storage
Tasteful shelves and cupboards bookend this gorgeous electric fireplace.
Tasteful Lighting
Some tasteful lighting can really tie the room together.
Faux Metal Wallpaper
Wall-papered fireplaces are all the rage right now!
How To Decorate The Walls On The Side Of Your Fireplace
Materials/Tools Required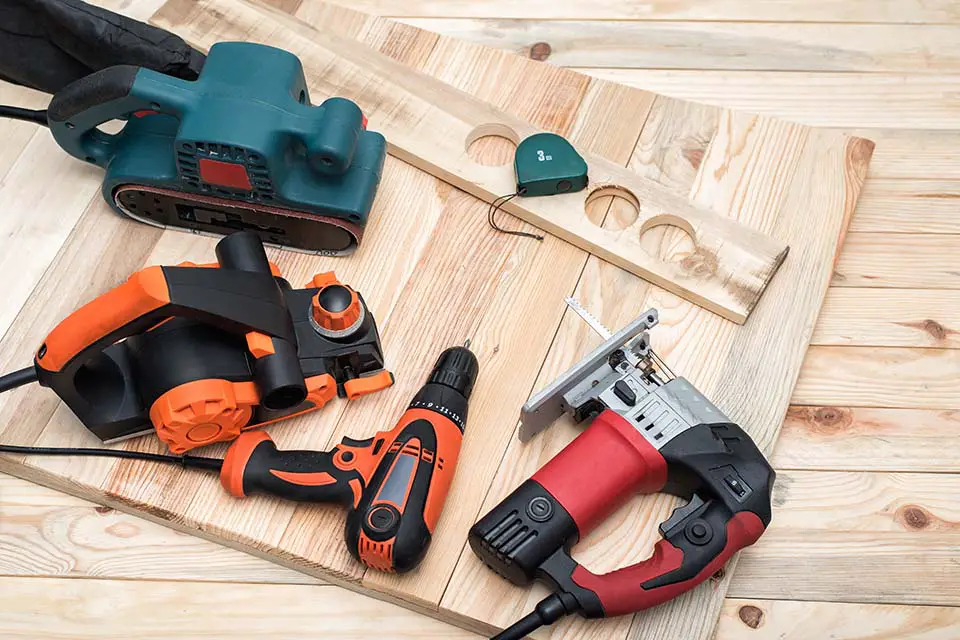 Picture frame molding, plastic or metal
Drill
Screwdriver
Wood glue
Foam paintbrush
Primer (optional)
Paintbrush for acrylics or latex paints
Acrylic paints in desired colors and finishes, such as semigloss and matte. Other materials include sponges, stencils, rags, paper, scrapbook die-cuts, brads, acrylic craft paint, felt letters or numbers
Staple gun with staples
Miter saw or table saw
Steps To Follow
1. Decide the size of the fireplace
The size of the fireplace is very important in creating a decor design for your walls. Measure the width, depth, and height of the fireplace to calculate its total space.
While measuring, be sure that you are not including any woodwork or mantel when measuring. The total area of the room will serve as a general guide on how to plan the design.
2. Plan your design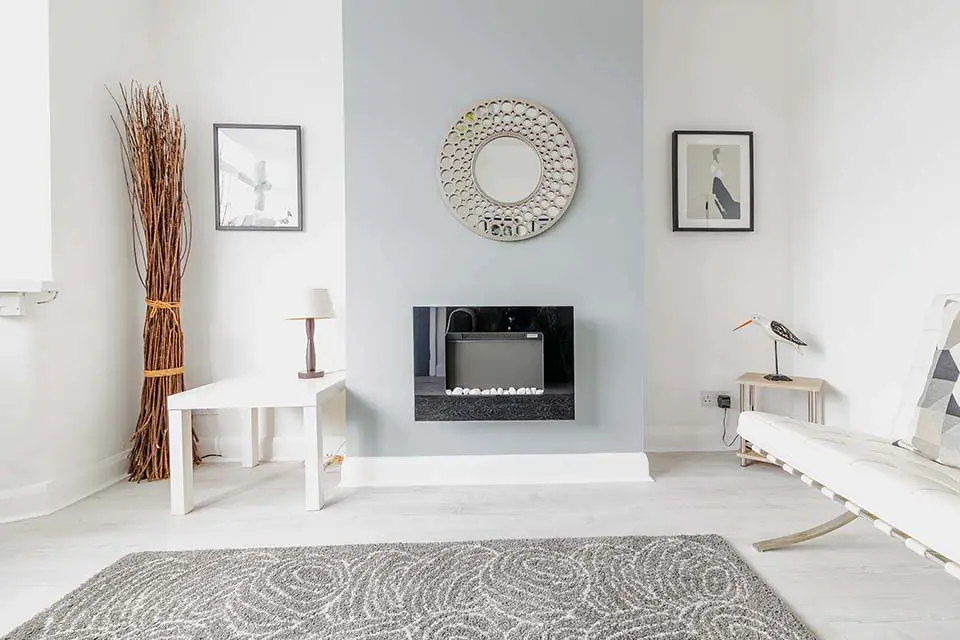 Choose an effective color combination and motif for the project. Your choice of color may be influenced by current trends or simply what you like or dislike.
The design should be compatible with the fireplace's dimensions; one that is too small will appear overcrowded with a complex ceiling pattern, while a large one should have a simple design.
3. Prepare the design on paper
Design the pattern on drawing paper. Use masking tape when sketching to avoid pencil marks or smudging when you are ready for painting.
Draw a simple plan that contains all the important elements in your project, such as windows, doorways, crown molding, etc. Ensure uniformity by plotting measurements directly onto the surface of the drawing paper
4. Glue the pattern to the wall
Apply wood glue on top of your line drawing and wait for it to dry. When it is ready, lay the glued pattern directly onto the fireplace wall using string or chalk as a guide (for perfectly straight lines).
Press firmly along all edges; make sure the pattern is securely attached to the wall. Allow at least 24 hours for the glue to dry before you proceed with painting.
5. Paint the walls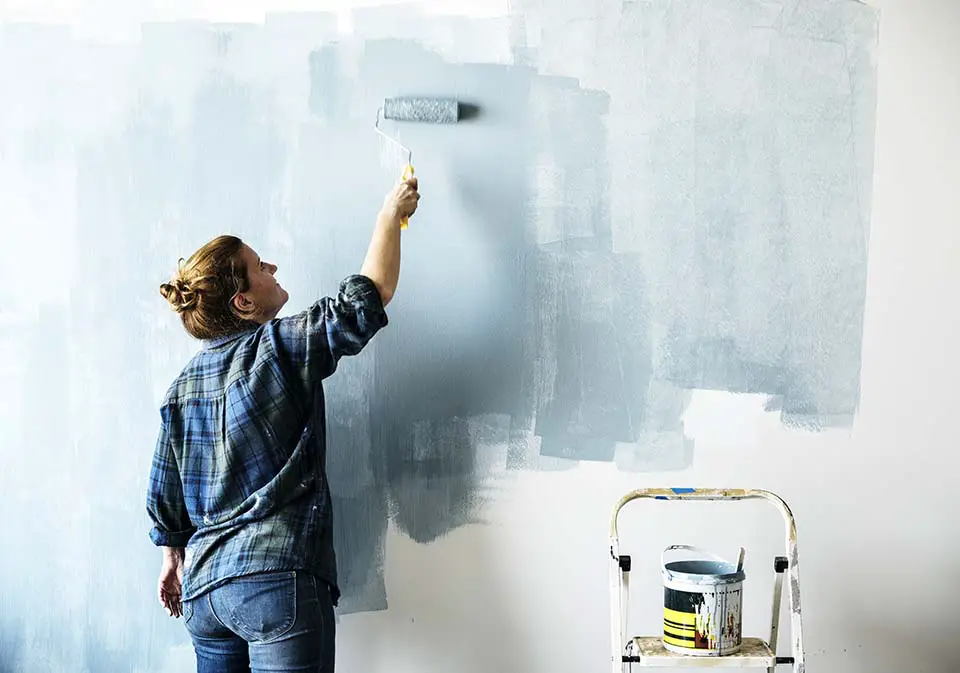 Keep in mind that it is easier to have three or more coats of paint rather than applying a single thick coat, especially if you are working on an uneven surface like plaster walls.
First, prime the walls with a paint primer for fences and masonry; this will help create an even base coat. Use foam rollers or large bristle brushes to cover the area as completely as possible with one coat of semi-gloss latex paint.
6. Apply finishing touches
Once the paint is completely dry, cut pieces of wood molding to fit around doorways and windows. Use a miter saw or table saw to make clean cuts. Drill pilot holes through the ends of each piece of molding; attach them with nails or adhesive. Add small details like crown molding using picture frame molding, or paper mache crowns.
FAQS
1. Should I paint or wallpaper the fireplace wall?
Both painting and wallpapering fireplaces are common practices; choose the decorating method that best suits your budget, taste, and style. Painting is easy to apply and inexpensive, while wallpapers can give a room an instant facelift with minimal effort.
2. How long does it take to finish the project?
It will depend on the type of paint you are using and whether you are painting just one coat or multiple coats. For an average-sized room, expect three to four days for primer application, at least 24 hours of dry time for each layer of paint, and another two days before you can completely relax and enjoy your work.
3. How do I prevent the paint from seeping through to the other side of the fireplace wall?
Use masking tape when you are painting or papering so you can easily cover one area at a time without worrying too much about smudging or careless paint strokes.
Conclusion
Painting the fireplace wall adds new life to your living space. Whether you use a single coat of paint or go all out with elaborate patterns and designs, remember to prepare well and take your time as you enjoy this easy home improvement project.