Wallpapering a fireplace, whether it's around a gas fireplace insert or even a faux fireplace, can be tricky, but it's certainly doable.
Plus it can look pretty stunning when done right:
Once applied correctly, wallpaper makes the fireplace seem like it is more than just a traditional hearth for hanging stockings. It gives the room an attractive focal point that will catch your guests' attention. Remember, tiling a fireplace is also an option!
When choosing wallpaper for your fireplace, you must first consider what kind of drapes or curtains you will be hanging.
The texture and pattern should complement that which you have chosen to accentuate the fireplace. If you have chosen a heavy satin for your drapes, then a complementary textured paper would look best on your wall.
However, if your choice in drapery falls more on a light sheer, the then textured paper would not be so complimentary, and it would be better to choose a smooth-finished paper instead.
In addition to considering the textures, one must also consider how they plan to design the space. For instance, some people like to place their TV above the fireplace, which would require a more vertical design. Others prefer to keep the fireplace open and accessible for the display of fire tools. Therefore, choosing a horizontal pattern wouldn't suit them.
Regardless of choosing between these two options, you must know how far up your wallpaper will reach. Also, consider how high your drapes will hang along with your choice. If all else fails, feel free to use one of the supplied stencils enclosed with this package.
It is best to avoid using too many patterns or colors on your wall space as this can create an overwhelming atmosphere. The simplest and most traditional method is to choose a solid color like cream or white for your wallpaper and matching drapes.
This way, you can add more of an accent with accessories on the mantle.
How to wallpaper a fireplace
1. Measure the Space Where It Is Located
Measure where you plan on putting your fireplace. This way, you will know how much wallpaper you need to buy. If the paper you have purchased isn't sufficient for the entire wall, then it may be best to choose a pattern that runs horizontally to wrap around the corner.
2. Clean the Area Thoroughly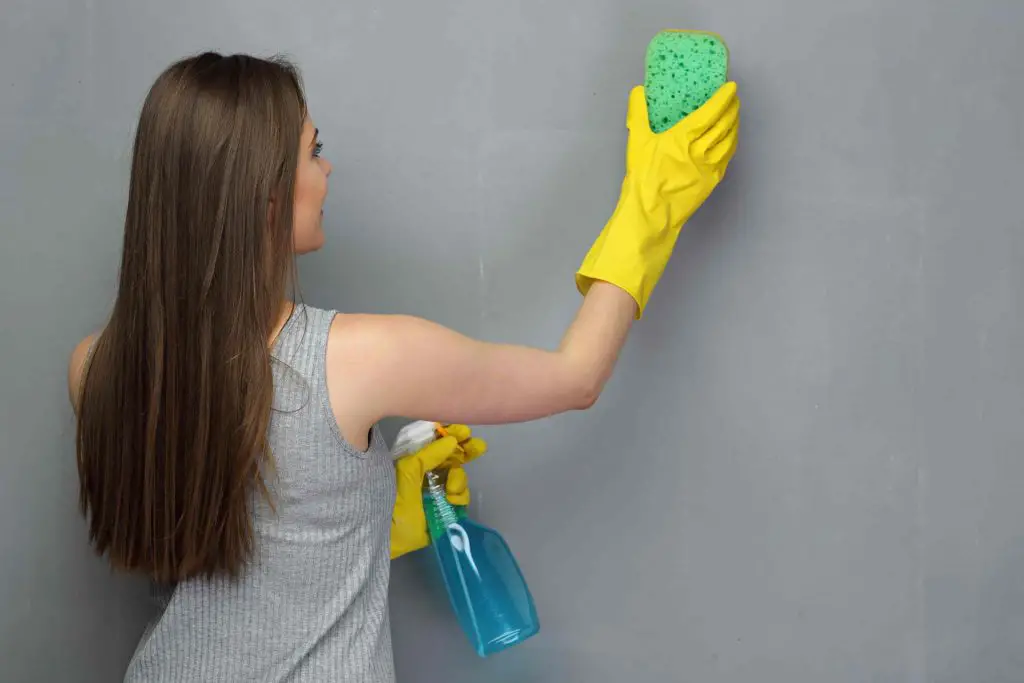 Your wall space must be spotless before applying any decoration. Check out how to clean a brick fireplace and how to clean a stone fireplace.
Most modern wallpaper comes with an adhesive backing which means it will stick directly to the dirty surface without anything underneath it first. So, if there are any dents or dust particles left behind, this could cause some damage to your new wallpaper.
Be sure to vacuum and wipe down all surfaces until they are entirely free of dirt.
3. Use A Plastic Trowel to Apply the Paste
Once your wall is free of any unwanted dirt, it is time to apply the paste with a plastic scoop. This will ensure that you cover every nook and cranny of your fireplace wall with adhesive, guaranteeing that your wallpaper will stick.
Be sure to use slow, downward strokes when applying the paper. Don't worry about making it too smooth or removing any lumps because you can smoothen this out.
If there are any air bubbles trapped underneath your wallpaper after you've applied it, poke them out using an unsharpened pencil or something similar, and they should be gone within 24 hours.
4. Trim Off Any Excess Paper
After you have applied the paper, it will be helpful for you to trim off the excess using a sharp object. If you choose to cut the excess paper now, then you won't have to worry about accidentally bumping into them or getting dust on them while trying to get rid of them at a later date.
5. Smooth Out Any Air Bubbles with A Plastic Smoother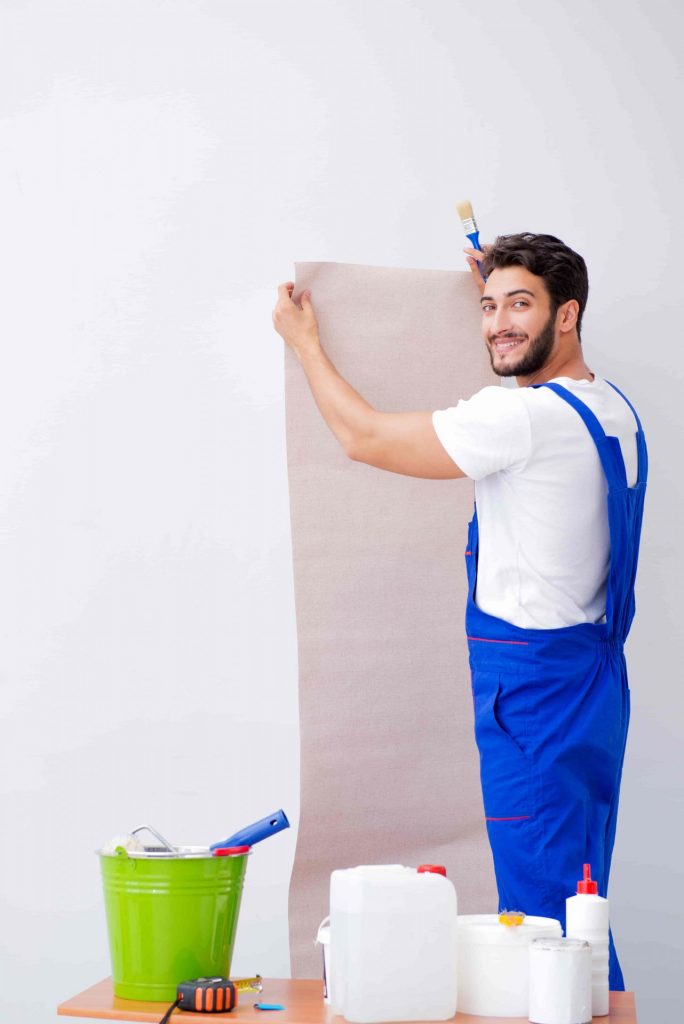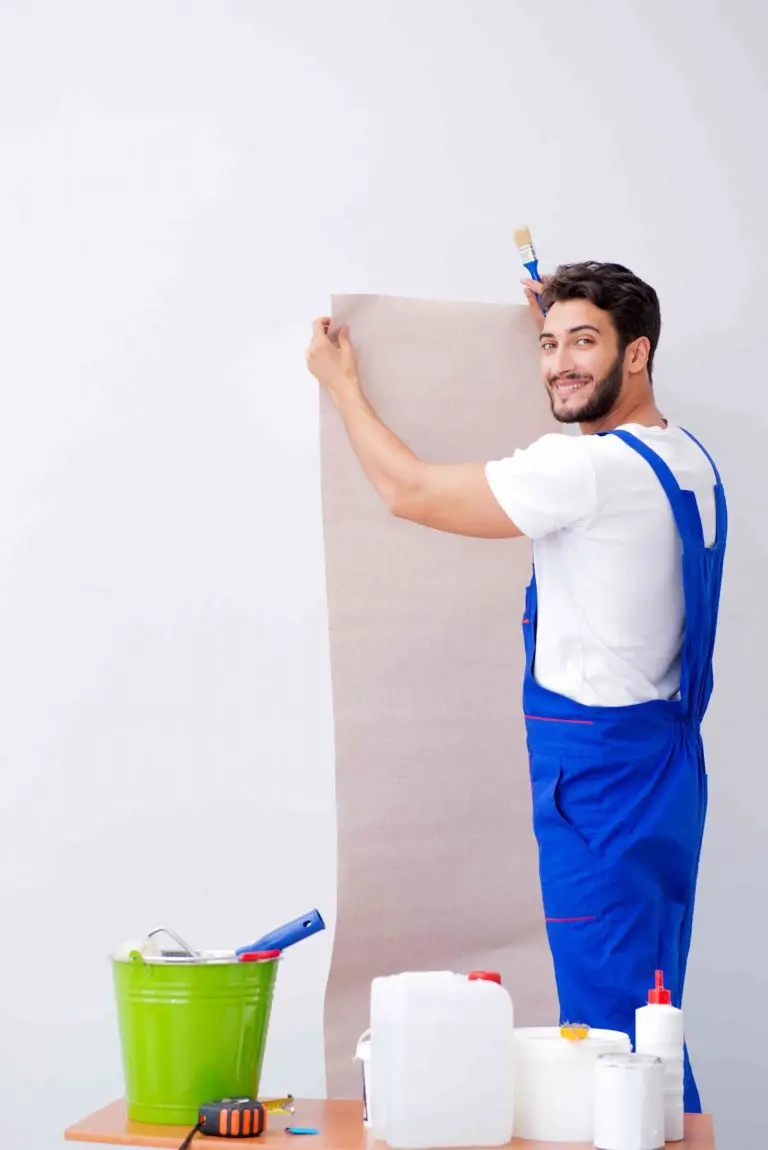 If there are any air bubbles in your wallpaper after applying the paste, this is where your plastic slicker comes in handy. Run over these bubbled areas with your smoother, and they should flatten right up. If they are still visible after this step, it is okay to use your hands or even a tool like an unsharpened pencil to smooth them out.
6. Apply the Patterned Paper
Once you've completed Steps 1 through 5 with no air bubbles remaining on your wall space, it is time for the fun part! Cut the desired pieces of wallpaper from their rolls and attach them starting from one side of your fireplace.
Be sure that you don't have any bubbles in the adhesive by running over it with your plastic smoother before making any cuts.
Continue applying these pieces one at a time until all paper is attached to the wall space. At this point, you should have what resembles a giant puzzle! You can start filling in any leftover pieces and make sure that you apply them on top of the components already attached to your wall.
7. Apply the Rod
Once all pieces are in place, it is time for the finishing touch. These come in various designs but essentially work the same way. Cut two lengths of your desired rod depending on how wide your fireplace is.
Be sure to leave yourself an extra 8-12″ if you need to cut one length shorter due to space constraints. Place both rods evenly apart from left to right along the entire length of your fireplace area before attaching them using nails. This way, there will be no visible gap between each wallpaper section once they are all attached.
8. Smooth Out Any Visible Bumps
Smooth out any bumps or bubbles that may remain along your baseboards using your plastic smoother. Once you've finished smoothing out any final areas, admire your work and enjoy the new look of your fireplace.
Summing Up
Wallpapering a fireplace is not only easy to do, but the results are fabulous! Once you have finished this project, you will wonder why you didn't do it sooner. The steps involved may seem time-consuming initially, but they go much faster than expected once you get into the swing of things.