I always wanted to have a wood fireplace in my living room, but I didn't want it to be the focal point of the room. A corner fireplace gives the room an intimate, cozy feeling- and you can even add an electric fireplace for less mess.
This is not your average fireplace. It's designed for tight spaces and corners, so you can enjoy your fire without taking up too much space.
I was looking for a way to create a cozy atmosphere in my living room without sacrificing any of the space that I have. A corner fireplace seemed like the perfect solution!
Decorating a corner fireplace can be a challenge, however! (Read more about decorating a fireplace's side walls).
Decorating a corner fireplace is a fun way to add instant personality to your home. It is also a relatively easy, low-skill level project.
There are many different ways to decorate your corner fireplace and you can choose based on your style preference- remember you can always wallpaper the fireplace, a very fashionable design trend.
Some Design Ideas
This faux fireplace has some gorgeous shelving on the side and some bins to store your fireplace accessories.
Add A TV & Curtains
Curtains on one side and the TV on the other- not bad! Read more about arranging a living room with a fireplace and TV.
Add Some Plants
Try adding a tall potted plant for some natural beauty.
Add A Sofa Seat
Try positioning a comfy sofa seat at an angle- it's a great reading nook.
Things to keep in mind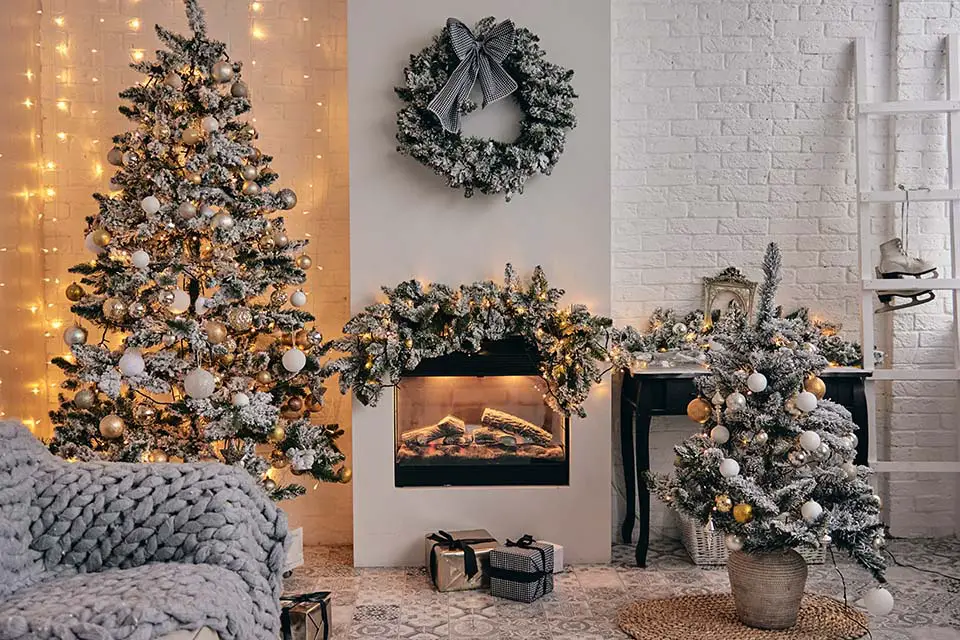 A corner fireplace by itself is a pretty big statement piece. Keep the surrounding decor simple, you don't want to overdo it.
When choosing a theme or decor style, do some research and get inspired! You can find images online of other people's living rooms with corner fireplaces and use them as inspiration.
All the items you select for your corner fireplace should have a common theme or style, whether it be modern, rustic, vintage, or traditional. Mismatched pieces will take away from the centerpiece of your living room!
Challenges of decorating a corner fireplace
1) Placement
The placement of the fireplace is one of the biggest challenges. If you have an obstructed corner fireplace, this is not a problem. If your fireplace is in a very visible place such as at eye level when you walk into the room, make sure to consider what items you will be putting around it and how they will affect the flow of the room.
2) Wall space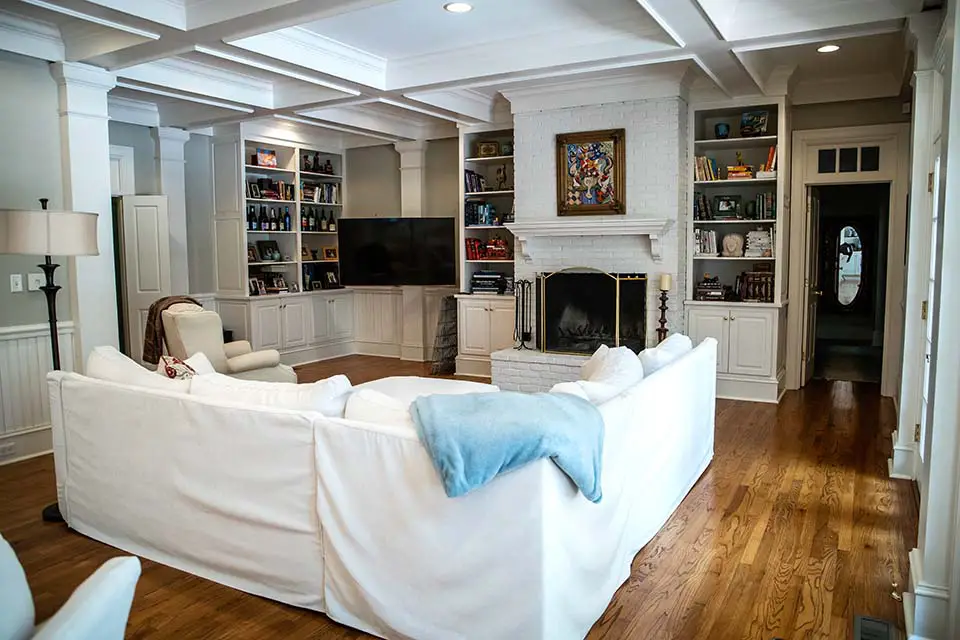 When decorating corner fireplaces, it is important to keep in mind that if you will be putting up paintings, mirrors, or other wall hangings near your fireplace; they should not block the opening. Such items could cause a fire hazard and damage your walls. Make sure to use good judgment when decorating your wall space near the fireplace.
3) Ventilation
One of the most important things to keep in mind when decorating your corner fireplace is good ventilation. Make sure that all items you put on display are safe for heat exposure and do not block the airflow of the fireplace.
FAQS
1. How can I decorate my corner fireplace so that it ties in with the rest of the room?
The best way is to use common colors or patterns throughout all your decor pieces. For example, you could paint the wall behind your television and bookcase one color and then buy different accent pillows for your couches that are all in this same color.
2. Which items should I avoid decorating my corner fireplace with?
Although not as popular, you should try to avoid placing anything that emits carbon monoxide such as fire logs and gas cans near your corner fireplace as they can cause a fire hazard if blocked. Also, stay away from any sort of candle or flame-like item that can be knocked over and cause damage.
3. What should I do if the corner fireplace is obstructed?
If the wall around your corner fireplace has obstructions such as a chimney, staircase, or large furniture items; consider decorating these areas instead! This will open up space in your living room and create more of a focal point.
4. Is there anything I should do before I decorate my corner fireplace?
Before decorating your corner fireplace, you should clean out all the excess items you have stored in there. If space around the fireplace is tight, it might be difficult to find things after they are hidden away inside.
5. What is the best type of decor to use on my corner fireplace?
It depends on how you want to decorate your corner fireplace. There are no specific items that work better than others! Decorating with candles such as pillar candles and candlesticks can add a nice touch, while also serving as stylish accents in your living room.
6. What would be a good color scheme to use on my corner fireplace?
You can choose any colors for your decor as long as they look nice together! A monochromatic color theme is always classic and looks nice. Also, coordinating items such as pillows and window treatments that come in different patterns but share the same colors will help tie your corner fireplace decor together.
Conclusion
I have always loved fireplaces and I wanted to have one in my living room. The problem was that the area was too small for a traditional fireplace. I researched and found out that there are corner fireplaces that can fit into tight spaces like mine.
I am happy with my decision because the fireplace looks great and it is also very functional.
A corner fireplace is a great way to make use of the otherwise wasted space in corners. Even though it looks like an ordinary fireplace, most people are wary of using it as such because of safety reasons.
By decorating around the fireplace and adding a touch of creativity, you can create a lovely addition to your living room. Just follow the steps mentioned above, to finish off your project!